16 September 2004 Edition
Leaked housing report blames developers and government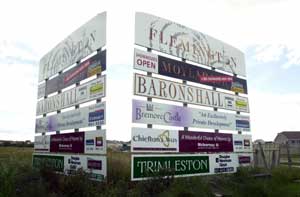 Leaks this week from an unpublished National Economic and Social Council (NESC) report show that new Irish homeowners are borrowing from family members to pay for deposits on house purchases while 35% of new dwellings built in the 26 Counties are being bought as second homes usually for investment purchases. The report's writers are divided on new proposals for taxing developers and builders profits
The still draft report also blames 'greedy landowners, builders and incompetent government policy' according to one Dublin paper for the housing crisis in the state. It also proposes new forms of tax relief for those who do not qualify for public housing but cannot afford private options.
Most interesting in the draft proposal is the idea of a tax on second homes being used for investment. Speaking to An Phoblacht Sinn Féin TD and Housing spokesperson Arthur Morgan said that, "these proposals should be published as soon as possible. It is strange that this government withdrew the first time buyer's grant, small as it was, while re-introducing tax relief for buyers of second homes."
Morgan believes that we need a consistent and equitable approach to how the tax codes applies to those involved in the building, selling and buying of houses.
Where the draft report has yet to reach a conclusion is on the taxing of profits from land development and speculation. However events in the commercial property market this week demonstrated the level of profit and funds at stake in this business.
Bovale Developments, the company whose owners Michael and Tom Bailey were at the centre of the early years of the Flood/Mahon Tribunal, sold 44 acres of housing land in Ballymun for €60 million. With planning permission for 1,060 homes this divides into over €56,000 per house. This is without a sod being turned or a stone laid and amounts to a lot of profit for the Bailey brothers.
The two also own another site of 20 acres adjoining the one just sold and are looking for planning permission for 435 houses here. The increase in the price of housing land is demonstrated by the €57 million selling price for 152 acres in Balgriffin in 2000.
Prices are also high in Dublin city. €71 million is the price being paid for a five acre site at Dublin's North Wall. Zoe Development's Liam Carroll beat out other bidders including the state established Dublin Docklands Authority who bid a paltry €56 million.