16 September 2004 Edition
Mass Rally in Brussels for Democracy in Iran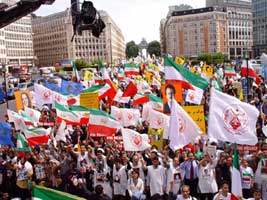 Tens of thousands of Iranian exiles converged on the European capital Brussels on Monday 13 September in a mass protest against the ruling clerical regime in Iran and the European Union's inaction against that regime. The rally was organized by supporters of the National Council of Resistance of Iran, a coalition of democratic opposition groups seeking to replace the theocratic regime in Iran with a democratically-elected government. The organisers' main demand was for EU Council to remove the 'unjust terrorist label' placed against the People's Mojahedin Organisation of Iran (PMOI) and place it around the neck of the Iranian regime.
Amongst those attended were 30 members of Parliaments from all over Europe. A spokesperson for the exiled Iranians speaking to An Phoblacht said that it is time for Europeans and others to realise that appeasement of this regime will only contribute to more human right abuses in Iran as well as creating more instability in an already volatile region.
"In the last two decades some 120,000 political prisoners have been executed and there are some 500,000 political prisoners in Iran. The Iranian resistance under the Leadership of its president-elect Mrs. Maryam Rajavi seeks the overthrow of the regime in Iran. They propose a secular democratic alternative in which human rights, democracy and respect for international law are the corner stone of their future government. They appeal to international organisations, NGOs and political parties to support them in their struggle for the establishment of an Iran free from the terror of the Mullahs."
"The Iranian regime drew up some seven billion dollars worth of trade contracts with certain EU member states to make sure the EU would return the favour by blacklisting the main opposition to Tehran."
Many experts agree that by putting the PMOI on the terror list, Europe has effectively deprived itself of an opportunity to support forces of change and democracy in Iran at a time when the Iranian regime is showing increasing intransigence by forging ahead with its nuclear weapon program and violating human rights.
Last week, the hanging of a sixteen-year-old girl in front of a horrified public in the northern town of Neka was condemned by human rights organisations around the world, including Amnesty International. The religious judge who sent her to the gallows said her sexual "misbehaviour" in itself did not merit such a punishment, but he had to punish her for her "sharp tongue".