29 July 2004 Edition
Omagh Council honours Patsy Kelly - Family still fighting for justice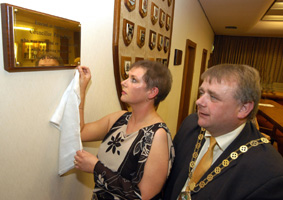 Sinn Féin Councillor Patsy Kelly was remembered last Thursday by his colleagues at Omagh District Council, on the 30th anniversary of his murder. A plaque dedicated to him was unveiled in the main chamber of the council during a ceremony also attended by his family and friends.
Patsy was abducted and shot before his body was weighted down and dumped in Lough Eyes in Fermanagh on 24 July 1974. The UFF claimed responsibility for the murder, but evidence that British forces were involved soon surfaced. It is now believed that Patsy was actually killed by a patrol of the notoriously sectarian Ulster Defence Regiment.
At the time of his murder, the RUC told Patsy's wife Teresa that they had enough evidence at the scene to convict those involved in the murder and all they needed was a body. Hundreds of local people embarked on a massive search up until the time his body was discovered by a fisherman in the Fermanagh lake.
However, after onmurder caused shockwaves throughout Trillick, wider Tyrone, Fermanagh and the rest of Ireland. The effects of his murder are still keenly felt by people. Community support for Teresa and the Kelly family was very significant and I do hope that the goodwill of people has helped Patsy's family all down the years."
The PSNI launched a new inquiry into the killing of Kelly last July after more evidence came to light that he was abducted and shot by a UDR patrol and that the RUC deliberately botched the original investigation to keep the killers out of jail.
Since then, the Kelly family have been frustrated in their attempts to legally compel the PSNI to allow an independent investigation into the circumstances of Patsy's death.