29 July 2004 Edition
Aer Lingus 'smash and grab' redundancies
BY ROBBIE SMYTH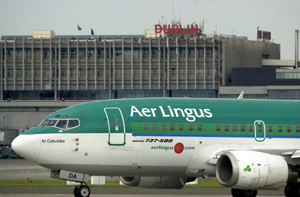 What is happening at Aer Lingus? Just week's ago, its chief executive Willie Walsh announced that he and some of the other directors wanted to buy the state airline from the government. This week, Walsh proposed new job cuts, running to 1,300 workers or nearly one quarter of its workforce, even though the firm is on course to make profits of €94 million this year.
Walsh's proposals, which were approved by the Aer Lingus board this week, with opposition by the worker directors, had been leaked in the weekend's newspapers before workers at the company had been formally notified of management plans.
Sinn Féin TD Seán Crowe attacked the Aer Lingus proposals. Crowe said: "This business plan appears to amount to nothing more than a smash and grab economic strategy in which staff and ultimately the Irish nation will be the victims and biggest losers."
Technical Engineering and Electrical Union (TEEU) Regional Secretary Arthur Hall also criticising the job cutting strategy. Hall said that his members were committed to the long term future of the national carrier. They are not interested in "short hall, short term, get rich quick programmes driven by top management and their wealthy backers".
Hall also said that, "The airline's chief executive Willie Walsh may be interested in turning Aer Lingus into a short haul, short term, no frills airline that maximises profits for senior management and private investors, but we believe Aer Lingus must continue its primary task of providing an island economy with the range of services it needs to survive.
The redundancy plan, if implemented, will mean the privatisation of some Aer Lingus services, such as baggage handling. The logic of the Walsh proposals are that Aer Lingus must move more towards the Ryanair low cost model.
It doesn't take account of issues like the negative attitude towards unions and working environment that also seems to be a significant part of the Ryanair model or that Aer Lingus has significant responsibilities as a cargo transporter. In an island economy where imports and exports are the hub of the economy, surely there is a need to protect these resources and assets. It was similar short-sighted thinking that lead to the demise of Irish Shipping in the 1980s.
For example, Ireland has an oil refinery that at various junctures has withstood calls for its closure, sale etc. Yet now in the midst of the current oil crisis we find that one of the reasons for high oil prices is the lack of refining capacity in industrialised states.
A quick look at Aer Lingus accounts for 2003 offers little insight into the value of cargo business transported on Aer Lingus planes and what economic value it offers to the whole economy or even to Aer Lingus. We are told only that the tonnage fell by 1% and revenue by 10% in 2003.
It seems that in Aer Lingus there is no long-term view of the strategic role of the state airline in an island economy, just the same way the cabinet refuses to see all our airports as strategic assets favouring consideration of the quick short-term sale options instead.
Aer Lingus has for the last twelve years been swinging from one revitalisation plan to another and from one crisis to another. The same long-term necessity for a strategic plan in the early 1990s is absent today and the latest Walsh proposals fall far short of what is needed.