29 July 2004 Edition
Clothes and the Man
BY EOGHAN MAC CORMAIC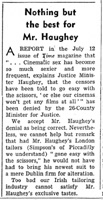 One of the highlights of any trip I manage to Dublin in recent times has been the quick stop off at one of the many new Afro or Asian or Chinese foodstores which have become a hallmark of modern Dublin. Tastes and smells and spices of the world have replaced the tastes and smells and very limited spices of Ireland of a generation ago.
This new and changing Ireland — and our changing ideology and views towards it — sometimes rest a little uneasily with the type of political campaigns waged by Sinn Féin of 40 years ago.
In August 1963, the front page banner in the United Irishman proclaimed: BUY IRISH — IN IRISH SHOPS, and had a sub header — Advice to Public, Buy Irish goods, and buy them in Irish Shops; Advice to Traders, form co-operatives and buy goods in bulk.
Now, for fear of totally misrepresenting the 1960s' republican position, this newly-launched campaign wasn't a knee-jerk reaction to the multi-cultural(!) Ireland of 1963. Remember that Ireland where we still gave pennies to the 'Black Babies' and where many shops still had little black statues with a hand that fed those pennies into a smiling mouth.
The campaign wasn't being run to oppose the local China Garden or Tastes of the Orient or the Mediterranean Deli, and even today a Buy Irish campaign wouldn't be aimed at such shops. They, after all, contribute to the ethnic diversity of Ireland they are extra and while they may not be to everyone's taste, literally, they add to rather than take away from the Ireland we live in.
Instead, that 1963 campaign was tackling a different takeover — the takeover of many Irish shops and the increasing sameness in those newly-arriving supermarkets. Irish goods were being outpriced, and Irish businesses were closing down. The Sinn Féin statement pointed out what needed to be done: Irish manufacturers were asked to ensure that they produce quality goods, retailers were asked to promote the sale of native products and consumers were asked to boycott all foreign-owned industries, chain stores and supermarkets.
It was a genuine attempt to stem the tide but as you pass through Irish small towns today where the Tesco, Lidl, Aldi and whatever other chainstore greets you, where persistent low incomes make such shops attractive and where even the corner shop is as often as not being supplied now from a Spar or a Centra wholesaler, think fondly of the days when it was good (and PC) to advocate buying Irish and boycotting foreigner's (ahem, the auld foe's) goods.
And then remember that all campaigns rely on support and at a time when the country was bemoaning the loss of jobs, the flow of money out of the country and the need to support our own you would be forgiven for assuming some example from the top. Not so. Back in 1963 one Charles J Haughey was just beginning his political career... the Charvais shirts hadn't been thought of yet. As this cutting shows, republicans were already keeping an eye on his growing penchant for spending our money outside the state, a habit it took the investigative journalists of Ireland almost another 30 years to follow up on.