29 July 2004 Edition
A giant among giants
BY JIM GIBNEY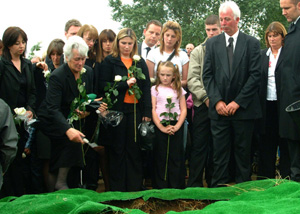 "It's more than just a funeral. It's akin to burying a Fenian Chieftain. He made things happen that might never have happened."
That's how Mitchel McLaughlin summed up his feelings as Joe Cahill's coffin emerged from St John's Chapel to take the last lap to Milltown Cemetery.
It was that sort of occasion. People spoke from their heart about Joe, a man Martin McGuinness described as a "goliath" of the republican struggle.
Peter John Caraher from South Armagh, a lifelong republican himself, whose son Fergal was shot dead in 1990 by the British Army said: "It's the end of an era."
Eighty-six-year-old Bridget Hannon couldn't remember a time when Joe wasn't part of her life. She described her last moments with him: "I sat with Annie at his bedside. His eyes were closed. He was very weak. Annie said 'Joe, Joe, it's Bridget, it's Bridget.' His hand slipped from below the bedclothes and he held and stroked the back of my hand. I'll never forget that."
Willie John McCorry met Joe when he came out of jail in 1952. Willie had been on the run since 1938 and was interned in the South from 1940 until the end of the Second World War in 1945.
With Joe and others in Belfast, they organised the National Graves Association. "Joe was outgoing. He was a fun loving guy. He could crack a joke and take a joke."
Leo Wilson recalled meeting Joe 67 years ago for the first time. "He played football for St Joseph's GAA and was learning Irish at the Ard Scoil. Seán McCaughey (who later died on hunger strike in Portlaoise) was one of the teachers. They were rough times. Republicans were light on the ground, not like now. I escaped the big swoop in '38 and I think Joe did as well. Joe was an 'all or nothing man', single purpose, no compromise; all the Cahills were like that."
Madge McConville who was with Joe on that ill-fated mission which led to the hanging of Tom Williams, was also there.
These were Joe's contemporaries. As Gerry Adams said at Joe's graveside: "They knew him as a teenager."
Touch their memories and you touch another time; a time when Ireland was still united; a time when partition was only an idea on paper; a time of great violence and convulsion, North and South.
Joe spanned these epoch-making times to live what Gerry Adams called "a long life, well lived, in struggle and activism".
Martin Meehan's abiding memory of Joe was on Internment morning, on 9 August 1971. "Ardoyne was in flames. Gun battles were raging; Paddy McAdorey (IRA Volunteer) was just shot dead. This woman came to me in the middle of the street about six times telling me that a man was in her house with a cloth cap on and wanted to see me. It was Joe. He had walked through the streets to see me. He was the Brigade OC of Belfast and wanted the Battalion Staff pulled together. He was our Phoenix that arose out of the ashes."
Fr Des Wilson, in a fitting homily at Joe's Mass said; "Joe was a man of action rather than words.
"In the midst of the horrors of the Second World War, when air raids were a nightly occurrence and bombs were dropping on Belfast, when the streets were not a safe place to be, Joe was an ARP Warden. He might well have been killed. When people were in danger, Joe walked into the middle of that danger to help them."
Instead of being rewarded for such civic duty, those with power in the state insulted and isolated Joe. Fr Wilson said: "He was never given a city to live in worthy of his generosity and courage."
Those with power and authority shunned Joe for most of his 84 years but the plain people of Ireland didn't; his people never left his side. And they turned out in their thousands to carry him to his place of rest.
It was a day for the IRA, and particularly the IRA in Belfast, to show their appreciation to the man who, with a small group of others, gave birth to the modern IRA.
And they too turned out. They were there in uniform, fresh faced, young enough to be Joe's great grandchildren; and others who started out with youth on their side but now carry the passage of time and the years of experience inside the IRA on their faces.
This was not a day for masks, for anonymity. Those who served with Joe at all levels of the IRA since he openly spoke at a press conference in August 1971 in Belfast shouldered his coffin.
The 'Secret Army' publicly escorted and protected one of their own — three generations of men and women who graced the wings and cells of prisons in Ireland, England, Europe and North America.
Men and women who followed the same path as Joe, who turned their lives upside down, set aside the call of ordinary life, heard freedom's call and followed it.
There were those like Joe who lived their lives in exile and who shared with him a special bond. They knew well the deep pain of loneliness, separated from their families, never sure whether they would ever return home.
Such yearning took Joe many times to the Wicklow Mountains to seek solace, he told Gerry Adams. There he thought of Annie their children, of coming home, and he cried.
It was a day when Sinn Féin's elected representatives turned out in force. It was the first formal public occasion that saw Sinn Féin MEPs, MPs, TDs, MLAs and Councillors march together along the well-trodden route to Milltown Cemetery.
The old and new faces of North American support were joined by former Taoiseach Albert Reynolds and a senior member of the Irish Government.
The last time I saw a funeral like Joe's in Belfast was during the Hunger Strike of 1981 or the re-interment of Tom Williams.
It was a grand occasion, flawlessly organised, and the closest the IRA could get to a state funeral.
It was a day not to be missed. It was a day of stories about Joe's exploits and there was no shortage of loose talk.
But above all of this, it was day to remember Joe's family. To recall that Joe could have done nothing were it not for his partner and equally staunch republican, Annie Cahill.
Throughout their entire life together, being on the run, in jail, in exile an activist in the republican movement, not once did Annie say 'don't' or 'stop'.
It was also a day to recognise Annie's invaluable contribution to Ireland's freedom struggle.