8 July 2004 Edition
September efforts will fail if governments abdicate responsibility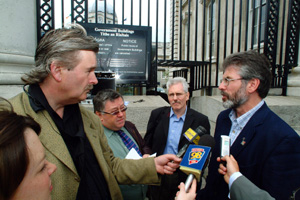 Gerry Adams has warned the two governments that "any effort to resolve outstanding issues in September will fail if the British Government continues to try and abdicate any responsibility for the current crisis, or refuses to accept that it has a significant contribution to make to any agreement".
The Sinn Féin President was speaking in Dublin on Wednesday morning before meeting the Taoiseach, Bertie Ahern. His remarks followed overnight government briefings around Wednesday's British Irish Intergovernmental Conference, which suggested that the success of any talks in September will be down solely to republicans and the DUP.
"While republicans and the DUP have important contributions to make to any possible deal in September, the British and Irish governments also have responsibility for key issues requiring resolution," said Adams.
"In particular, the British Government's failure to tackle the issue of collusion, best illustrated by its refusal to hold an independent inquiry into the killing of Pat Finucane, is evidence of that government's appalling record on keeping commitments."
On Tuesday evening, Sinn Féin Chief Negotiator Martin McGuinness had met with Brian Cowen in Dublin as part of ongoing efforts to see the political impasse resolved. Speaking afterwards, McGuinness said that these efforts would continue in the coming period.
He stressed that "if we are to achieve an end to the impasse by September then the work needs to be done now. The governments have a responsibility to ensure that all of the parties remain focused over the next few weeks on moving the situation forward. The process cannot simply be put into cold storage."