8 July 2004 Edition
Challenging the silence in North Antrim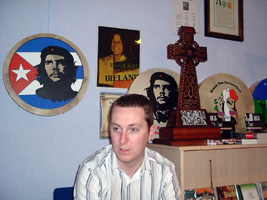 'Evil' is the way in which unionist councillors in Ballymoney describe their fellow councillor Philip McGuigan. They see his presence in the council chambers only in terms of "causing trouble". Sometimes, when Philip tables a motion before the council, a unionist mob appears in the public gallery to heckle and intimidate. But more often they just ignore him.
"If I raise an issue, the other councillors just pretend they can't hear me, they just blank me out," says Philip. There are two other elected nationalist councillors but "they say nothing or have nothing to say".
Inside the remarkably neat and tidy local Sinn Féin office, Philip McGuigan chats about life in as a councillor in Ballymoney and as an MLA in North Antrim. It's impossible to equate this easy-going, mannerly politician with the jibes of his opponents.
"If something or someone is 'evil', then it follows that there can be no engagement, no exchange of ideas or accommodation of difference," says Philip. "Political demonisation creates the space where unionist paramilitary violence takes place.
"I've been repeatedly threatened and attacked. But it's about much more than that. It's about hostility and intimidation certainly, but it's also about exclusion, denying nationalists and their representatives legitimacy. It's about trying to silence their voices."
Ballymoney is a small town in an idyllic rural setting. On the approach from Belfast, the fields are increasingly lush and green. In the pastures Jersey cows, resplendent in their soft fudge and cream hides, gently graze. This should be a lovely place to live.
But this quiet town, on the western edge of Ian Paisley's North Antrim heartland, was the scene of one of the worst atrocities to result from the Orange Order's Drumcree standoff.
"People outside the area only know Ballymoney as the place where the Quinn children were burnt alive. A place where Greg Taylor, an off duty RUC officer, was kicked to death by unionist bandsmen angry at the re-routing of an Orange march. And where Catholics attending Mass in Harryville were forced to run the gauntlet of a unionist mob," says Philip.
Ballymoney may be quiet but it is far from peaceful. And when it comes to facing the terrible truth about anti-Catholic discrimination and sectarianism, silence and denial are a part of the underlying violence of this place.
Philip McGuigan, originally from South Derry, moved to Ballymoney almost eight years ago. In 2001, he became the first, and so far the only Sinn Féin candidate to be elected to Ballymoney District Council. Last year, he was elected to the Assembly.
"I remember news footage of Ian Paisley standing outside the scorched remains of the Quinn family home, denying the killings were sectarian and denying it had anything to do with the Orange Order's dispute at Drumcree," says Philip.
In her study 'An unsettled people', Susan McKay records numerous interviews made shortly after the murder of the three Quinn children in which the ordinary unionist people of Ballymoney denied the killings were sectarian.
The local people she interviewed often admitted there was no other explanation but they insisted it was a case of "there's more than meets the eye".
Chrissy Quinn was a Catholic with a Protestant partner and a mixed family background. Her children, four boys, were technically Catholic but they attended the local Protestant school and on the night of the murders, the three children who died had been helping with the Eleventh night bonfire.
"Chrissy Quinn and her children had tried to do what most Catholics in North Antrim are advised. Keep quiet and assimilate," says Philip. "But to the bigots who firebombed their home, they were always 'taigs'. That's not something you can keep quiet in Ballymoney or Ballymena.
"Susan McKay once said that of all the communities she visited in the course of writing her book, Ballymoney was one of the most frightening," says Philip, "not because of overt violence but the silence and denial which is so interwoven into the fabric of the social order here."
Eight years after the initial Orange blockade of the Catholic chapel at Harryville, the Church of Our Lady remains shut every Saturday night during the Orange marching season. Parishioners who routinely allowed themselves the indulgence of a late Sunday morning by attending Mass on Saturday night are barred every July and August.
"The closure of the chapel is described as a 'voluntary' bid to reduce tension," says Philip, "but it's really to avoid further sectarian attacks. Of course, closure in the face of intimidation is an attack, a sectarian attack on the right of people to attend Mass."
In 1996, the Catholic chapel in Harryville became the focus of unionist protests against the re-routing of an Orange march away from the nationalist village of Dunloy. For 20 months, at a cost of £2 million to ratepayers, Orange Order supporters blockaded the Catholic Church.
Parishioners and their vehicles were routinely attacked as they attempted to go to Mass every Saturday evening. Eight years later, the mob no longer needs to mount a physical presence, the threat of intimidation is sufficient to suspend Mass and close the church. Fear also keeps the parochial house abandoned. But little is ever said about it.
"It's a disgrace," says Philip, "an indictment of the kind of society in which we live when people are denied freedom of worship at their local chapel. To describe the closure of the chapel in such circumstances as 'voluntary' is complete nonsense."
When it comes to Harryville, the local media doesn't carry stories about fundamental religious rights, freedom of worship or the Good Friday Agreement's promise of freedom from sectarian harassment. The operation of sectarian intimidation can be very, very quiet in North Antrim.
Philip describes how "doing things quietly" is the established way in Ballymoney. "I'm constantly being cautioned by people to do things quietly," says Philip. "I'm advised not to alert the press of any contentious issues but it seems to me that people have been doing things quietly here for years and it changes nothing.
"I intend to make a lot of noise. My job and the job of Sinn Féin is to raise issues, not hide them, to initiate debate, not add to the silence, to move forward rather than stand still."
There's a growing confidence amongst nationalists in North Antrim and that is being reflected in the growing strength of Sinn Féin in the area, says Philip.
"Sinn Féin," he says, "is hoping to build on the strengths of last November's Assembly elections and secure more council seats in next year's local elections in Ballymoney. We also hope to secure a breakthrough in Ballymena."