8 July 2004 Edition
Altered Images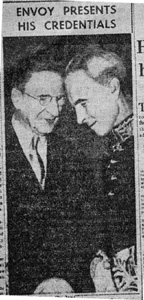 The art of tampering with the facts has a long and ignoble history. Altering words is relatively easy but paintings and photographs have in their day proved no great obstacle either. Think of the Pope who ordered nappies to be painted on otherwise uninhibited angels in the Cistine Chapel, think of Stalin airbrushing opponents out of photographs and all today's gadgetry on computers falls into context. There are those who want the truth and those who want to control it.
In my amble through the yellowing pages of the United Irishman I came across this Irish solution to an Irish problem last week.
Back in 1960, the eagle-eyed staff of the United Irishman could spot a phony a mile off, and yes, yes, I know some of you remember the little printing press incident in the 1980s when phony was the order of the day...
Anyway, On 20 January 1960, the new British Ambassador arrived to the Áras to present his credentials to an tUachtarán, Eamon de Valera and the Irish Press were on hand to photograph the event for posterity.
In the early editions next day, Photograph A was published but by the later edition, Photograph A had been, well, enhanced a little, to provide Dev with a little more breathing space, no doubt from his cosy word in your ear approach to Sir Ian.
And it was all done in the best possible taste and all to keep the masses happy. Truth in the News how are you.