24 June 2004 Edition
Adams meets John Stevens over collusion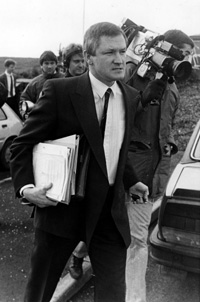 Gerry Adams on Tuesday night met with the Metropolitan Police Commissioner John Stevens in London to discuss the Stevens investigation into the killing of Pat Finucane and the wider issue of collusion.
The Sinn Féin President told Stevens that it is the party's view that the British Government is using his inquiry and the trial of Ken Barrett (who is facing charges relating to the case) as excuses to obstruct the establishment of a Public Inquiry into Pat Finucane's death as demanded by the Finucane family and Judge Cory.
"The institutional use of collusion for over 30 years has led to the deaths of hundreds of people, the maiming of thousands more and the terrorising of an entire community," said Gerry Adams after the meeting. "The Pat Finucane case is at the heart of all of this. That is why the British system is so determined to block a Public Inquiry."