24 June 2004 Edition
Dublin & Monaghan relatives seek justice in Europe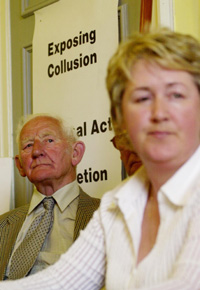 Relatives of those killed in the 1974 Dublin & Monaghan bombings are taking their case to the European Court of Human Rights.
At a press conference last Saturday, Justice for the Forgotten spokesperson Bernie McNally said the group had been left with no other option after the outrageous refusal of the British Government to co-operate with the Barron Inquiry, the Oireachtas Committee hearings and the inquests into the 34 people who died as a result of the bombings.
"In order to ensure that the rights of those murdered and maimed are ultimately vindicated, we have instructed our lawyers to lodge two classes of complaints with the European Court of Human Rights," McNally said. "If this is not done at this time, then the legal right to make these complaints will be lost."
The group's complaints include breaches of Article 2 of the European Convention on Human Rights by the British Government, through its collusion in the bombings and its failure to co-operate with inquiries into loss of life.
The complaints will be subjected to an admissibility assessment by the European Court, which will be hampered by the fact the acts were committed 30 years ago. However, the group believes that the failure of the British Government to participate in official inquiries in the 26 Counties may be taken into consideration.
McNally also said that the group had written to the British Embassy seeking a meeting to discuss the recommendations of the Oireachtas Committee
"We have received a reply from the Embassy offering to meet us and we will now take up that offer," she said.
Justice for the Forgotten also reiterated its call for a public tribunal of inquiry held in this state with two additional powers: to be able to gather and publish evidence relating to collusion in the bombings; and a discretion to inquire into any significant matter concerning the bombings which it considers to be in the public interest.