24 June 2004 Edition
Standing on the shoulders of giants - The Le Chéile testimonial function
BY MARTIN SPAIN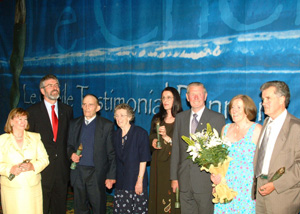 "Bienvenue, Bienvenidos, Welcome. This is not the Eurovision. This is the Le Chéile Testimonial dinner and function." It was with this cheery introduction that Mary Lou McDonald, one of Sinn Féin's two newly-elected MEPs, introduced proceedings at the first annual Le Chéile event, held to honour five republicans, one from each province and one from overseas, for their hard work and dedication to the struggle for freedom, justice and equality.
Over 500 guests were at the Citywest Hotel in Dublin last Saturday night to share in applauding the lives and exploits of the honourees and to celebrate Sinn Féin's most recent electoral advances.
Mary Lou called on those present to "sit back and reflect on the collective brilliance of the women and men who have conducted the republican struggle over the centuries". Speaking of the electoral victories of the previous weekend, she humbly acknowledged that "those of us who have succeeded have done so because we stand on the shoulders of giants".
"This evening, as we give credit to Jerry Sheehy (Munster), Phil McFadden (Connacht), Gay Clery (Leinster), Marion Reynolds (International) and Eoin McCaughey (Ulster) for their work and commitment, let us remember that this is a collective effort."
Toireasa Ní Fhearaíosa and Raymond McCartney then took to the stage, relating brief biographies of the honourees, as Gaeilge and in English, before Sinn Féin President Gerry Adams presented each with their commemorative sculpture. The bronze statue, in the shape of a column with a flame on top, was designed by artist Robert Ballagh.
Gerry Adams began his address by passing on greetings from Martin McGuinness, who, he said, was "on the East Coast of Canada fundraising and spreading the Gospel". Joe Cahill, he said, could not attend due to ill health — "he said the tickets were too dear" — but his wife Annie was present.
The Sinn Féin President said he was "really pleased to be associated in any way" with the event, which will be held annually from now on, with plans for it to coincide with the weekend of the Sinn Féin Ard Fheis.
"This weekend," he said, "conservative elements North and South are coming to terms with the fact that there are 342,000 people out there who think the same as us." He thanked all involved in securing the great election results and called Bairbre de Brún MEP and Northwest candidate Pearse Doherty to join the group on stage.
Adams paid tribute to the honourees for "sticking by this cause and this struggle for freedom and justice".
"It's my view that a huge amount of people out there respected their contribution," he said. "They may have been afraid to follow in their footsteps, that may have been too much for them given the forces ranged against the republican struggle, but they admired what these people did. What our candidates are now reaping are the seeds of what these people and others sowed.
"It is important at times like this that we remember all the small acts of kindness and generosity that we have received from republicans, the quiet things that people did to keep this struggle alive.
"It is not enough for us to honour our honourees. We must assure them that we are the generation who will live in freedom and, if God spares them, that these people here will live in a free Ireland with the rest of us."
Speaking on behalf of the honourees, Jerry Savage from Kerry gave an impassioned address. "You, the people who have come here tonight to honour us, have paid us a tribute we didn't expect and maybe didn't deserve. Others have paid a higher price." He spoke of those who had sacrificed their lives and freedom, from past generations to the present and paid tribute to those who, in the words of Bobby Sands, had the courage to see another way of taking on the British presence in Ireland and who had crafted the Peace Process.
"I salute you Adams, McGuinness, Ferris, Mitchel and all who gave their lives for Irish freedom," he concluded. "Tá ár lá tagatha."
The night's entertainment then went on into the early hours with rousing performances from Village Folk and The Untouchables.
The honourees enjoyed their night in the spotlight, aware of the affection and respect in which they are held throughout the republican family. It was a night of craic, of celebration, of remembrance of those who have passed on, and above all, of the solidarity in struggle that binds and buoys us all.