24 June 2004 Edition
A view from South Africa: ANC fighter turned police chief Robert McBride visits Derry
BY DOMINIC DOHERTY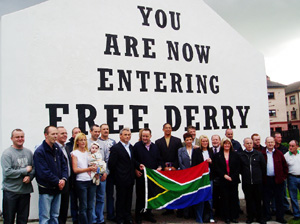 Former ANC Freedom Fighter turned Police Chief Robert McBride visited Derry City on Monday and Tuesday of this week and was given a tumultuous welcome at a number of public events.
Responding to a questioner at a public meeting in Derry's Millennium Forum on Tuesday night, McBride declared that control over policing must be wrested from London-control and devolved to the North if it is to become fully inclusive.
He said that "all sides" must make a leap of faith if the policing crisis here is to be resolved and stated the inevitability that all sections of people on the island will at some point involve themselves in policing he advised republicans to "prepare their base" for when the time comes to "take the plunge". He insisted however, that a timescale for signing up to policing cannot be imposed from outside.
And he suggested that British attempts to build a new democracy here while political power and control of intelligence and security remain vested in Westminster and Whitehall — is little more than playing games.
Commenting on his own journey from Freedom Fighter to top cop, McBride said that building trust with his old enemies, including his former tormentors, had been a painful, and at times humiliating process. He said that at times it was difficult to get his head around some of the decisions that he had to make but accepting that the anger and resentment that spawns purist positions is a "luxury" his people could not afford helped him in his transition.
He said that there came a point when he and his former comrades had to extend the hand to their former enemies and he spoke with pride and dignity of the difficult, emotively-charged challenges that his community had risen to and the prejudices it had overcome.
McBride noted that part of the battle for the liberation of his people was for him and his comrades to "throw themselves in at the deep-end" and participate in the very institutions they had once targeted.
Returning to policing he insisted: "The status quo can't persist. I'm sure republicans themselves will agree the way policing in the communities is being done now is not the ideal situation. They too want a sense of normality. But in the desire to get a solution on policing, all sides must take that great leap of faith and deal with the issues preventing them from coming in."
But he added the transfer of powers on security — including intelligence, justice and policing to local administration, is critical.
"Our liberation could not have taken place in a situation where the security forces were controlled by the old Apartheid regime," he said.
"The powers of security and justice must be devolved from London to the North of Ireland. That's a big step which must be made."
Now Chief of Police in the Ekurhuleni Province of East Johannesburg, McBride can trace his lineage back to the Irish revolutionary Major John McBride, executed in 1916, who also fought in the Boer War, and to Seán McBride (son of Maude Gonne McBride) founder of Amnesty International and author of the internationally enshrined McBride Principles on equality. But he stated that it was his countrymen's' shared experience of colonialism, occupation and oppression that fomented his interest in the Irish republican struggle.
On speculation about a truth commission in the North, McBride opined that it would be premature. He believes such a process can help cement a lasting solution - but it cannot create it.
"South Africa was able to do it because a lasting and irreversible political solution was found," he said. "The reason for the truth and reconciliation was to bring closure to the issues. So there was a decision taken that all of us be treated the same.
"It was quite a humiliating experience to be put at the same level as the forces of Apartheid. But it was a necessary vehicle created by our democratic government to address the issues and tragedies of the past.
"Imperfect as it was it was the only vehicle we had.
"Reconciliation cannot work in a place where you haven't reached the point of irreversibility yet. The British Government cannot even get the Assembly back again. "Who is going to oversee your reconciliation process? — it can't be the British Government."
Speaking at the Bloody Sunday monument, he asked: "Has the British Government forced its soldiers to come and tell their side of the story about this massacre — why they shot unarmed people?
"You still have problems around people on the run, people are still 'wanted', you have helicopters in the sky still spying on people. I just have to look around to see the level of militarisation - and it doesn't give me the impression that there is a serious intent on the British part at reconciliation. Until you reach that point you're basically still playing games."