13 February 2017 Edition
A Tale of 2 Markets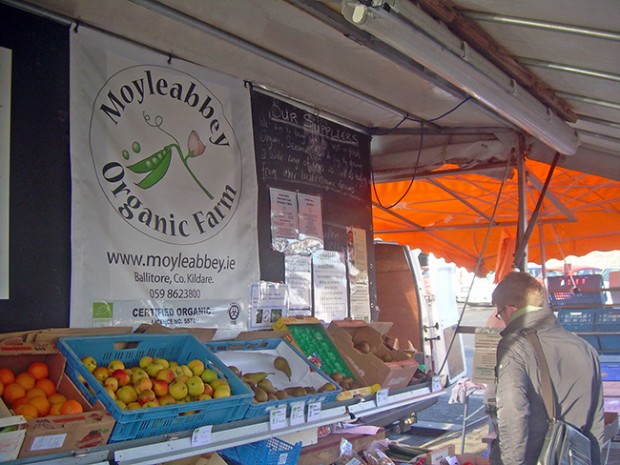 Grabels market, in the south of France, initiated a colour scheme – green indicated own produce, orange for produce sold by intermediaries
IN Marcel Pagnol's Water of the Hills, Parisian taxman Jean de Florette inherits a farm and decides to seek the "authentic" with his wife and young daughter. He grows pumpkins to raise rabbits for the town market. His neighbour, Ugolin, harbours a dark secret and a desire to cultivate carnations for the same market.
Retold by Claude Berri in film, the story is at first a paean to the romance of country life, until reality sets in and the greed and stupidity of people is revealed in a tragic ending that is sad beyond belief.
Something similar is now happening in reality, in France (not too far from Pagnol's imagined Provence), in Ireland and in many countries where the desire to seek the "authentic" has become overwhelming.
One hundred years have passed since the fictional Jean and Ugolin were united in sorrow by their naiveté, and in that time local food markets have had to survive the impact of global forces. Some countries (such as Italy, Switzerland and Turkey) have clung hard to the integrity of their food market traditions, while others (such as France and Ireland) have had to reinvent the wheels of the cart that brings the food to market.
Two markets born out of a will to create "a space of conviviality around local food products". Both in EU countries, yet two markets with different realities and unchartered futures.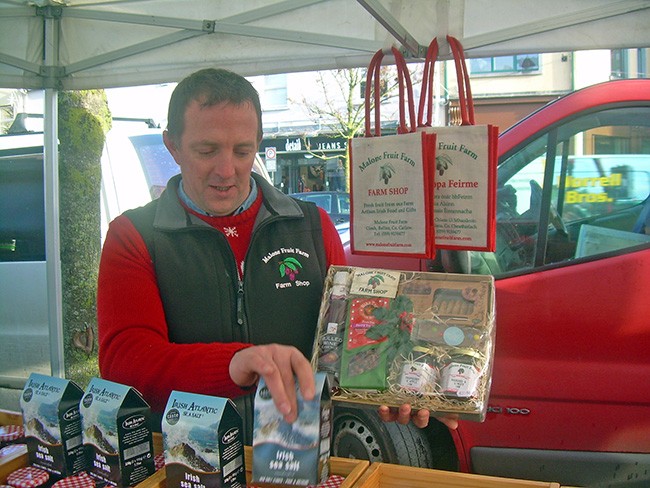 • Malone Fruit Farm offers a range of individual or gift-packed local produce
For more than a decade, Carlow's food market has presented a strong image to town and country, at its height attracting a turnover of half a million euro. Founded in August 2004 as the direct result of a local enterprise scheme to energise the community, John Hayden, the local rural resource worker put in charge of the project, had posed the question: "Would you be interested in a food-only/producer-only market, with handicrafts once a month?"
Consumers and producers alike said they would.
It was agreed there should be two stallholders each of bread, fish, meat and vegetables (for variety and competition) because these foods were seen to be essential to the success of a food market. There were 16 stallholders.
It got off to a good start. The town council adopted a hands-off approach. The original stallholders became Carlow Farmers' Community Market, took out collective and individual insurance to indemnify the town council against claims (there have been none). 
They registered as a group with the Revenue Commissioners and acquired licences from the Health Service Executive to trade in the space provided by the council in the centre of the town. In turn, the council passed a by-law to allow the group to trade on a Saturday between 9am and 2pm. Local businesses supported the market. 
Founded four years later, the food market at Grabels, in the Languedoc region of the south of France, was an initiative from the local authority with the aim of "strengthening social ties and making fresh and affordable food available". 
The mayor delegated a team to investigate how this should be done. Jean-Pierre Divet, who looks after agriculture in Grabels, remembers an ulterior motive. "The idea was to bring Grabels back to life on Saturday morning," as well as "support local small-scale agriculture over everything else as a way of being sure of having safe, fresh food". 
• Yuna Chiffoleau at Grabels market in the south of France 
Agronomist Yuna Chiffoleau realised this was going to be easier said than done. 
"They became aware that there were almost no farmers left around Grabels, and no small-scale farmers in particular, and learned that local artisans procured most of their raw materials from wholesale markets."
Eventually, the new market launched with 20 stallholders, selling cheese, fruit, olive oil and vegetables. There were five artisans and five retailers but some had travelled a long way to sell their produce.
There were problems ahead.
Both markets received plaudits during their start-up years. Carlow certainly did better than Grabels, largely because there was transparency to the Irish operation. The produce was local, no more than 60 kilometres away, and two-thirds was produced by the stallholders themselves.
To solve their problem, Grabels initiated a colour scheme – green indicated own produce, orange for produce sold by intermediaries. Stallholders displaying the orange label had to guarantee that they knew the produce and could vouch for it. 
In 2016, the people of Grabels celebrated the leitmotiv of International Market Day on 29 May — "I love my market." Their market was a success.
Nadja Saralam, an Australian who works at the cheese stall, said much the same about Carlow. 
"It is a growers/producers-only market. So everything is grown and produced locally, and you can talk to the vendors about their growing methods and environmental values, and be comfortable in what you're buying. You're dealing with the people who really do produce what they sell, and know the food terrain.
"I love grabbing a bunch of carrots and knowing they were pulled from the ground only a few hours previously. You certainly can't beat the quality of the food you buy there, and prices compare to supermarkets. I no longer bother to shop anywhere else."
Saralam was full of praise for the local producers. 
"I believe one of the best things you can do for the planet is to buy locally from responsible producers, and primarily eat seasonal, non-imported foods. Despite Ireland having lost its cheese culture, there is still a really good selection of Irish cheeses on the market. 
"The stall at the Carlow market is run by a cheese-maker who farms and produces cheese just four kilometres from my house – you can't get better than that!"
With 27 stallholders who sell bread, champagne, cheese, chickens, condiments, eggs, fish, fruit, honey, jams, mushrooms, pastries, plants, snails and wine, Grabels food market is now firmly established. It is branded by the national Ici.C.Local trademark (here it's Local) – farm produce or local/regional produce – and supported by local, regional and national government.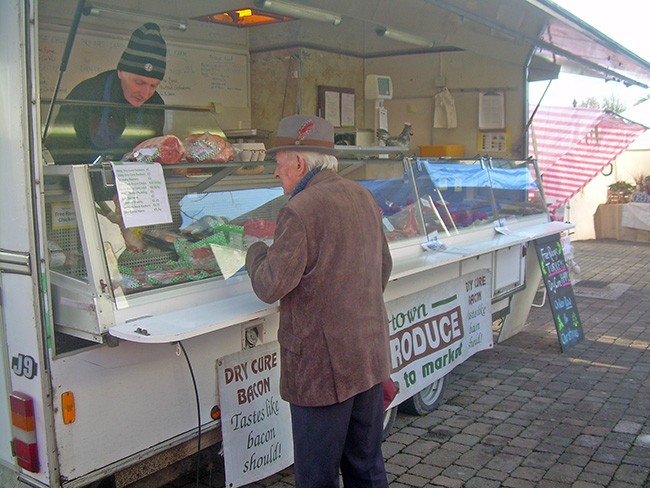 • Organic meats fresh and direct to the shopper
Carlow Council, with support from the state, desperately needs to follow the example of Grabels and grow its food market. The "no support, no interference" strategy from the local council is damaging the market because Carlow now faces the same problem Grabels started with – a lack of local producers.
There is a strong feeling in Carlow and in the country in general that the attitude of the state towards small-scale producers who are not interested in the export market must be challenged, for the sake of local, seasonal food production.
The Carlow market has an ageing population and hardly any young blood coming through. There is a shortage of bread and pastry-makers, vegetable growers and artisanal producers.
And the group is shrinking. There are now only ten stallholders.
Vegetable growers Charles and James Ryan had their growers' licence withdrawn by the Department of Agriculture over an auditing issue with new guidelines by the Food Safety Authority of Ireland that got blown out of proportion when arbitration would have resolved the problem. 
The fact that they have been closed down and ordered off the market for an issue that has nothing to do with food safety has angered market-goers. A petition in support of the Ryans was signed by over a hundred people on one morning in January.
Now there is a fear that more stallholders will be lost to the food market. 
• Jimmy Mulhall, who sells organic meat and meat products, has been researching food markets, travelling to France to see their models and looking at the closed markets in Dublin
Jimmy Mulhall, who sells organic meat and meat products, has been researching food markets, travelling to France to see their models and looking at the closed markets in Dublin. If he decides to move his business indoors there is a possibility he will not bring his truck to town for the open market.
Raw-milk cheese-maker Elizabeth Bradley has been under investigation by the authorities and is determined not to be forced out of business or out of the market, where she sells cheeses from Ireland, France and other countries.
Other threats to the market include the town council's plans for the space the stalls presently occupy, the lack of a manager to deal with bureaucratic problems (like the Ryans had), logistical issues (including new stallholders) and marketing issues (for instance, the website and general awareness).
Both markets are about the group and the quality of produce, and this makes them unique. Agronomist Yuna Chiffoleau understands this better than anyone. She was there at the beginning in Grabels and is there now to see the results of their careful planning.
"From 2005 I became interested in assessing how direct sales and short distribution channels can help protect agriculture from economic and social duress. I am very serious about helping the agronomists of tomorrow understand how much their decisions will have consequences in society," she says without a hint of irony.
Down the road in fictional Provence there were consequences when Ugolin's uncle persuaded him to plug Jean de Florette's spring, and thus deprive him of the precious water he needed to survive, consequences that are now mirrored in modern Ireland. 
In Grabels, the plug was never put in so there was no need to pull it out. In Carlow, the plug is so embedded no one knows it is there.