13 February 2017 Edition
Talking Irish with the DUP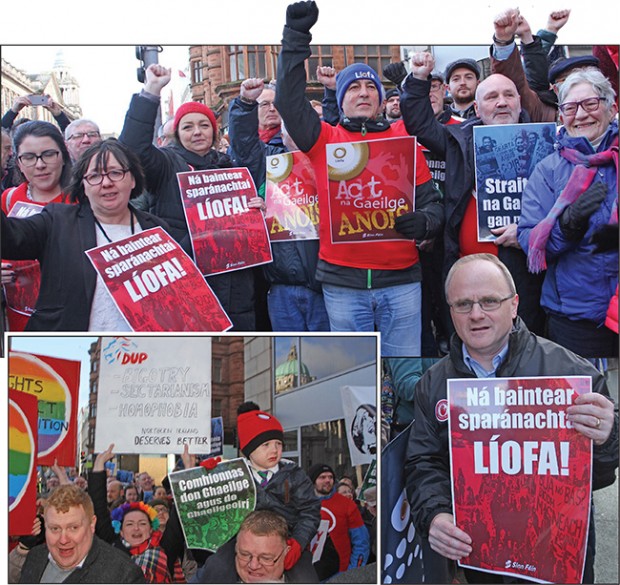 We eventually got around to the subject of the DUP's attitude towards the Irish language
I SPOTTED a DUP adviser in a store off the M1 near Lisburn in the middle of December,
I was returning home from a long day at Stormont and was feeling hungry myself. So I went in for a bite and I joined the DUP adviser at his table as if he was a cousin of mine and we chatted for a short while.
We eventually got around to the subject of the DUP's attitude towards the Irish language. I told him that his party's attitude was, at best, irrational. It would need to change. It wasn't acceptable.
Gerry Adams and other Irish speakers have come to describe the DUP reaction against the Irish language in even more direct, stark terms.
I mean, why would anyone hate a language, especially the Irish language, which belongs to us all and which is all around us?
I assured the DUP diner that the Irish language is a rich feature of our common heritage.
Tá An Ghaeilge in 'achan áit. In our everyday speech. In our place names. Literally, everywhere.
I studied Irish at school and at university. Parts of Mid Tyrone were considered Gaeltacht areas until the 1950s.
In 2017, there are thriving Gaeltacht communities in south Derry and west Belfast.
More and more páistí are being taught in Gaelscoileanna throughout the country.
We wrapped up our conversation and the DUP adviser conceded: 
"Maybe we do need to have a conversation about the Irish language."
We sure do. After the election, in early March, I'd say, would be time enough for a proper conversation.
Sinn Féin has worked consistently to achieve Irish-language rights in the North.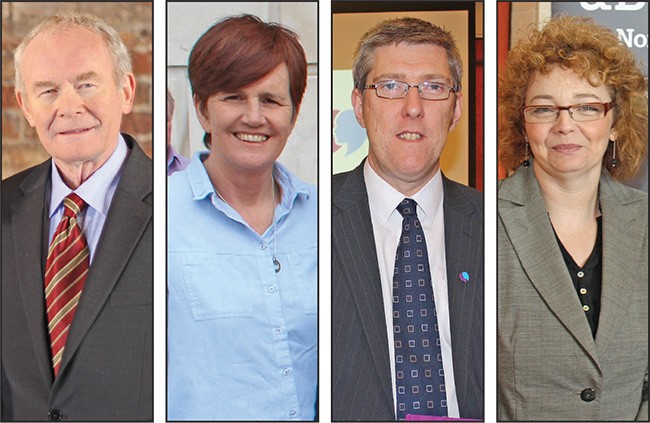 • Martin McGuinness, Caitríona Ruane, John O'Dowd and Carál Ní Chuilín have done Trojan work to promote the Irish language
Sinn Féin has achieved much on cultural and language rights through our support for Irish-medium education, in district councils and in high-level political negotiations over recent years. 
Gerry Adams has not been alone within Sinn Féin in leading this work but, as party leader, he has been consistent and to the fore.
Commitments to the Irish language were secured by Sinn Féin in the Good Friday Agreement itself as well as the subsequent commitment to an Irish Language Act by the British Government in the St Andrews Agreement.
I took up the roles of Sinn Féin Chairperson of the Assembly Education Committee and of Irish Language spokesperson within the Assembly in May of last year.
The new Assembly was being established and it was expected to run from 2016 to 2021.
The DUP's mishandling of the RHI scheme, however, and their disrespect and contempt for the Irish-language community, Irish identity and whole sections of our community brought about Martin McGuinness's decision to step down as deputy First Minister to let the people have their say.
In their time as Education Ministers, Martin McGuinness, Caitríona Ruane and John O'Dowd (as well as former Culture Minister Carál Ní Chuilín) did Trojan work to promote the Irish language within communities in the North and within Education.
Carál created the Líofa scheme which included bursaries for young people to go to the Gaeltacht and John certainly took resolute action to promote Irish-medium education.
We know only too well that DUP Ministers Paul Givan and Peter Weir have attempted to undo this good work.
There were protests in the streets as people who care about the language expressed that they were "Dearg le fearg".
Respect for the Irish language is sure to feature in future talks. 
The British Government and the DUP need to understand that one of our basic demands will be for the implementation of the Irish Language Act as agreed at St Andrews.