1 December 2015 Edition
Who's driving the pro-fracking train in Ireland?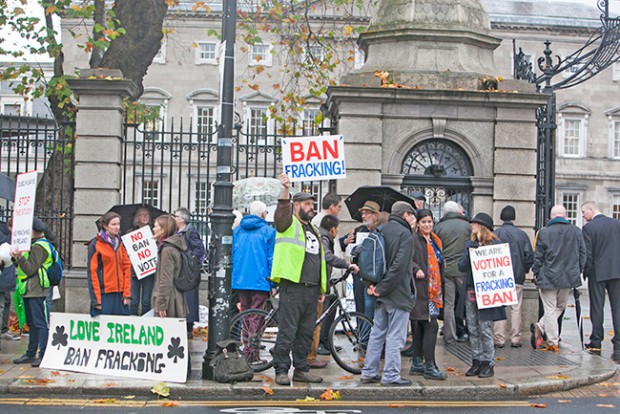 THE headlong rush towards hydraulic fracturing ('fracking') in Ireland seems to have a momentum of its own even though the vast majority of TDs and ministers I have spoken with in Leinster House feel that fracking should never and will never be allowed on this small, beautiful island. 
Given this cross-party and Independent consensus against fracking, it is difficult to understand why the Fine Gael/Labour Government continues to fund and support a deeply flawed Environmental Protection Agency research programme – a project being led by a company called CDM Smith with close connections to fracking energy companies. 
Sinn Féin has called for the EPA research programme to be scrapped due to the involvement of CDM Smith. This is a company that has previously been involved with advising oil and gas companies on fracking; now the Irish Government is funding it to carry out a study into fracking through the EPA. There is a clear conflict of interest involved in this study. How can we have confidence of the results of the study unless we can guarantee its independence? Queen's University Belfast have already withdrawn from the study due to such reasons. 
The Government has stated that no extraction licences will be issued until the EPA-led research programme has concluded. Many people fear there are hidden forces pushing a pro-fracking agenda and that attempts will be made to persuade the public that fracking can be safely carried out if it is 'properly regulated'.
The investigation being paid for by the public could well be used by fracking companies to force the Government's hand, especially under new rules touted as part of the TTIP (Transatlantic Trade and Investment Partnership) international trade agreement.
The question has to be asked and answered: Who is driving the pro-fracking train in Ireland, and does not political accountability demand that this train is stopped now and fracking banned completely in Ireland?
We call on the Irish Government to call for a clear ban on fracking immediately and to develop a strategy to ensure a green energy future for the benefit of all our citizens, not the fracking Ponzi-scheme companies.
Michael Colreavy TD, is Sinn Féin spokesperson on Communications, Energy & Natural Resources