1 December 2013 Edition
Deasún Breatnach – An Appreciation
Former An Phoblacht Editor's library donated to NUI Galway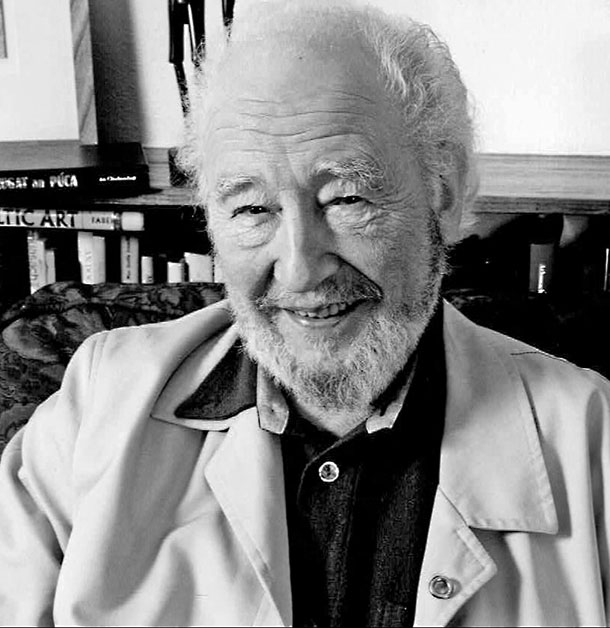 Deasún was many things – a poet, a novelist, a writer, a political activist, a socialist republican, a Gaelgéoir and a journalist. He was a father and grandfather and musician.
DEASÚN BREATNACH was an extraordinary man. His wife Luci (Lucila Hellman de Menchaca) was equally special and together they had six talented and gifted children: Diarmuid, Osgur, Caoilte, Oisín, Cormac and Lucilita.
Deasún lived his life to the full and that is reflected in the 11 books he wrote and in his significant and valuable library of hundreds of books on history and literature, on culture and the Irish language, heritage and folklore that the family recently presented to Acadamh na hOllscolaíochta, NUI Galway.
The Acadamh is charged with promoting higher education through the medium of Irish and works in the Irish communications sector, with a particular reference on journalism.
Deasún would have applauded their decision.
Instead of gathering dust in boxes they will now find renewed life on the shelves of Galway University and play their part in influencing and shaping future generations of journalists and writers.
Deasún was many things – a poet, a novelist, a writer, a political activist, a socialist republican, a Gaelgéoir and a journalist. He was a father and grandfather and musician.
He was also passionate about the co-operative movement and an active member of Conradh na Gaeilge.
Deasún wrote music and children's stories; was an editor and linguist who published in Irish, English and Spanish.
A life in newspapers
At differing times in his life he worked for most of the main newspapers and when he eventually retired he was a sub-editor for the Irish independent. He used many pen names, including Mac Lir, Dara Mac Dara and Rex Mac Gall Section 31.
Deasún was a member of Sinn Féin and on two occasions was editor of An Phoblacht.
He stepped up to the plate in 1973-74 when Éamon Mac Thomáis was imprisoned under the Offences Against the State Act.
It was a dangerous and difficult time to be a republican activist and especially a very public activist editing An Phoblacht. Almost all found themselves arrested, dragged off to an interrogation centre, abused and briefly before the Special Criminal Court, before being sent off to Mountjoy or Portlaoise prison.
Deasún's son Osgur was a victim of this process and of the infamous Garda 'Heavy Gang'.
Deasún became editor of An Phoblacht again in 1977 for two years. In that year the entire editorial staff and the SDLP printer of the Belfast-based Republican News were arrested by the RUC and British Army and imprisoned before the charges were dismissed.
Official censorship in the South through Section 31 and unofficial censorship in the North meant that republicans had to work hard to promote and defend our political analysis.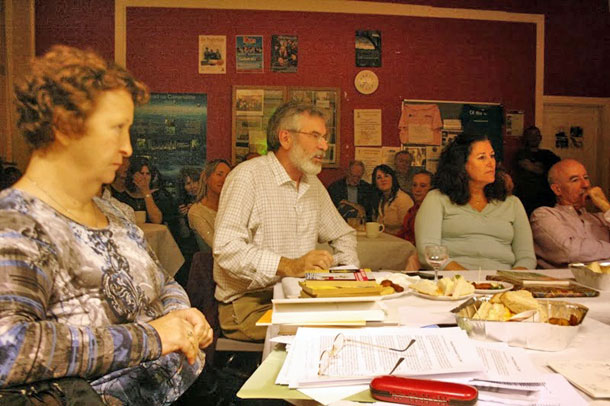 •  Ita Ní Cionnaith and Gerry Adams with Lucilita and Diarmuid Breathnach
There was no social media – no YouTube or Twitter or Facebook or Internet. Local news bulletins printed in their tens of thousands on Gestetner machines and distributed free door to door were widely used. But the main vehicles of republican publicity were Republican News based in Belfast and An Phoblacht based in Dublin. Deasún was one among many very brave men and women who wrote, designed, laid out and distributed these papers.
He had a sharp intellect, boundless energy and commitment, and was a prolific writer. He worked long hours to earn a living and raise his family. At the same time he gave freely of his time and experience and writing skills to produce An Phoblacht.
Dedicated language activist
In 2004, in a letter slamming some politicians for criticising the provisions of the Official Languages Act as a 'monumental waste of money' Deasún in a short paragraph wrote a manifesto for action on the Irish language and on equality for this generation of activists.
He wrote: "Let us please be clear on this. All we Irish-speakers seek is equality, opportunity for equality, official standing for equality, active, obvious and growing countrywide equality, in print, on radio, on TV, on public spending, in the Oireachtas, at local authority level, during elections, in church and in public wherever people gather for business or pleasure. All human beings are entitled under human rights to a respect for their own dignity and, likewise, for their languages, including Irish."
In 1966, when the Irish Government was celebrating the 50th anniversary of the Easter Rising, Deasún was one of an Irish language activist group – Misneach – who challenged the record of the state at what they described as its "non-achievement of the aims of the signatories of the Proclamation". They went on hunger strike for a week and picketed the GPO to highlight their campaign.
Micheál Mac Aonghusa, who was also a member of Misneach, said he did not believe that 'those who died in that Easter week died to have their names celebrated but rather their aims achieved.'
He and Luci were among those who founded the first Gaelscoil in Dublin – Scoil Lorcáin, in Monkstown.
Deasún died at the age of 85 on 3 October 2007.
Tragically for the family it was also the day they were burying their mother.
Luci Bhreatnach was a political activist in her own right working in Amnesty International, the Irish anti-Apartheid Movement and the Irish Council for Civil Liberties.
Together they were a formidable couple.
I want to thank Diarmuid, Osgur, Caoilte, Oisín, Cormac and Lucilita for making this important donation of books to Galway University.