15 June 2006 Edition
Cavan remembers election of Kieran Doherty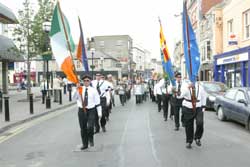 Several hundred people participated in a special commemorative event in Cavan town on Saturday, 10 June, to mark the 25th anniversary of the election of Kieran Doherty as TD for Cavan/Monaghan.
A Remembrance Mass in Cavan Cathedral was followed by a commemorative parade which closed with a rally outside Cavan Courthouse where Kieran was declared elected as TD on 11 June 1981.
The parade was led by a colour party and consisted of two marching bands. Republican banners from all over Co. Cavan were carried, some dating back to the Hunger Strike campaign itself. Young republicans carried images of the ten who died, including the late TD.
Guests of honour were Michael Doherty, brother of Kieran, and Michael's wife Betty who had travelled from Belfast.
Cuncillor Charlie Boylan, Election Agent for Kieran Doherty, addressed the crowd as did former H-Block prisoner Gerry McConville who recalled in a very personal way the Kieran Doherty he knew and admired so much.
Caoimhghín Ó Caoláin TD, who was Director of Elections for Kieran Doherty, exhorted everyone present to redouble their efforts to build the "only fitting memorial to the memory of Kieran Doherty and his comrades - a 32 county sovereign republic, as declared in Easter Week 1916".
An exhibition of Hunger Strike memorabilia was displayed in the Farnham Arms Hotel after the event.