15 June 2006 Edition
Remembering 1981: Two more join the Hunger Strike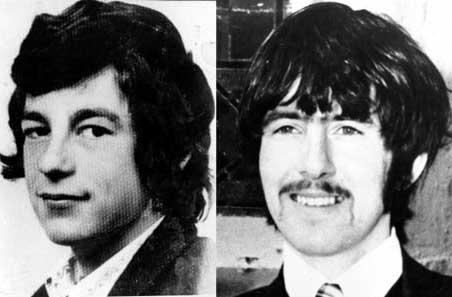 Thomas McElwee
The tenth republican to join the Hunger Strike was 23-year-old IRA Volunteer Thomas McElwee, from Bellaghy, South Derry. He had been imprisoned since December 1976, following a premature explosion in which he lost an eye. He was a first cousin of Francis Hughes, who died after 59 days on Hunger Strike. They were close friends and lived less than a half mile apart in the staunchly nationalist village of Bellaghy.
McElwee, the fifth of 12 children, was born in 1957. He joined Fianna Eireann when he was only 14, and subsequently joined the independent unit led by his cousin, Francis Hughes, which concentrated on defence of the local area and ambushes of British forces, before it was recruited in its entirety, into the IRA.
The years before Thomas' capture in October '76, were active ones in the South Derry area with a high level of IRA activity against British forces who became reluctant to wander into the country lanes surrounding Bellaghy.
During this time he went to Ballymena training centre to begin an apprenticeship as a motor mechanic. However harassment from loyalists forced him to leave and he then went to work with a local mechanic. Like many young men, whenever Thomas went out he was liable to be stopped for lengthy periods of time along empty country roads, searched, threatened, and abused. There were also house raids. The McElwees' home was first raided in 1974, and Thomas was arrested under Section 10, for three days.
Following his conviction McElwee returned to the blanket protest he had joined immediately after his trial. Speaking of his decision to join the Hunger Strike his mother said: 'I know Thomas and Benedict would be determined to stand up for their rights. In the Blocks one will stand for another. If this Hunger Strike isn't settled one way or another they'll all go the same way."
Thomas McElwee embarked on the Hunger Strike on 8 June 1981.
Paddy Quinn
Paddy Quinn from Belleeks, South Armagh was the eleventh man to join the 1981 Hunger Strike. He was the third oldest in the family with four sisters and three brothers. After leaving school, where he was a classmate of IRA Volunteer Peter Cleary murdered by the SAS in 1976, he worked as a draftsman with a consulting engineer in Newry.
The Quinn family was continually harassed by the British army and during an early morning raid in 1979 Paddy and his brothers were dragged from the house and beaten up outside the door. Their mother was so traumatised from witnessing this that she collapsed. In an act of callousness her sons were prevented from calling the doctor for over a half an hour.
Again in 1979 another British army raid caused so much damage to the Quinn home that they were forced to sell all the livestock on their small holding and move to a council house in Newry.
On 2 March 1977 Paddy Quinn was sentenced to 14 years for attempting to kill British soldiers, 14 years for possession of an armalite rifle and five years for membership of the IRA. He was captured 25 June 1976 on the same operation as fellow hunger striker Raymond McCreesh. In the years prior to their capture they had prevented the UDR gaining a foothold in South Armagh.
Immediately on his arrival in the H-Blocks he went 'on the blanket'. He described the Blocks as like been buried alive and two years before he went on Hunger Strike he had said the only reason the blanket men did not commence a hunger strike was the pressure this would place on the families. As his brother said at the time. "He must have done a brave bit of thinking before he went on it."
Paddy Quinn went on hunger strike on 15 June 1981.