15 June 2006 Edition
Collusion - the scandal that won't go away
The revelation that the car used by the Loughinisland killers was destroyed in 1996 coupled with the information that it was supplied by an RUC Special Branch agent, codenamed Mechanic, is another piece of evidence that points strongly to collusion in these callous murders. It would seem that the PSNI has been as active in the cover up as its predecessor, the RUC.
The complaint lodged with the Six County Ombudsman, by the families of the victims, presents Nuala O'Loan with a challenge. The issue of PSNI involvment in the cover up can't be brushed under the carpet just because the massacre took place prior to that force's formal inception.
The case also has serious implications south of the border. The British agent named Mechanic, was the Mount Vernon UVF explosives expert and as such is widely believed to have participated in the 1997 attack on the Sinn Féin offices in Monaghan and the 1993 attack on the Widow Scallans pub in Dublin, during which IRA Volounteer Martin Doherty was killed. For too long Irish Governments have adopted a 'hear no evil, see no evil, speak no evil' attitude to the activities of Unionist paramilitaries in the 26 counties and collusion in such activity by official British forces. Upwards of 50 people have been killed in the 26 Counties by unionist paramilitaries and/or British state forces since the early 1970s, with not a single individual made accountable. Article two of the European Convention on Human Rights states that all deaths must be adequatly investigated. There is considerable and mounting evidence that both governments are in violation of this article.
The festering scandal of collusion will not go away and British attempts to cover it up or limit the scope of inquiries only serve to confirm its existence. The British must confront this issue and admit what was going on. The Irish Government must stop assisting them in the cover up and demand answers.
An Phoblacht Magazine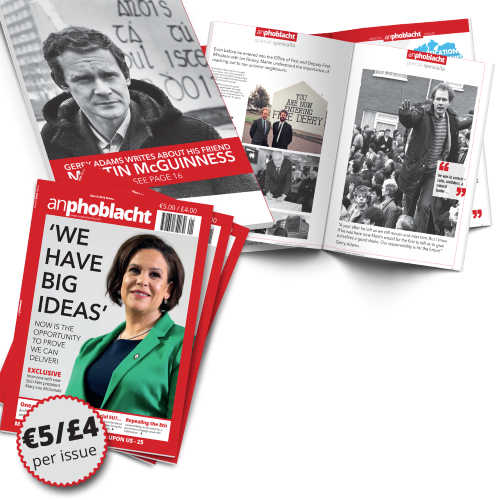 AN PHOBLACHT MAGAZINE:
The first edition of this new magazine will feature a 10 page special on the life and legacy of our leader Martin McGuinness to mark the first anniversary of his untimely passing.
It will include a personal reminiscence by Gerry Adams and contributions from the McGuinness family.
There will also be an exclusive interview with our new Uachtarán Mary Lou McDonald.
test