8 July 2004 Edition
Parliamentary Question over band's UVF links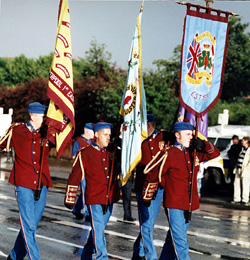 A loyalist band based in the Monkstown area on the outskirts of North Belfast is at the centre of controversy over its links with the UVF. The band, which was photographed last Thursday 1 July carrying loyalist paramilitary flags at a Somme commemoration march in East Belfast, is to be the subject of a Parliamentary Question at Westminster.
Labour MP Kevin McNamara is to ask the British Secretary of State about "the links between Monkstown Young Citizen Volunteers and the banned Ulster Volunteer Force [and] what actions will he take to prevent the Monkstown YCV from promoting the UVF".
McNamara is also to ask Paul Murphy: "Does he consider the flags and emblems associated with the Monkstown Young Citizen Volunteers to be an illegal paramilitary display?"
The controversy arose after the loyalist parade last Thursday, which saw the nationalist Short Strand area again put under curfew by hundreds of British soldiers and PSNI riot squads.
As well as the Monkstown band, which was also photographed at last month's contentious Whiterock parade, bands from the Shankill Road and East Belfast carried UVF insignia.
UDA insignia and flags were also seen at the parade, while among the Orange Lodges on show was one from the notoriously sectarian UDR militia.
In one incident as the loyalists marched past, a six-inch steel bolt was hurled at nationalist protesters.
The Short Strand Residents' Association, who organised the protest against the loyalist parade, have consistently called on parade organisers "to talk to resolve the issue".
According to Sinn Féin Deputy Mayor of Belfast Joe O'Donnell, who represents the Short Strand area, "these Orange Parades bring massive disruption and fear to this district.
"Over the years loyalist death squads have killed numerous residents and when nationalists see these parades going past with bands displaying loyalist paramilitary insignia they believe that insult is being added to the injury of all the sectarianism they've had to endure."