4 November 1999 Edition
Dúirt siad...
The Lord Chief Justice has made it quite clear that the police have got to establish a case for needing to see journalistic material - they can't just wade in there and automatically assume they can get it. It will make the authorities think twice before they do this again.

Sunday Tribune Northern editor Ed Moloney after winning his court case against the RUC who wanted his interview notes with RUC informant William Stobie

 


Those behind these attacks want to prevent change and stop the type of change required if we are to have justice and a democratic peace settlement.

Gerry Adams, speaking last Friday, 29 October, on recent sectarian attacks

 


There has been closure after closure. I think we deserve better than that. I seem to have spent most of my life over the past year and a half negotiating redundancy packages. We need jobs and we need them now, not next year or the year after that.

SIPTU Donegal rep Seán Reilly after Fruit of the Loom announced a further 190 job losses at its plant in Buncrana, County Donegal

 


We've been sold out, and people will just go and find other jobs.

Staff nurse at the Mater Hospital after last week's deferral of the nurses' strike

 


No, Jack Lynch did not earn the canonisation conferred by the media last week. He was a likeable individual, but a flawed politician whose best was not good enough either on the economy or the North.

Niall O'Dowd, writing in Ireland On Sunday, on former Taoiseach Jack Lynch

 


Decommissioning is not really the issue. The IRA has the support and can always get the weapons. Nobody is saying that about loyalist groups.

Ex-MI6 spook Michael Oatley on decommissioning, quoted in the English Guardian

 


How can Westlife justify their decision to those relatives whose loved ones have been killed by the British Army? At a time when all concerned are working to heal the scars of decades of conflict, Westlife's decision is insensitive in the extreme.

Carrickmacross, County Monaghan, Sinn Féin Councillor Matt Carthy on the decision by Irish band Westlife to support the Royal British Legion's Poppy Day appeal

 


He should resign. He is not representing his constituents.

Sinn Féin's Mary Nelis after Ulster Unionist Party MP Willie Ross failed to turn up to an all-party, cross-party meeting, because Martin McGuinness would be there
An Phoblacht Magazine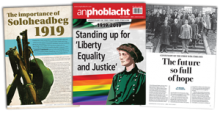 AN PHOBLACHT MAGAZINE:
Don't miss your chance to get the first edition of 2019 published to coincide with the 100th anniversary of An Chéad Dáil and Soloheadbeg.
In this edition Gerry Adams sets out the case for active abstentionism, Mícheál Mac Donncha takes us back to January 21st 1919, that fateful day after which here was no going back and Aengus Ó Snodaigh gives an account of the IRA attack carried out on the same day of the First Dáil, something that was to have a profound effect on the course of Irish history.
There are also articles about the aftermath of the 8th amendment campaign, the Rise of the Right and the civil rights movement.