24 November 2022 Edition
The long road for women's equality in Irish sport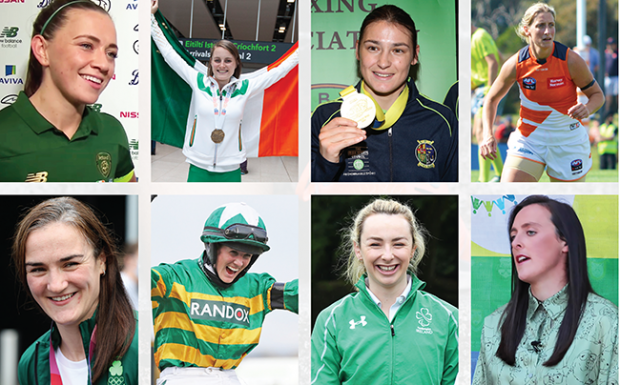 GAA and soccer player Laura Carroll celebrates the achievement of the women's national soccer team in qualifying for the 2023 World Cup. She also tells the story of the many challenges faced by women players along this journey from the margins to the centre of Irish sport, and highlights what still needs to be done for equality in sport.
— • — • —
Have you ever been to a men's soccer match? Plenty of diving. Plenty of fisticuffs. Plenty of fans causing needless havoc.
Have you ever been to a women's soccer match? None of this diving craic. Players respecting their opponents. Rarely a scrap between the teams. Courteous spectators.
In October 2022, the Irish women's national soccer team (WNT) finally reached the dreamland, by qualifying for the first major tournament in their history. Many of the squad would have played in underage European championships, even some of them reaching the FIFA Under 17 Women's World Cup quarterfinal in 2010. But the underage successes over the last decade never translated to the senior ranks. Until now. Not without many hardships along the way though.
Women in Ireland were first granted the vote in 1918, and even then not on equal terms with men. Married women were first permitted to work in the public sector in 1973 when the marriage bar was lifted. 
The first Ladies Gaelic Football All-Ireland Final took place in 1974, nearly a century after the first men's football All-Ireland Final. An Irish women's international soccer team was not established until 1973, despite the FAI being founded in 1921.
From 1973, the WNT would continue to tick away for decades, playing in the shadows of their male counterparts. It would take a 2017 strike for them to gain the recognition that they deserved. 
The squad demanded better treatment from the FAI after it was revealed that they were not on equal match fees to the men's team, and many having to take annual or unpaid leave for camps and matches, without reimbursement. 
Most notably, the team disclosed that they were sharing tracksuits with underage teams when travelling to and from away matches, having to change in airport toilets. The boycott threat was lifted when agreement on improvements was reached.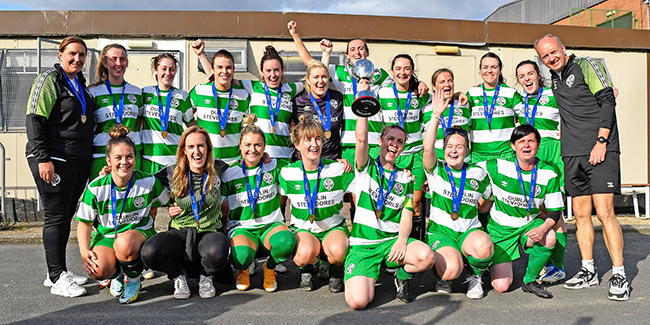 • St Patrick's CYFC, Premier 1
Without a shadow of a doubt, the Irish WNT would not have qualified for the 2023 FIFA Women's World Cup Finals had they not spoken out in 2017. This qualification has created a whole new fan base, both male and female.
As a child growing up in the noughties, my sporting idols were Roy Keane, Brian O'Driscoll, Padraic Joyce. Sportswomen's names were not part of my vocabulary, nor any of my peers. It was men's sport that was displayed on television. It was men's sport that was fully professional while women's sport retained an amateur status. 
It was men's games that were filling out stadiums. It was men's friendly games that were being advertised, while the equivalent women's team were playing cup final matches in front of a handful of spectators. Rarely would one of these spectators be someone other than a family member or friend of one of the players. 
There are several corporations and campaigns in Ireland who have been a massive support and advocate for women's sport in recent years. Most notably, the Federation of Irish Sport's 20x20 campaign, along with Lidl and TG4 sponsorships.
Nowadays, with a big thanks to the above-named corporations and campaigns, there are many female sporting heroes that young girls and boys can look up to and aspire to be. Young kids know these female sport stars names. You have Katie McCabe, Ciara Mageean, Katie Taylor, Cora Staunton, Hannah Tyrell, Ellen Keane and Rachel Blackmore, all thriving in their respective elite sporting careers. 
They are full time professional athletes. They are shown on television, in the pubs, on billboards, even painted on electricity boxes around Ireland. On my daily commute to work in Dublin City, I pass a primary school located near to the home of Olympic gold medallist Kellie Harrington. A banner displaying "Can See, Can Be" proudly flies at the entrance.
The 20x20 campaign launched in 2018 aimed to create a cultural shift in the perception of women's sport in Ireland. The aim was to boost media coverage, attendance at female sporting events and female sport participation by 20% by the year 2020. Its slogan "Can't See, Can't Be" and iconic 20x20 logo would be projected all over Ireland and has certainly improved media coverage, attendance and participation in female sport across the country since its launch.
Back in 2016, Lidl released the 'Ladyball' advert - a guerrilla ad campaign that would spark a conversation across the nation. The pink ball was marketed as "a soft touch for a woman's grip" and designed for "a lady's game". 
• Salthill/Knocknacarra, Junior A
People were outraged, and rightly so, that a massive corporation was advertising this. In this day and age! It turned out to be all in good faith. The following week, Lidl revealed that this controversial advert was to announce their newly-formed partnership with the LGFA that continues to this day, and ladies football has never looked back. 
They have pumped money into club football and county football. All Ireland Finals in Croke Park have reached record attendances year-on-year. You can see it is not just family members supporting the female sports players anymore. 
As Meath LGFA defended their Senior Football crown this year, it was great to see teenage boys supporting their county women. The massive crowd of 46,000 went way beyond just being brothers / fathers / cousins / friends / classmates / neighbours of one of the players. They were cheering on their county.
Elsewhere, TG4 coverage and support of women's sport in Ireland has been nothing short of exemplary. They have broadcast ladies' football for years. More recently, they have begun showing highlights of the AFLW in Australia, which boasts a host of Irish sports stars. 
Last year, they announced that they would begin to broadcast some Women's National League (WNL) games, the female equivalent of the League of Ireland. They boasted large audiences, and this season announced the broadcasting of even more games. This year saw the WNL in its most exciting form yet. With two games to go, there were four teams that could win the title. Could you name a more competitive league in the world? 
TG4 broadcast two matches from these last two rounds of games including what would be the decider between the 1st and 2nd placed teams. On the final day, with Peamount now out of the title race with 53 points, it fell to Shelbourne (1st - 57 points), Wexford Youths (2nd - 56 points) And (!!) Athlone Town (3rd - 55 points). Just two points separated 1st and 3rd place, with an array of permutations floating about social media sites to decipher who could win and how on the final day of the season. In the end, it was Shelbourne who were crowned winners, defending their 2021 league title from the previous year.
I play ladies Gaelic football for Salthill/Knocknacarra in Galway. Last weekend, our Junior Ladies football team were in a Connacht semi-final, our Intermediate Camogie team were in a county final and our Senior Men's footballers were in a county final. 
A big day for the club across the codes. Some members from each of these three teams were brought into some local (incidentally girls-only) primary schools the week before. The kids waved Salthill flags and chanted "SKGAA" aloud. In front of these young girls, the male MC proceeded to highlight the senior men's football final as "the biggest game of the weekend".
Imagine that! Despite this, it is the ladies football team only who prevailed from their respective knockout games as winners, and we advanced to a Connacht final. Only for the fact that the men's football team have been knocked out of the Championship could we expect a bit more support now. And now we are the Connacht champions!
Am I jealous of the young sports fans of Ireland today? Absolutely. I have been a female in sport my whole life. I began with soccer, playing with the local boys' team in Salthill Devon at eight, until I was forced to withdraw due to my gender at 13. 
I joined the Salthill Devon girls' team at 10 and won an All-Ireland medal that first year at U12s. We were the first team in the prestigious Salthill Devon club to win an All-Ireland title, either male or female. 
I went on to win two more All-Ireland medals with the club, and an abundance of All-Ireland runners up medals and local league titles. I played alongside current and past international players. 
The looming WNL came two or three years too late for our team. By the time a team in Galway was able to obtain a licence to enter the national league, our star players had headed off to college elsewhere. 
When the WNL was first established, we didn't have access to supports such as nutritionists and data analysts that the league boasts now. I played a season with Castlebar Celtic and then joined Galway WFC for their debut year in the WNL in 2013, before the ever-present-amongst-female-players cruciate ligament decided to give way in the first 20 minutes of Galway WFC's first ever match.
I was a late bloomer to the GAA scene, not joining my local Salthill/Knocknacarra GAA club until I was 11. We won a county title in my first full year, and we would go on to win county titles every year until I was 16. We won the county U14 Féile alongside our U14 boys' team in 2008 and we both ventured up to Cavan to represent the club in the national Féile competition. We got pipped in the semi-final stage to the eventual Kerry winners in the A division. From that 2008 Féile squad of 30+ girls, just 2 of were playing in the Connacht Final. 
That's a drop-out rate of 93% in 14 years. A handful of us would keep at it for many years after the Féile, but being a city team, many girls went off playing other sports or more commonly, quit sport altogether. It was the 2010s, girls did not see women playing sport on television. It wasn't the norm for women to play sport. Can't see, can't be.
Women in sport have come a long way, but we still have a long way to go. We have reached a point now where we need men to start loudly advocating for women's sport and not stand idly by. 
Young boys are beginning to support their local women's teams. But it is young men and parents of young children that really need to start supporting their local women's teams, and demanding equality and recognition for female players. We need everyone's support. For women. For women in sport. For women in sport in Ireland. 
• Laura Carroll is a Dublin based tax advisor currently playing soccer for St Patrick's CYFC in the EWFL