24 November 2022 Edition
Irish unity will create the best future for all citizens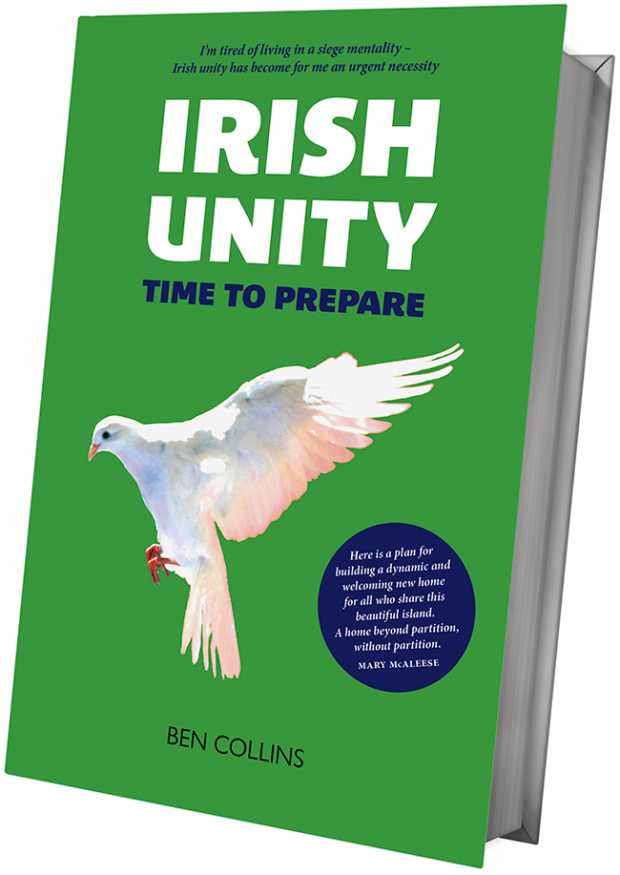 "This is a unique moment where we can choose to build a new nation which is fit for these turbulent times". Ben Collins whose new book 'Irish Unity Time to Prepare' has just been published makes the case for a unity referendum from the perspective of someone who grew up in a unionist background.
— • — • —
I think there is likely to be a unity referendum within the next decade and I wrote my book 'Irish Unity: Time to Prepare' because I want us to plan in advance of the vote so that we can have an evidence-based discussion on the benefits of Irish Unity and how this compares to being part of the United Kingdom. We will all win by having this constitutional conversation and I think that a New Ireland will benefit everyone.
I have been open to the idea of Irish Unity since the signing of the Good Friday Agreement. As someone raised with a strongly pro-British and unionist background I was determined that I was not going to be forced into a United Ireland by violence or threats of violence. 
The Good Friday Agreement changed all that. It secured the peace and enabled all of us who live across Ireland, to consider what the best future would be for all citizens. I had always considered myself to be Irish, it was an instinctive thing for me. Initially this was in addition to being British. But after living in Britain for several years, I felt increasingly Irish and my sense of Britishness dissipated. 
I came up with the idea of writing a book on Irish Unity back in the summer of 2012 because I passionately wanted to see my island reunited and I believe in a pluralist outward looking country. It was liberating when I realised that I did not have to be Catholic, speak Irish or play GAA to embrace the idea of unity. 
It was clear that things were changing, first with the Scottish independence referendum in 2014 and then the vote on EU membership in 2016. My long-term aspiration for Irish Unity became an urgent necessity because of Brexit. 
For me this isn't just about reclaiming the fourth green field, there are now increasingly hard-headed reasons why Irish Unity will create the best future for all citizens across Ireland. We have lived through six years of chaos after the vote for Brexit and I want us to avoid the same mistakes in advance of a border poll. 
During my time living and working in Scotland and Wales I saw how the indigenous language was cherished and nourished in those places. Even though I don't speak Irish, I want our indigenous language to be protected and celebrated in the same way that they are across Britain and the rest of Ireland. 
I want to live somewhere where a woman has the right to choose an abortion and also that there is equal marriage, recognised in law. Unfortunately, political unionism has shown that it is opposed to these things by its actions and words. 
The Good Friday Agreement protects the human rights and provides safeguards for all citizens across Ireland. This will be maintained after Irish Unity has been achieved. While political unionism may refuse to take part in this conversation, civic unionism is already part of this discussion. I know from speaking to my unionist friends that it is happening and hearing about how individuals and businesses are talking to others about it. 
• Choice and equality – political unionism has shown that it is opposed to these, by its actions and words
This is not about victory for one side over another, it is about creating the best possible future for all who call this island home. I want there to be a pathway to prosperity for our unionist brothers and sisters, where their identity and rights are protected. We need to give them hope, in a way which they haven't been able to enjoy, I believe, for many years. 
When I think about the economy, the health service, protecting the environment, gaining education and celebrating cultural diversity, I can honestly say that I believe the best way to achieve all of these things is through Irish Unity. It will be beneficial for all of Ireland that we remove the uncertainty caused by Northern Ireland being used as leverage in the Brexit negotiations, either by the British government or political unionism.
My book is divided into three parts. Firstly I cover the circumstances which will lead to a border poll. I believe we are living through those right now. Secondly I explain how we can win the campaign for a New Ireland. Thirdly I set out how we make sure that the reunification process is a success after we have voted for it. 
While Ireland is unique, I think that there are learnings from other places which can help us as we embark upon this journey. There are also opportunities to tap into the evident goodwill which exists for us. In particular I think the EU will provide a key role in the reunification process, just as it has done throughout our peace process. Both the USA and Canada will provide support and I do not just mean financial. 
Irish Unity is the escape hatch from the dysfunction of Westminster. You do not have to be an economist to understand that two of something is more expensive and less efficient than one thing. 
All too often due to Partition we duplicate so many things across Ireland. There is a better way. We can reset our public services, provide a stable platform for growing indigenous businesses and attracting foreign investment. 
This is a unique moment where we can choose to build a new nation which is fit for these turbulent times. It is about taking the best of the two states and all of the people on this island and creating a New Ireland where all citizens are cherished and our diversity is celebrated, firmly anchored in the European Union. 
• Ben Collins is a communications consultant. He is a former Unionist and Conservative Party member, who later joined the Liberal Democrats and Alliance party of Northern Ireland. He is no longer a member of any political party.