24 November 2022 Edition
Let the people sing
Every now and again, an occasion arises that propels a sometimes forgotten song or phrase back into being. Often these occasions can be sports events, from the rugby fans singing Pete St. John's Gorta Mór song 'The Fields of Athenry' to 'Sean South from Garryowen' being belted out by fans of the Limerick GAA teams. 
Indeed, it should also be noted, the 1990 Football World Cup anthem of the Irish team 'Put 'Em Under Pressure' was amalgamation of two songs, 'O'Neill's Cavalry' and the Timothy Daniel Sullivan song 'God Save Ireland' celebrating the Manchester Martyrs, three Fenians executed in 1867, which also served as an unofficial Irish national anthem from the 1870s to the 1920s.
And now we move onto the latest re-emergence of a song and the complete debacle that surrounded it. I must confess firstly, I have no interest in sport. I am and have always been a music geek. So, while I wish the Irish Women's football team all the best, this article gives a background to the origins of the song and to refute the faux outrage from some quarters about the choice of song the team chose to celebrate with in their dressing room. 
'The Celtic Symphony' is not a song in praise of the IRA!
"Ooh ah" is a catchy little two-word bridge easily rhymed with and easily put to music. And so, you have "Ooh ah…. Paul McGrath" as sung by Irish soccer fans. Or "Ooh ah……just a little bit" as sung by Gina G when she lost out to a Eurovision win for England at the hands of our own Eimear Quinn with "The Voice". It was also used in the already mentioned Irish soccer 1990 World Cup song.
This same phrase was used by Brian Warfield when writing 'Celtic Symphony' and paraphrasing graffiti often seen in and around Glasgow. 
It was far across the sea
When the devil got a hold of me
He wouldn't set me free
So he kept me soul for ransom
'Celtic Symphony' was written by Brian Warfield of the Wolfe Tones in 1987 and was created for the centenary anniversary of Glasgow Celtic Football Club the following year. It tells the story of a sailor from Glasgow in Scotland who, after many years at sea and presumably a reliance on rum to keep him warm and fight his daemons on long trips, was convinced he was possessed by the Devil.
I'm a sailor man from Glasgow town
I've roamed this world around and round
He's the meanest thing that I have found
In all my days of wandering
In our seafaring friend's mind, he recalled his younger days going to see Celtic play in Celtic Park often referred to by Celtic fans as 'Paradise' and standing on his favourite terrace 'The Jungle'. During a late-night chat between our friend and the Devil, he was surprised by the Devil's request to take him to see Celtic Park and thought that if he got him to Glasgow, he might indeed be able to lose him. 
And I could see his evil eyes
Was then he took me by surprise
Take me to your paradise
I want to see the jungle
Ok. so we have gotten this far and not a sign of any glorification of the IRA to be seen. I hope those who totally took this song out of context are following thus far. So now, our friend and the Devil are on the way back to Glasgow, back on dry land and away from wash of the salty sea. The sailor man at this stage is sure he's onto a winner and beloved Celtic will rid him of his new companion. 
Here we go again
We're on the road again
We're on our way to paradise
We love the jungle deep
That's where the lion sleeps
For then those evil eyes
They have no place in paradise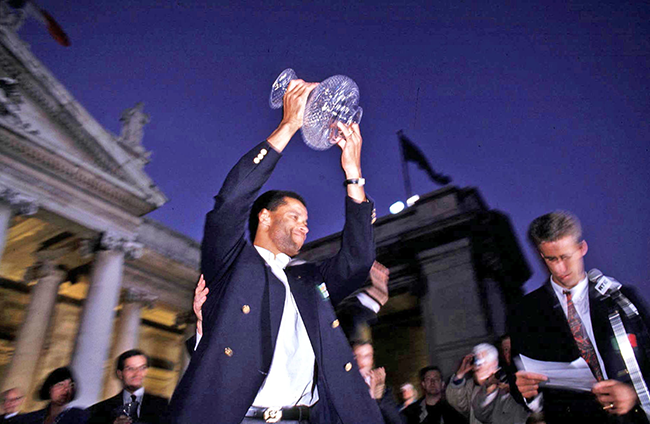 • CATCHY: 1990 World Cup fans sang "Ooh ah…. Paul McGrath"
And now we move to the chorus, as many will know Glasgow is a divided city, in particular when it comes to politics, religion and football. Many people of Irish decent moved to and lived their lives in and around Glasgow and there would always have been support for the Republican Movement back in Ireland. 
In terms of football, many Celtic fans would have inscribed things like "Up the IRA" and Celtic-related graffiti on walls. For anyone who's been to Glasgow, this will not be an uncommon sight. In the next verse, Brian details the trip of the old man and Devil heading to Celtic Park and recounts what they would have seen. 
Graffiti on the walls just as the sun was going down
I see graffiti on the walls (of the Celts, of the Celts)
Graffiti on the walls that says, "We're magic, we're magic"
Graffiti on the wall, graffiti on the wall
And it says
"Ooh ah up the 'RA, say ooh ah up the 'RA"
"Ooh ah up the 'RA, say ooh ah up the 'RA"
Again, as we come near the end of this football anthem, nowhere has it glorified the IRA. If we were to simply stop singing any of our native songs with the mere mention of the IRA, we would indeed have a very small repertoire and no National Anthem for that matter. There are too many songs to list and quite a few written by the author of 'Celtic Symphony' that mention the IRA but not "glorifying" every action of the IRA as claimed by the promoters of fake outrage. 
This twisting of our history cannot be allowed to suit an anti-republican narrative by the Government or those in the hostile media. The very fact that in a week of all this 'outrage', 'Celtic Symphony', a song now 35 years old, was sitting at number 2 in the British charts and Number 1 and 2 in the Irish charts sums up the general public's take on this nonissue. 
To conclude with the words of another ballad penned by Warfield, "Let the people sing their stories and their songs, the music of their native land". 
• Jason Lambert is a Dublin-based Sinn Féin activist