6 July 2022
Remembering Óglach Tina Shannon
Many republicans, across different parts of Ireland but especially in Dublin, were shocked and saddened to learn of the recent death of Christina (Tina) Shannon.
Tina was a dedicated IRA Volunteer with a deep commitment to the cause of justice and freedom.
The first thoughts of most republicans when they heard the sad news of Tina's passing were for just of Tina, but also for her sister Frances. Very close and always associated with each other, they were sisters, comrades and best friends. They lived together in Kilmainham, in a house that became well known to many republican activists over the years.
Tina Shannon was a proud Dubliner and Ballyfermot woman who worked in Rowntree Mackintosh sweet factory where she was an active trade unionist. With growing political awareness, and not being a woman to stand by passively in the face of the injustices faced by those living under British rule in the Six Counties, Tina joined the ranks of Óglaigh na hÉireann.
Never shirking any task, Tina displayed a discipline, courage and loyalty which was widely respected. As a republican activist, Tina was a strong supporter of Sinn Féin in her native Dublin and was particularly pleased at the progress of the party in Dublin South Central, and especially in her native Ballyfermot.
Tina, who had suffered illness in recent years, died on 25 June, as committed a republican as ever.
Republicans from Dublin and various other parts of the country visited Tina and Frances's home in Kilmainham on Thursday, 30th June to pay their respects and to sympathise with the family.
Tina was laid to rest on Friday, 1st July in Palmerstown Cemetery where a graveside oration was delivered by republican activist and former political prisoner, Eamon Nolan.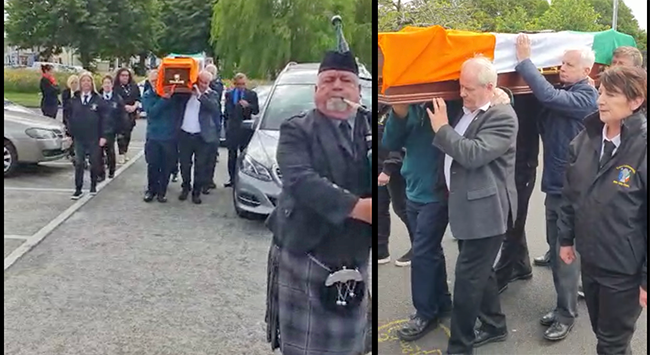 During the course of his address he said:
"Tina saw injustice in Ireland and decided to do something about it. She worked to build a United Ireland of Equals, fulfilling the Proclamation of the Republic, proclaimed here in Dublin at Easter 1916 - a task we are still working on.
"Even in recent years, as her health was declining, any time I met her, which I'm sad to say was not often enough, she was interested in what was happening politically and how things were going.
"She was always supportive and glad to see the advances being made by the Republican Movement towards our objectives.
"We should never forget the debt we owe to those comrades who have gone before us, and the best way we can honour them is by completing the task of building the Republic they fought for."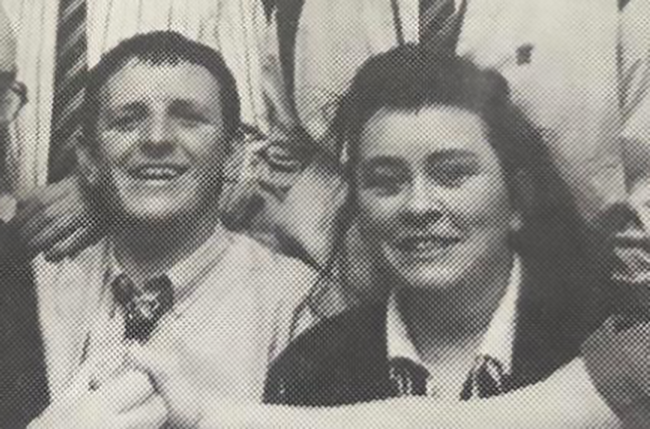 • Volunteer Martin 'Doco' Doherty with Tina
Eamon noted that he was speaking at the grave of a female IRA volunteer, and that within two weeks republicans would also gather in Mount Jerome cemetery to say Slán to another female IRA volunteer, Martina Shanahan. Martina died during the Covid lockdown with republicans only now being able to pay her proper tribute.
He said:
"Two female IRA volunteers in close succession. Both with proud records of republican activism.
"For too long history has been written by men, about men. We saw that following the 1798 rebellion, when the likes of Betsy Gray had her role as one of the leaders of that rebellion written out of history. 
"It is also true of those brave women of the revolutionary period from 1916 to '23, whose contributions were also ignored by many historians. Women like Margaret Skinnider, Elizabeth O'Farrell, and Eithne Coyle to name but a few. And in some quarters that has continued right up to the present day.
"Modern historical research is seeking to address some of the imbalance, as we saw with the recent publication of a biography of Maire Comerford, also a 1916 veteran, but there is still a long way to go.
"Today Republicanism is privileged to be led by two strong republican women, Mary Lou McDonald and Michelle O'Neill. And so it should be. It shouldn't be unusual, but it is. And we should not become complacent. Recently we have witnessed the forces of conservatism in the US attacking the freedoms, not only of women but of all of us. As Dr Martin Luther King put it: "Injustice anywhere is a threat to justice everywhere".
"There are those in society who want to oppose the gains made in this country in recent times, and there are those who will oppose, in every way they can, the progress towards a united Ireland which is so evident today.
"I believe we are at a tipping point. Today the question of Irish Unity is no longer an abstract concept spoken about only by republicans. It is happening before our eyes, despite the attempts of unionists and others to hold back the tide.
"The only questions are when and how. And those are the questions we need to continue to pose and to answer.
Preparing for Unity. Setting out how the new Ireland will be governed and will operate. Ensuring that at last we can all live in an Ireland that does treat all of its children equally. That is what we want to see.
"That is what Volunteer Tina Shannon wanted to see. That is what those who have gone before us fought for; what the Volunteers of the IRA fought for; and what progressive forces throughout the island are struggling to achieve. It is not inevitable, but it is possible and we need to ensure it happens.  
"As we stand by the grave of Volunteer Tina Shannon, we once again commit to continuing the struggle for that noble idea of the Republic. We are the generation who can see it happen, and when we do it will be because of the work of all our comrades who took part in struggle both now and in the past.
"I want to finish with a short quote that I know Tina would like to hear. She was a very good singer. For many of us she will always be associated with one song and every time that we hear it we will think of her, 'The Girl who sang the Blues'.  
I met a girl who sang the blues
And I asked her for some happy news
But she just smiled and turned away
"Slán Tina, a chara. Codladh sámh. An Phoblacht Abú."
An Phoblacht on Twitter

An initiative for dialogue 
for reconciliation 
— — — — — — —
Contributions from key figures in the churches, academia and wider civic society as well as senior republican figures