24 February 2021
Martina Shanahan 1965 – 2021
Martina Shanahan's life began in 1965. The youngest of six, my baby sister was born at home in Rathfarnham, Dublin I remember the night, even though I was only five at the time. I remember waking up to the sound of a baby crying, and when I said it to my sister Mary, she told me "Go back to sleep. It's only cats". Next morning, there was Martina in my mother's arms and our life together began.
Ours was a Republican home. We were brought up with stories about my aunt Jennie Shanahan, who had fought in City Hall in 1916, and my grandfather Patrick Shanahan who also took part in the Rising. Our father was an active Republican and made us very aware of what was happening in the North. I remember in the early seventies, we had children staying with us, who had been brought South to get a break from the pogroms that were happening in Belfast and other parts of the North.
When Martina was nine our father was sentenced to nine years and was sent to Portlaoise as a Republican prisoner. It was the start of many years visiting Portlaoise, first to see my father, and in later years to see my husband, Joe. My father was due home in September 1981 after serving his sentence. 
Unfortunately, mammy died in February of that year. She was only 54 years old. In her final days, our father was out on parole to visit mammy who was gravely ill, and on the last day of his three-day parole she passed away. He had to apply for an extension and was unnecessarily forced back to the prison to sign a new parole form. While there, he was again strip-searched, despite not being back on the wing. Conditions in Portlaoise were very bad at that time and prisoners were beaten on a regular basis, including our father. Martina was only 15 when our mother passed away and it was very hard on her. 
Martina's Republicanism was strong, and as soon as she was old enough she became active in the republican struggle herself. A hard-working and dedicated volunteer no job was too big or too small for Martina. She joined the staff of AP/RN for a number of years as a teenager, a time she often referenced as a happy period in her life.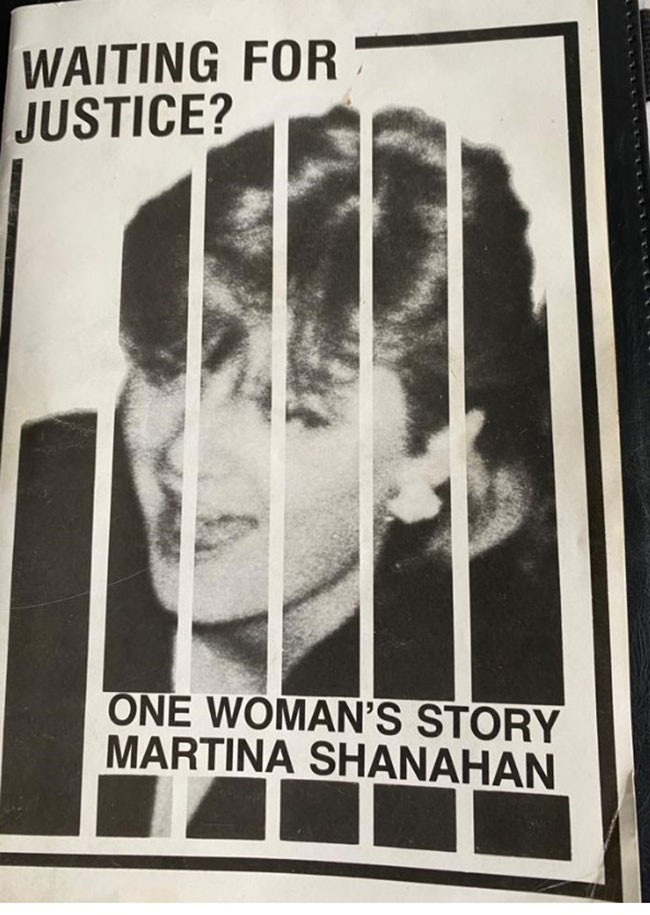 Then, in 1987, Martina, along with Finbar Cullen and John McCann, was arrested in Winchester in England, and charged with conspiracy to murder the then Secretary of State for Northern Ireland. Known as the Winchester Three, they were sentenced to twenty-five years in English prisons. It was obvious at the time that there was no evidence to support the charge and eventually, after a long and hard fought campaign, they were released on appeal on Martina's 25th birthday in 1990. It was during that time that our sister Mary passed away at the age of 41.
While Martina was in prison, our family visited her regularly. Visiting someone in an English prison was a different experience to the visits to Portlaoise Prison which is not far from Dublin. Having to travel to England, negotiate public transport and a very hostile prison bureaucracy was very difficult. 
It was while on a trip to the prison that my brother Paddy and I were arrested under the PTA and held for days in an English police station. They knew we were over to visit Martina, but it was all part of the policy of isolating Republicans. After a couple of days, I was served with an exclusion order barring me from entering the UK. Why? Because they knew how close me and Martina were, and it was another attempt to break her. That didn't happen.
Martina's arrest and imprisonment was a hard time for all of us, but Martina was always strong and continuously challenged her arrest and imprisonment. She spent most of her imprisonment in Durham Jail, and it was there that Martina met the wonderful Martina Anderson and Ella O Dwyer. Two very brave Irish women. They looked after her so well.  Thank you to the both of you. On her release from Durham I remember her arriving to a throng of media at Dublin airport as she shouted 'British Justice Stinks'. How true that is. In a statement at the airport she also called for the release of the Birmingham Six who were still in prison at the time.  
It was while in prison that Martina started writing to her now husband, Gerry Hanratty, while he was a political prisoner in Germany. It was then their love story began. Gerry also spent time in Long Kesh, English and Portlaoise Prisons. Their relationship blossomed and Martina gave birth to their beautiful son Cian. When Cian was only a small child, Gerry was again arrested and sentenced to 30 years in prison in England. He was eventually released on licence following the Good Friday Agreement in 1998. Gerry and Martina subsequently married and had a very happy life together.  
Martina has suffered from bad health for some time and lost her fight on Wednesday 17th February 2021. She passed away with her husband by her side. Unfortunately, because of Covid restrictions, her son Cian couldn't be with her. They only let one person in the room at any time. Cian did spend all night the night before with her, holding her hand. I can't emphasise enough how much love, care and attention Gerry gave Martina. Love you Gerry.
To say I'm heartbroken is putting it mildly. On behalf of the Shanahans, Rita, Paddy and Sean and me Deirdre, the Hanratty's, Gerry's daughter Charleen, son in-law Noel and grand-children, the Keogh family and the Whelan's, especially her niece/goddaughter Niamh, and her nephew Alan (our son who has been of great comfort to Cian) and my rock of a husband, Joe, I want to say a huge thank you.
Martina Shanahan lived a full life, full of love and laughter. She was a proud Republican woman, a mother, a wife, a sister and a true friend and comrade. The gap she leaves will never be filled, but her memory will be held lovingly, and we will learn to laugh again at the wonderful times we shared.
To all our friends and comrades, the esteem Martina and Gerry are held in is astounding. Thank you for all the messages and thank you to Ann O Sullivan, Martina Anderson, Ella O Dwyer, and Eamonn Nolan for all the help. The trouble when you start mentioning names you never get everyone in, but all of you who were there for us, you know who you are.
From the bottom of my heart, Thank you.
Volunteer Martina Shanahan 1965 - 2021
An Phoblacht on Twitter

An initiative for dialogue 
for reconciliation 
— — — — — — —
Contributions from key figures in the churches, academia and wider civic society as well as senior republican figures