27 January 2022 Edition
The long-lasting impact of Bloody Sunday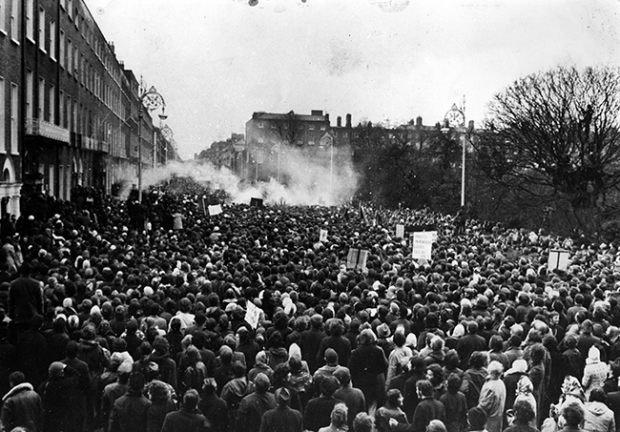 Niall Meehan who witnessed the British Embassy in Dublin burn down three days after the Bloody Sunday massacre writes on the ongoing implications and impact of that day's events on the media and political culture of the 26 Counties.
It is the 50th anniversary of the 30 January 1972 Bloody Sunday massacre. That day, the British Parachute Regiment in Derry shot dead 13 anti-internment civil rights protesters. Another protester died later. In all, 26 were shot. The massacre sent shock waves around Ireland and the world. They were an expression of increasing frustration at British imperialism. 
Internment without trial was introduced against the Six-County nationalist population six months earlier on 9 August. Though ostensibly targeted at the IRA and excluding unionist armed groups, political leaders like Michael Farrell of People's Democracy were also picked up. The families of those snatched were attacked and their houses were destroyed. The exercise was accompanied by torture techniques, honed by British forces during the Cold War and in other colonial 'emergencies'.
24 people were shot over the following two days, 17 by the British Army. This included nine civilians in Ballymurphy, Belfast, killed by members of the same Parachute Regiment. 
Unionists in Belfast also burned out Catholics. As a result, over 7,000 were left homeless. Echoing pogrom attempts in 1969, about 2,500 mainly Belfast refugees fled south. In the four months before internment, 34 died. Four months later, 140 lay dead. Whereas ten British soldiers died prior to August 1971, 34 more were killed by the end of December.
Far from subduing protests and a growing IRA insurgency, internment had an opposite effect. Despite continuing brutal attacks, carried out at the behest of the discredited Unionist regime in Stormont, nationalists en masse were unbowed. They continued to protest and to resist. In the spirit of the times and reminiscent of the War of Independence, British repression fuelled rather than subdued popular resistance.
On 18 January 1972, Unionist premier Brian Faulkner, who had pushed the internment policy, tried to drive nationalists off the streets by banning demonstrations. Mass mobilisation by the nationalist population was as explosive to those in power as IRA activities. 
Four days later, a week before Derry's Bloody Sunday, British soldiers batoned and beat anti-interment demonstrators off Magilligan Strand in Derry. One of those attacked, John Hume, was so alarmed by the troops' brutal behaviour, he decided not to participate in the Civil Rights Movement protest against internment in Derry on 30 January. 
Thousands set off for the city centre from Derry's Bogside on that fateful Sunday. The circumstances under which the victims died in broad daylight and within crowds of protesters were clear immediately. They were unarmed, shot dead by the British Army for the crime of being Irish protesters.
The British government needed time to distance itself and its forces from the massacre. Two days later, a tribunal under Lord Widgery was set up. He was packed off, not to 'Londonderry' as he termed it, but to nearby mainly unionist Coleraine. Widgery left London with advice from Prime Minister Edward Heath that Britain was "fighting not only a military war, but a propaganda war". 
Widgery did as he was advised and produced an immediately discredited report in April that exonerated his army and blamed protest organisers. The official propaganda did not work.
The victims' families, the people of Derry, and Irish people generally were outraged at this further outrage.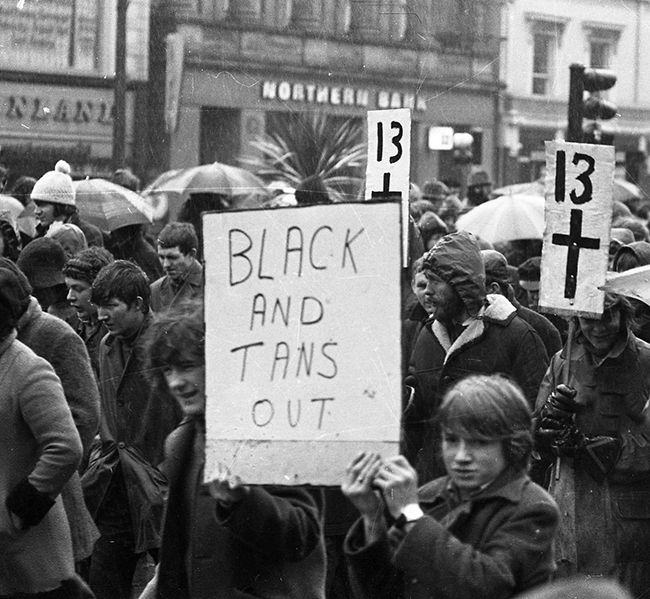 The families vowed not to rest until the British government officially recognised what everyone else knew, that the Bloody Sunday dead were unarmed civilians. Another inquiry, this time under Lord Saville, was set up in 1998. It took 12 years, and occasional attempts to deviate into felon-setting, to report as much truth as was then officially palatable. The British government required 40 years to declare that those killed were unarmed and were shot down in cold blood. 
Holding anyone responsible was still a step too far. Plans to prosecute small fry, two low-ranking British soldiers, were finally abandoned in 2021. As in 1972, it is a case of British law and British order. Thousands of republicans were railroaded through brutal interrogations and one-judge star chambers. British transgressors were, almost without exception, beneficiaries of an unspoken pact between them and their government; do the dirty work on our behalf and you will be protected from prosecution.
Bloody Sunday had a large effect down south. There were spontaneous strikes and demonstrations all over the 26 Counties, as the accompanying graphics show. The then Irish Government of Jack Lynch tried to keep a lid on protests by declaring a National Day of Mourning on 2 February. Trade unions declared a general strike that day. Thousands marched in a Dublin Council of Trade Unions protest and cheered as the British Embassy, that had been attacked continuously for two days and nights, went up in flames. 
The Dublin Government had wanted to distance the South from the experiences and radicalisation of nationalists in the Six Counties. Censorship, which is also 50 years old, was imposed on RTÉ in September 1971. 
That became a simmering crisis that erupted later in 1972, when the Government sacked the RTÉ Authority. Plans to increase repression were interrupted by Bloody Sunday. Irish Press headlines the day before said, "Military courts could be introduced, Government crackdown on IRA". It reported 40 republicans taken into custody in the Dundalk area, an action welcomed by Stormont Home Affairs Minister John Taylor (now Lord Kilclooney).
The politician most associated with the worst effects of repression and Section 31 censorship, Conor Cruise O'Brien, was swayed by public opinion. He had been moving toward the unionist position he later openly espoused and was a leading proponent of the fantasy that Fianna Fáil set up and financed the Provisional IRA. 
Bloody Sunday momentarily tripped O'Brien up. Surprised Irish Press readers read a few days afterwards, "Get troops out, O'Brien tells British". He put the demand to British Home Secretary Reginald Maudling, then recovering from a violent attack in the House of Commons from Bernadette Devlin, who had been in Derry. O'Brien said, "nothing would be a help to the situation but for the British Government to set a date for the departure of their troops".
Tracing the changes in O'Brien's characterisation of what happened on Bloody Sunday is instructive of a certain type of Dublin 'liberal', desperate to alter public perceptions in the medium to long term. 
Conor Cruise O'Brien wrote one week later in the London Observer that British Army Paratroopers "deliberately shot dead 13 unarmed men" and repeated his troops out call. By 1985 he had revised his view to, "British troops fired on rioters". In 1997, this morphed in the Sunday Independent into, "the 'civil rights civilians' were Sinn Féin activists operating for the IRA". O'Brien portrayed support for democratic rights as IRA-linked subversion. In his war, as in Widgery's tribunal report, propaganda took precedence. 
While O'Brien prospered in the mid 1970s, those who failed to toe the O'Brien line in the media suffered. One casualty was Ireland's then best-known mainstream investigative reporter, Joe MacAnthony. His masterful four-page report on Bloody Sunday in the 6 February Sunday Independent became the template for all future investigation, including by the Saville Inquiry. 
• The British Embassy in Dublin was burnt down three days after the Bloody Sunday massacre
MacAnthony was the first to uncover Fianna Fáil political corruption in local government – in a front-page 1974 expose featuring Ray Burke. By 1976, MacAnthony was forced out of the Independent by the attitude of its new owner and ardent Jack Lynch supporter, Tony O'Reilly. MacAnthony was banned from work in O'Brien-controlled RTÉ the same year. He then left for an award-winning career in Canada. 
The immediate political impact of the reaction to Bloody Sunday was the abolition in March of the 50 year old Unionist Party regime at Stormont. From that point on, Britain took direct control of the conflict. 
A process of attrition, Ulsterisation, security force collusion involving sectarian killings and the Dublin and Monaghan bombings, judicial manipulation, and police beatings began. It came to a head during the H-Block and Armagh crisis of the early 1980s. Refusal of the Irish people to bow was concentrated on the bodies of IRA prisoners in the H Blocks and in Armagh jail. As after Bloody Sunday, British bloody-mindedness resulted in the death of ten hunger strikers and caused IRA support to grew significantly, this time combined with election interventions.
Throughout all of that period, families of the Derry victims and their supporters ploughed on, unwilling and unable to give up. Their pressure plus conditions created by the IRA ceasefires and the peace process made British refusal to bend no longer tenable or acceptable. 
Without the resolve of the Bloody Sunday families and the people of Derry, Britain might never have been forced, eventually, to admit a truth a clear as the daylight massacre itself. 
The price of protest was high, unbearable for the family and friends of victims, but so too was the price paid by Britain for Bloody Sunday.