27 January 2022 Edition
Sinn Féin has stood up for workers and families
To say it came as a shock when I was first asked to consider running in the Assembly Election in 2017 would be an understatement. I was used to, and more comfortable, being part of the backroom team; whether it was working over in Europe with our then four-person MEP team or as a press officer behind the camera helping our candidates and elected representatives dealing with the media.
I didn't like the thought of being out front and centre, being interviewed and being the one in front of the camera. But I was very proud to represent Sinn Féin knowing that my fellow members in Fermanagh had selected me and knew I was good enough to go forward as their potential MLA.
And so, I was selected and the next thing we had to do was try and get three MLAs elected in Fermanagh South Tyrone. My default position was that I would be fighting for the fifth and final seat and my two running mates, Seán Lynch and Michelle Gildernew, would be returned as MLAs for the constituency.
I was so thankful to the 7,767 people who gave me their first preference votes. I was elected on the third count alongside Michelle, with Seán being elected on the fourth count.
On the 3 March 2017, I was elected MLA for Fermanagh and South Tyrone at just 26 years old. At the time, I didn't think much of my age but looking back now, I realise just how young I was.
But my youth, my gender, and my rural background were all reasons why I had agreed to run in the first place. My home is 112 miles one way from Stormont. If I was to travel there by public transport, I would need to get three buses. Thankfully, I drive and it is just the lack of decent roads that I need to contend with.
Tackling regional inequalities and making sure the voices of rural people are heard was always, and remains, one of my priorities.

• The Bill to ban zero hour contracts will provide fairness and certainty for workers
Fermanagh doesn't have one mile of dual carriageway or railway track and we have the poorest broadband in the North. And despite making up more than 6% of the north's population and 11% of its land area, the Fermanagh and Omagh District Council area accounted for just over 5% of the jobs created by Invest NI in 2017-18.
I use my profile as MLA to showcase Fermanagh and put us on the map for all the right reasons. We have the most beautiful scenery in Ireland and have our own ice-cream, pottery, gin, and beer brands after all. I'll fight tooth and nail so that my constituents get a fair deal.
In 2020, I called a debate with the Infrastructure Minister urging her to extend the A4 dual carriageway as far as Enniskillen and whilst she hasn't yet committed, I won't be giving up. I've also been lobbying the Infrastructure Minster on improving the rural road network, extending the rail network to the west, upgrading sewage infrastructure and resolving flooding issues.
I shall continue to state Fermanagh's case to the Economy Minister when it comes to broadband and mobile coverage and, most importantly, when it comes to Invest NI funding.
Finance Minister Conor Murphy recently announced that a Civil Service Regional Hub will be based in Enniskillen. Whilst this is not job creation per se, it makes jobs that were Belfast-based more accessible to people in Fermanagh.
For the benefit of both individuals and society as a whole, everyone should be afforded equal opportunities, no matter where their geographical location. 
Apart from representing rural people, I was also appointed as the Sinn Féin spokesperson on Employment and Workers' Rights. Throughout the Covid-19 pandemic, we constantly heard the phrase that "we are all in this together".
In reality, the Covid Pandemic exposed the deep inequalities present in society, that we are not all in this together and we must all work together to change this. As the rich get richer, it is those on the bottom rung that are finding it harder and harder to cope.
A group who face one of the greatest challenges in the short and medium term are those in part-time zero hours employment. They earn the least in the most insecure jobs whilst spending the most proportionally on food, accommodation, and energy.
If we are to truly tackle the legacy of unemployment, job insecurity, and low wages, we cannot continue with the policies that have failed so many of our society in the past. On behalf of Sinn Féin, I took forward a Private Members Bill to ban zero hour contracts and replace them with banded hours contracts.
Not only will this provide fairness and certainty for the zero hour contract workers employed in the North, there were 11,000 in 2019, it will also mean parity across the island. The Covid Pandemic laid bare the harsh reality of zero hour contracts for workers and their families.
In its report on Covid Clusters in Occupational Settings, the European Centre for Disease Prevention found that workers on precarious contracts were more at risk of presenting themselves to work while experiencing Covid Symptoms.
The lack of paid leave and uncertainty around their regular income was found to put them more at risk than workers on standard employment contracts if they were required to self-isolate.
This Bill may not make it through the various stages of Assembly scrutiny before the end of this mandate. If it doesn't and if I am re-elected, I will finish the job of abolishing zero hour contracts in the next mandate.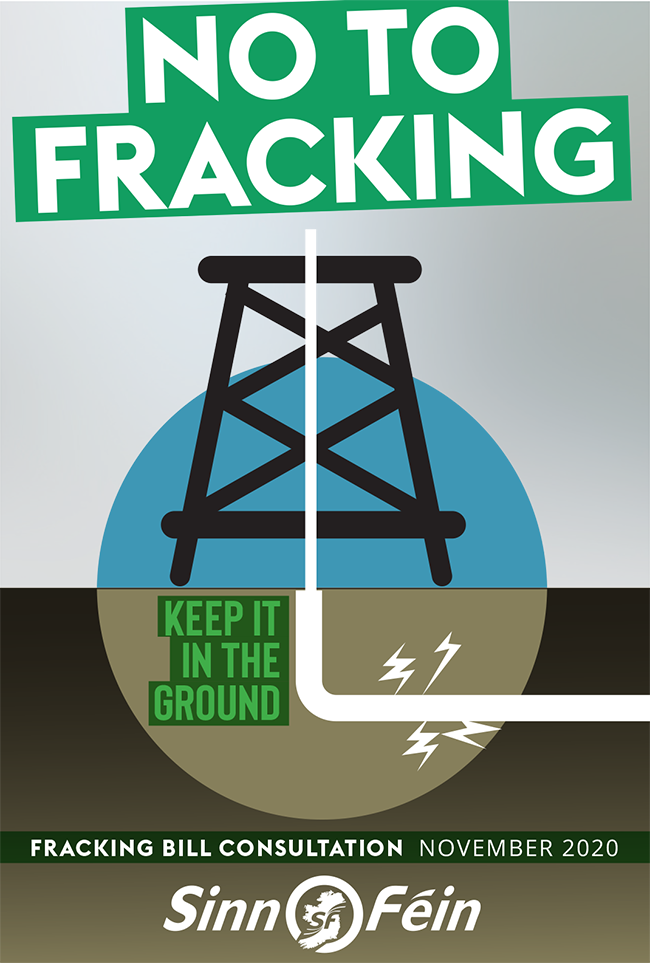 • Fracking would be disastrous for Ireland and Sinn Féin will do everything in our power to make sure it is banned across the whole island
I have also worked alongside my constituency colleague Seán Lynch in his Private Members Bill to ban fracking. As he stepped down and Áine Murphy replaced him as MLA, she took over this important piece of legislation.
We all know fracking would be disastrous for Ireland. It has been banned in the 26 Counties and Sinn Féin will do everything in our power to make sure a ban comes into the SIx Counties too.
On top of my constituency work and my spokesperson role, I have represented Sinn Féin on the Finance and Justice Committees during this mandate.
Some ground-breaking work has come through the Justice Committee including the Domestic Abuse and Civil Proceedings Bill, the Protection from Stalking Bill and the Sexual Offences and Human Trafficking Bill.
It has been a hefty committee but passing these pieces of legislation will make a huge difference to people's lives, particularly the lives of women. As my first term as an MLA comes to an end, I look back and can safely say it has not been without its challenges. 
But as demanding and as stressful as it has been, it can't have been that bad given that I have agreed to run in the Assembly Election in May 2022!
I am so proud to be part of a Sinn Féin Assembly team that has stood up for workers and families and I look forward to being part of a Sinn Féin Assembly team that will soon be surplus to requirements as we continue to campaign, discuss, and plan for Irish Unity. 
Jemma Dolan is a Sinn Féin MLA for Fermanagh/South Tyrone and Assembly spokesperson on Employment and Workers' Rights