28 May 2020 Edition
We must have a recovery that builds a fairer society
The coronavirus pandemic has been a devastating public health emergency which has resulted in the death of hundreds of thousands across the world. States across the globe put the necessary measures in place to control the spread of the virus; businesses and schools have closed and restrictions have been put on travel. As all this has unfolded so too has the growing economic crisis.
All the forecasts to date have indicated that this economic crisis will dwarf the crash of 2008. The lasting effects of that economic crisis are still being felt across this island. A decade of austerity North and South stripped our public services bare and left our health services struggling to cope with this crisis. In the 6 counties the British Tory government cuts agenda has diminished the welfare state to the bare minimum.
The responses from conservative governments north and south to the 2008 economic crisis were to impose austerity measures, which resulted in the housing crisis, the spiralling waiting lists in our health services, and a culture of precarious work, with part-time workers and young people in particular forced on to zero hour contracts with limited protections.
The response to the crisis caused by this pandemic so far has been unprecedented. Government interventions have seen billions of pounds and euros directed towards individuals and businesses; revealing the fact that austerity has always been a political choice, and it has always been possible to adequately invest in public services.
North and South, plans to incrementally ease the lockdown are being implemented. It is vital that we maximise our geographic advantage and that this island works as a single epidemiological unit. In re-opening our economy and society, we must continue to be guided by best scientific evidence, best practice and the World Health Organisation guidance. 
This pandemic has highlighted the unequal nature of our economy and it has also shown who the essential workers are. These people are in our health service, in retail and other frontline services. Doctors, nurses, utility providers, our carers, our cleaners; it is shameful that some of these are among the lowest paid jobs.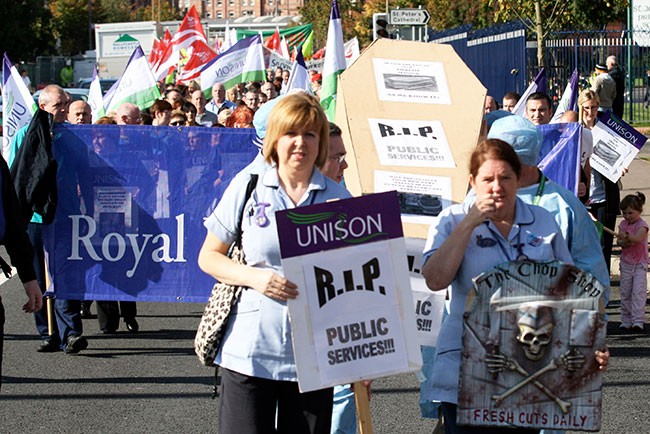 • Health services were badly hit by the last austerity cuts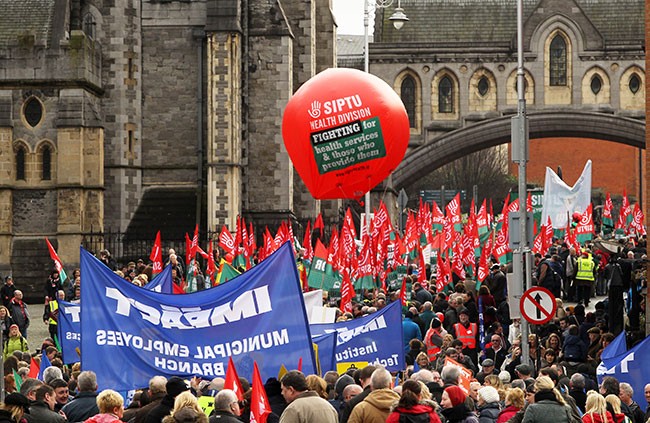 We must learn lessons from the crisis and build a better society coming out of it. We must recognise the contributions of those who stepped up to the mark to look after our loved ones, to ensure we had food in our cupboards and that our essential services continued to be delivered.
We must have a recovery that builds a fairer economy and society.  
Workers as the backbone of our economy must have their rights enshrined and recognised. Families must be able to afford to put food on the table and pay their bills. Students and young people must be able to study and gain skills and not be faced with huge debts. People of all ages must have the opportunity to reskill. 
Over the course of this crisis as businesses and workplaces shut down, many of us have had to change our way of working with online and remote working becoming the norm in a few short weeks. These new ways of working have real benefits; more flexible working arrangements that are more harmonious with family life and better work-life balance.
The reduction in the traffic on our roads has environmental benefits as well as reducing the stress of commutes. There are real opportunities to harness these new ways of working and continue to use them as our economy reopens.
Some sectors have rapidly expanded to support these new ways of working: the digital economy, software development, cybersecurity, delivery services. We should seek to develop these sectors as we support the other sectors to recover, to enable further remote working and build resilience against COVID-19 and future pandemics.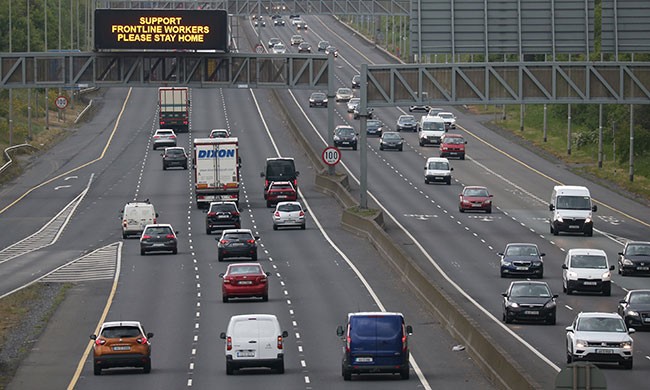 • The reduction in the traffic on our roads has environmental benefits as well as reducing the stress of commutes
Enabling these new ways of working will require investing in our digital infrastructure, it will also lead to conversations about the type of workplaces we need into the future and the type of cities, towns and rural societies we want to create. The recovery from this crisis should be one that sees investment in infrastructure. Major government capital projects should move forward as a stimulus to job creation in the construction and other sectors.
But this recovery must also be one that mainstreams decarbonisation and gets to grips with tackling the climate and biodiversity crises. We need a Just Transition to a fairer, greener, and safer economy. There is a real opportunity through a Green New Deal model to direct the much-needed investment in infrastructure and skills development towards cutting our carbon emissions.
We can harness the potential from our natural resources as an island in renewable energy, creating high-skilled jobs and also benefitting local communities by giving them ownership of the projects. We must look at the transport network we will require, including investment in public transport and encouraging active transport. New builds of homes and offices should be carbon neutral. A major retrofit programme of housing stock will make homes more energy efficient, cutting fuel poverty while creating jobs and opportunities for skills development through apprenticeship programmes.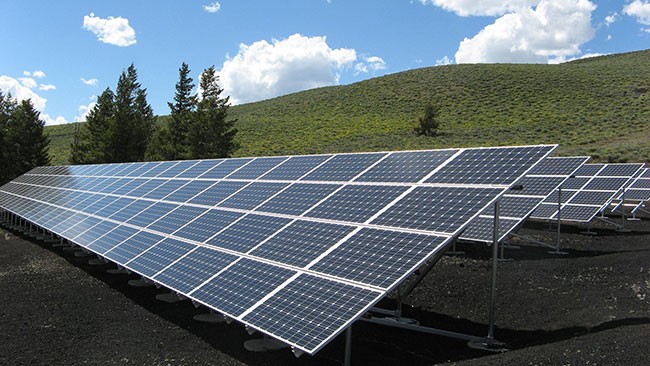 • There is a real opportunity through a Green New Deal model to direct the much-needed investment in infrastructure and skills development towards cutting our carbon emissions
It is vital that we put a particular focus on ensuring young people are looked after in planning the recovery. Many in their late 20s and 30s, risk bearing the brunt of the  second economic crisis in a decade. Some predictions put youth unemployment coming out of the crisis as high as 25%. The jobs that many young people rely on while studying and while they develop their careers are in the very sectors suffering most, such as hospitality and retail.
It is vital they have opportunities to develop through affordable training and reskilling programmes. We will need to think creatively about how this can be supported. At the same time we must tackle the burden of living costs for them and everyone else in society.
We need to be imaginative and think big about what we want to achieve as a society coming out of this crisis. We must give people hope of a brighter future to look forward to. It must be a recovery that delivers for all in society and not just those who can weather the storm. It must provide affordable housing, a clean environment, adequate physical and mental health services, public transport and educational opportunities for all.
If we are all 'in it together' during the crisis, we must all be 'in it together' coming out of the crisis.
Caoimhe Archibald is a Sinn Féin Assembly member for East Derry and Chair of the Assembly's Economy Committee