7 September 2020 Edition
An Opposition for the People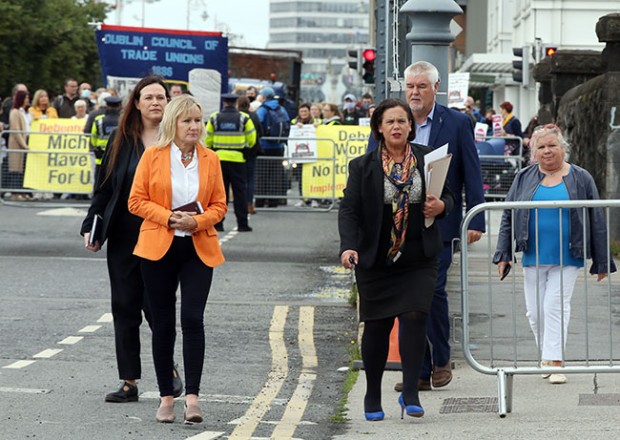 A little over four weeks ago, I said that Sinn Féin would be the most effective opposition in the history of the state. An opposition for the people.
This was not a slogan. It was a statement of our intention to champion the demand for real change that defined the General Election in February. 
I spoke those words also in recognition of the fact those who entrusted us with their votes have a clear expectation of Sinn Féin. They want us to robustly and vigorously take on this government. They know the Coalition is a marriage of convenience, cobbled together to deny change and to exclude from power the voices of a large and ever-growing section of the Irish people who believe that a fair and equal Ireland is possible. 
They certainly want much better than what is contained in the vague, unambitious, and ultimately hollow Programme for Government agreed by Fianna Fáil, Fine Gael, and the Green Party. 
 After a decade lost to disastrous austerity, cuts, and bad economic policy, workers and families need the work of the 33rd Dáil to be shaped and guided by the issues that really matter - housing, healthcare, childcare, a fair recovery, Irish Unity, and climate action.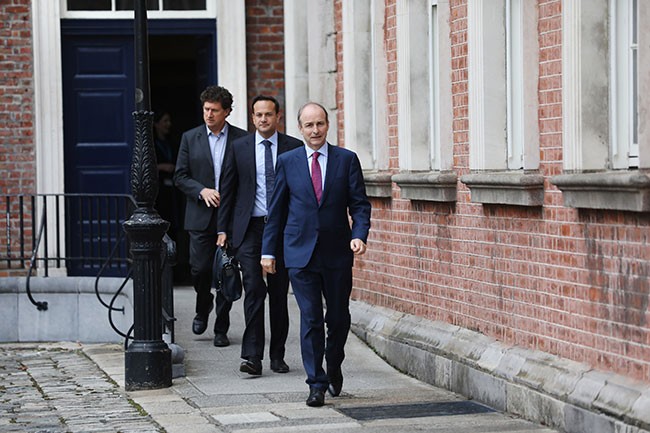 • Many people are relying on us to be energetic and robust in holding Micheál Martin's government to account and to be keenly focused on practical solutions 
I was also issuing a clarion call to our new team of TDs and Senators to hit the ground running. We have in the Oireachtas a wonderfully talented group of political representatives, rooted in republican activism, with the plans and policies to change the lives of ordinary people for the better. They know many people are relying on us to be energetic and robust in holding Micheál Martin's government to account and to be keenly focused on practical solutions that will make a big difference to our society. 
That is how we have proceeded in our work as the lead party of opposition. Sinn Féin has brought forward realistic and workable proposals to fast-track the delivery of affordable housing, a comprehensive strategy to support SMEs, protect jobs and get people back to work and we have proposed a plan to reform the childcare sector in a way which is fairer for parents, staff, and providers.
We have kept faith with what people told us at the doors during the election. We have stood up for ordinary people at every opportunity presented to us. We have been relentless in the pursuit of fairness.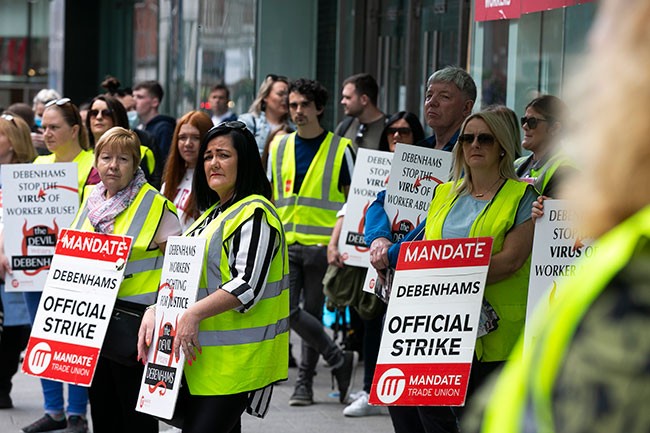 • Debenhams workers continue their fight for justice
Whether it has been taking on the banks for profiteering from the pandemic, championing the Debenhams workers as they continue their fight for justice or challenging the State on its continued mistreatment of the women affected by the Cervical Check Scandal, from day one we have challenged this government and held it to account.
This energy has been matched by our dynamic team in the Assembly. Sinn Féin Ministers and MLAs have led the way in championing public health measures that protect communities during the COVID-19. They have also been to the fore in arguing for the strengthening of protections for our island as Brexit looms.
In contrast to the clear, solution-focused and all-island work of Sinn Féin, the first few weeks of this Fianna Fáil led government have been chaotic, incoherent and utterly shambolic. The mixed and conflicting messaging from the Taoiseach and Tánaiste regarding foreign travel during COVID-19 led to huge confusion and undermined public confidence in the government's ability to handle the public health emergency. 
Likewise, the last-minute approach of the Minister for Education in providing a plan for the reopening of schools in September has created significant stress and anxiety for students and parents. Meanwhile, the Barry Cowen controversy saw the Taoiseach being less than fulsome with truth under questioning in the Dáil and led to the dismissal of the Minister of Agriculture after only 17 days in office. 
To understand whose side the government is on, you only have to look at how they have stripped renters of vital protections and how they cynically singled-out people availing of the Pandemic Unemployment Payment for awful treatment. In the very same week, the government moved to extend a €16,000 pay hike for a third 'super junior' Minister and announced a "pay-cut" that was actually a pay increase in real terms. It is beyond me how they can justify such extravagance, especially at a time when so many people are hurting.
This all reads as a catalogue of incompetence and the same self -serving politics that did so much damage in the recent past. People can't be blamed for thinking - Fianna Fail, here we go again - mired in scandal, pandering to vested interests and looking after themselves first. 
The government's dearth of ambition and its refusal to turn away from the failed policies of the past also shaped the July Stimulus Package. It is both clumsy and miserly, especially when compared to what has been delivered in other countries to drive economic recovery from the COVID-19 crisis. What should have been a life buoy for workers and businesses in a time of great economic turbulence amounted to an anchor of debt and disappointment. Add it to the list of failures.
Eoin Ó Broin 
On the floor of the Dáil, the Taoiseach repeatedly claims that he is all about constructive politics. Yet, his government has already voted against Eoin Ó Broin's constructive proposals to tackle the housing crisis while failing to come forward with their own plan.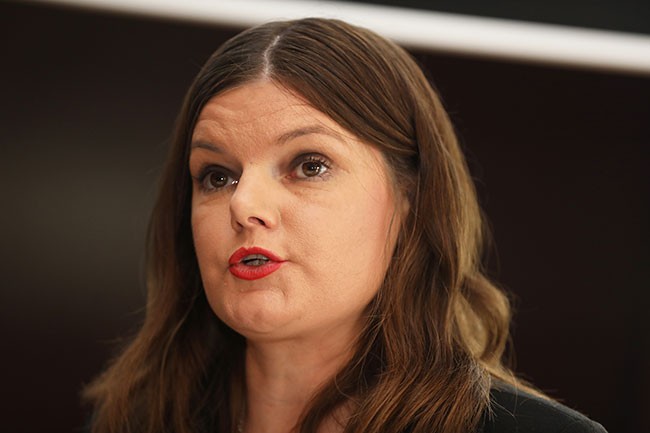 Kathleen Funchion
His government rejected constructive measures from Kathleen Funchion that would significantly cut childcare fees for hard-pressed parents and improve pay for childcare, preferring instead to continue the same negligent and sloppy approach that has left countless families without a childcare arrangement as our economy reopened. 
Claire Kerrane
The coalition also blocked a constructive motion from Claire Kerrane that would have seen maternity leave and pay extended by three months for women whose leave has been affected by the COVID-19 pandemic. 
It is already plain to see that Micheál Martin, Leo Varadkar, and Eamon Ryan are prepared to dismiss solutions that will make a big difference in the lives of workers and families solely because they come from Sinn Féin. 
This is certainly the perspective that the Taoiseach has brought to the issue of Irish Unity. While Sinn Féin has been positive and practical in our contributions, it is unfortunate that the Taoiseach has adopted a certain partisan approach to the issue. 
A referendum on Irish unity is an imperative and an all-island approach is required for the development of the economy and to protect health services, particularly in the context of a future shaped by the pandemic and by Brexit. This is just common sense. The direction of travel is set. The Shared Island Unit cannot be window dressing. It must have as its focus the need to plan for change and for unity.
Sadly, the contempt for change and a new Ireland and indeed the vindictiveness that fuelled the exclusion of Sinn Féin from government talks has been fully on show in the new Dáil. This chaotic coalition has sought to deny change as they endeavour to preserve the status quo at all costs. The parties who agreed a Programme for Government entitled 'Our Shared Future' should have considered 'More of the Same' as a more suitable title for their shallow agenda. 
This government has been formed legitimately. Fianna Fáil, Fine Gael, and the Green Party found the numbers to put it together. However, the three men who lead this coalition cannot seriously believe what people voted is the haphazard, out-of-touch behaviour that they have displayed since the end of June. If there were still people who were reluctant to believe that this government is all about blocking change, then surely they believe it now
The parties that have passed power between them for a century have clubbed together to try to keep government firmly focused on the needs of those at the top. However, they will no longer have everything their own way. Those days are over. The tide of history is with those who want the progressive, republican alternative championed by Sinn Féin. Leading an opposition for the people provides us with a great platform to build this alternative.
The pandemic has taught us that change is not only ideal, it is essential. Clearly, those of us who desire change, those who believe that a better, fairer Ireland can be achieved will have to be more united than ever. We will have to be more determined than ever. We will have to work harder than ever. A fresh start for workers, for families, for communities, and for our country must be our overriding ambition. This is the goal Sinn Féin will continue to work toward in the time ahead.
 • Mary Lou McDonald is Sinn Féin President and a TD for Dublin Central