5 December 2019 Edition
Máire Drumm and Bobby Sands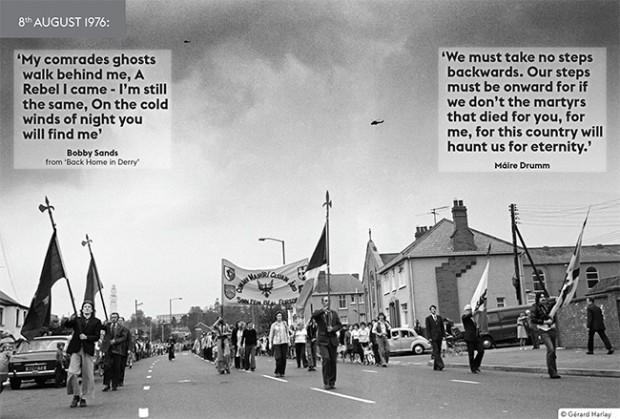 "I have been politically arrested. My trial will be politically controlled and the decision will not rest with you. It will rest with your political overlords. You already know the sentence which will be passed. Long live the Republic."
On an August afternoon in Belfast, a poignant moment in the lives of two republican martyrs is captured by French photographer Gérard Harlay. On the far left of the picture is Bobby Sands, in the colour party for a demonstration in support of political status for Republican prisoners. To his right walking behind the tricolour is Sinn Féin Vice President Maire Drumm. The full photo is on the preceding pages.
Sands had been released from prison in April. He would be rearrested in October, and after a spell in solitary confinement in Crumlin Road Gaol would find himself leading the republican prisoners on the dirty protest in the H Blocks. Maire Drumm was assassinated weeks later on October 28th.
It was also in August 1976 that the Gordon Lightfoot song Wreck of the Edmund Fitzgerald was released. Sands would use the Lightfoot tune for his song Back Home in Derry written when he was imprisoned in Long Kesh.
Looking into the picture, and thinking on the vast number of marches, funeral processions, demonstrations and at times battles on the Falls Road, it seems apt to remember the last lines of Back Home in Derry. Sands declares that, "My comrades ghosts walk behind me, A Rebel I came – I'm still the same, On the cold winds of night you will find me".
"Máire Drumm Visionary: A Rebel Heart" is the title of the fourth book in a series written by Sinn Féin TD and former party president Gerry Adams, which remembers "great men and women", that he "came to know, or know of along life's journey". Below we print an edited excerpt from the Maire Drumm book that gives a background to the August 8th rally at which Drumm spoke and the events that transpired afterwards. 
Máire Drumm A Visionary: A Rebel Heart 
is now available in the 
Sinn Féin Bookshop 
and online at 
On 8 August 1976 Máire led a huge demonstration in support of Political Status. The marchers walked from Andersonstown to Dunville Park. 
The following day Máire was arrested out of her home under the Prevention of Terrorism Act. The Daily Mirror headlined screamed: "Housewife of hate seized".
She was taken to Townhall Street RUC barracks in the centre of Belfast where she was questioned about the speech she had given at the Dunville Park rally – at which it was claimed she threatened the destruction of Belfast "stone by stone" in defence of the political prisoners. Rees signed an extension order to allow her to be held for an additional five days.
On 16 August Máire was remanded in custody after being charged with taking part in an illegal demonstration on 8 August. She refused to recognise the court and ignored the magistrate, choosing instead to wave to her family in the court. Máire took the opportunity to complain about the conditions of solitary confinement that she had been held in for seven days. She told the court: "I have had seven days of solitary confinement under the most horrible conditions and I suggest the Red Cross go in and investigate the cells people are being detained in."
Máire refused bail and said: "I have been politically arrested. My trial will be politically controlled and the decision will not rest with you. It will rest with your political overlords. You already know the sentence which will be passed. Long live the Republic."
Máire was back in Armagh Women's Prison. Young Máire was there also. They were held in different wings. Occasionally they were allowed visits together and at night they could be heard shouting across to each other.
Several weeks later Máire was released after the Director of Public Prosecutions dropped the charge of taking part in an illegal procession against her. It had been pointed out that a recent march organised by the Peace People was also illegal and therefore its organisers would also have to be arrested if the charge against Máire was proceeded with.
The British Secretary of State Merlyn Rees was furious. Speaking on the BBC he said: "If you ask me personally whether I want Máire Drumm locked up I can give you a firm 'Yes'."