5 December 2019 Edition
The real alternative
Editorial - EagarFhocal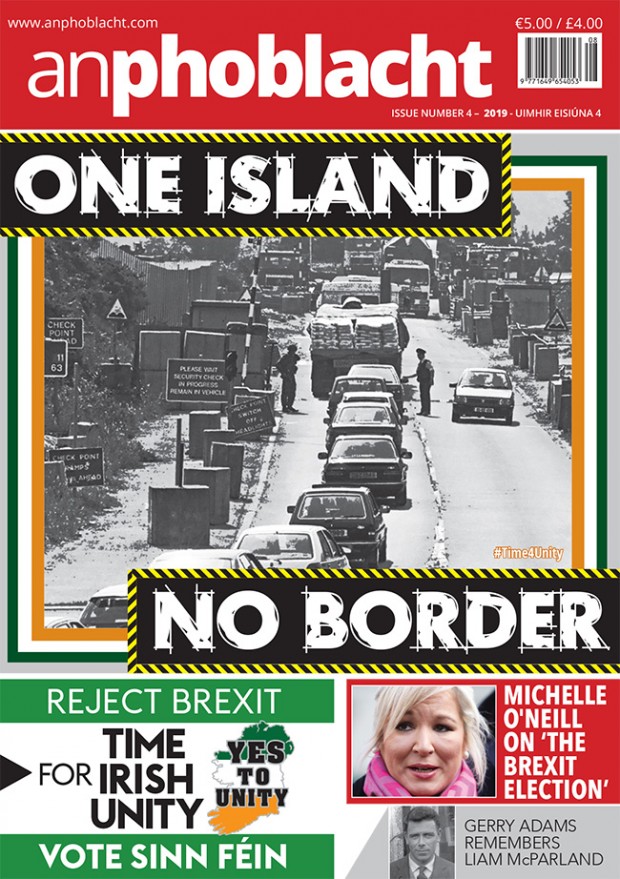 A vision of a positive future or the politics of fear and division, this is the choice facing Six-County voters in the December 12th elections. "This is a once in a generation election, the stakes are very high", was the message from Sinn Féin President Mary Lou McDonald, as she announced that the party would contest 15 of the 18 Westminster constituencies. "People have a fundamental choice to make, to vote for a positive, inclusive future or turn their backs on that".
Across the Westminster constituencies Sinn Féin activists and political representatives from local councillors, MLAS and the party's seven MPs are campaigning door-to-door, meeting-to-meeting, to make the case for supporting Sinn Féin. In many cases Sinn Féin supporters from across the island will join them in this election.
It shows once again that Sinn Féin throughout Ireland are the key political dynamic and the only real alternative to the Conservative/DUP alliance in the North and the failing Fine Gael/Fianna Fáil coalition in the 26 Counties.
This edition of An Phoblacht has key themes that emphasise the depth and power of the Sinn Féin alternative and the message that there can be no going to back to a hard border, direct rule, or a DUP fuelled agenda that goes against the democratic wishes of the people of the North and their economic and social interests.
We have pieces from Pearse Doherty, Louise O'Reilly and Maurice Quinlivan that detail Sinn Féin's alternative policy proposals on the Budget, male mental health and the need for a new indigenous enterprise agency in Ireland.
The main feature of this edition of An Phoblacht is marking the struggle to open Ireland's illegal border. There are contributions from both sides of the Partition divide and a synopsis of the different phases of campaigns and actions to break open the border.
There are a range of images from the archives that cover border protests from the 1930s to the present day. They capture not just the British presence fortifying the border but more importantly the work of people from cross-border communities mobilising to rebuild border crossings. 
Finally, we have a series of never seen before images from French photographer Gérard Harlay. They document a march and demonstration in support of political status for Republican prisoners on August 8th 1976.
The continuity across the magazine and other editions this year, reminds us again that it is time for unity. It is also time to reject the Tory /DUP alliance and most critically – it is time to reject Brexit.