1 May 2019 Edition
Postcards from a New Republic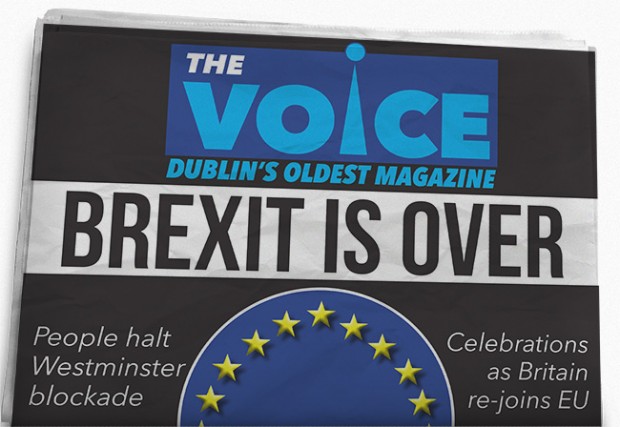 The 'Postcards from the New Republic' series is a hat tip to British designer, artist, entrepreneur and Socialist William Morris's News from Nowhere series of articles from 1890 published in the Commonweal, the newspaper of the Socialist League and set in a distant future where Morris's socialist, and romantic, utopia has been secured. Our story's protagonists are Willa Ní Chuairteoir and Lucy Byrne accompanied by their four children James, Afric, Banba and Alroy who together enjoy and endure the equity and exigency of the future's New Republic.'
 FaceBook.me/PostcardsfromtheNewRepublic
Eileen Byrne is about to let herself in when she stops as young Alroy pulls open the door roaring 'Nana, Nana look what Mr Duffy gave me'. It is a mechanical trainset. 
Eileen's eyes light up. Decades of energy restrictions have had their upside she reckons. There used to be a time when chubby kids were glued to their computer games from morning to night. Nowadays the kids are all engineers, agriculturists and social entrepreneurs. James is never out of the community garden and Afric runs a great upcycling business out of the family garage. 
Lucy walks Eileen into the sitting room and yells at Afric to make a cup of tea. 
'Thanks again Mam, we really appreciate you minding the kids for us. Willa's still sorting out the electricity supply at the office after last week's storms'. 
Willa is the Editor at Dublin's oldest Magazine, The Voice. 'I hope they won't be too much for you'. 
'Ah Ma, will you relax. We're always as good as gold, isn't that right Nana', Afric says winking at Eileen tea in hand.
'What time do you have to be in Edinburgh love', Eileen asks? 
'Not till eight Mam. It's just the welcome reception tonight, and then meetings for the rest of the week'. Lucy is Ireland's Minister for Economic Sustainability and is addressing the annual on-site meeting of the European Parliament in Scotland, whose turn it is to host. Outside of the onsite meeting, the parliament has been meeting virtually once a month for some time now. Fuel restrictions and technology have radically changed how European institutions operate. 
Banba suddenly bursts into the room, plonks herself down beside Eileen and asks, 'did you know that the European Parliament used to have 750 members' and meet in Brussels every single week Nana'. 
Banba is the historian of the family and loves politics as much as her Ma. 
'I did love, but I bet you don't know that Britain once left the European Union?' 
'That's mad Nana; we were just talking about that in school last week. They had some funny name for it.'
'Brexit,' Eileen reminds her. 
'Yeah, that's it. They spent ten years fighting about how to leave the EU and then joined again ten years later. Our history book says that by the time they left their economy was totally broken. The cost of food increased and unemployment was through the roof. Then people started blockading Westminster. Our teacher says the whole political system just shut down.' 
'That's when Scotland and Wales secured independence', Lucy shouts in from the kitchen, 'not too long after Irish unity. Did you know that smarty pants?' 
'Of course Ma, unlike my brothers and sister I actually read my school books!' Lucy has her case packed and is ready to go. 
'Before you go Ma, there's just one thing. I don't understand. If Britain was such a basket case why did the EU let them back in?' 
'Well love a lot changed in the EU during those two decades. Politics had become really fragmented in most developed countries. 
'Fascism was on the rise, governments didn't care about climate change and Facebook and Twitter hadn't been nationalised. 
'When we look back we can see those were the dying days of neoliberalism. Back then the EU was part of the problem. The institutions pursued terrible economic policies that worked against the interests of the environment, the people and the sustainable economy. 
'When Britain looked to come back, progressive MEPs and European leaders got behind them as part of a wider movement for what we take for granted now, a social and economically sustainable Europe. 
'In fact if it wasn't for Scotland, Wales and Ireland they mightn't have been let them back in at all. Sinn Féin was in government at that time and fought hard for British membership. 
'We had the political weight after Irish unity and the successful establishment of the shared parliament in Dublin and Belfast. There were huge celebrations across the two islands when Britain re-joined, progressives across Europe thought their day had come. They didn't know the Great Struggle was yet to come.' 
Just as Lucy finishes her sentence there's a honk from down the road. 
'It's the bus to the airport. I bet there's one thing your history books don't tell you love. Back in the day government Ministers used to have their own car, and a driver.' 
'Shut up', Banba says with a wide eyed look of disbelief on her face. 