1 May 2019 Edition
Imagining a New Ireland – making the vision a reality
A response to Dr Thomas Paul Burgess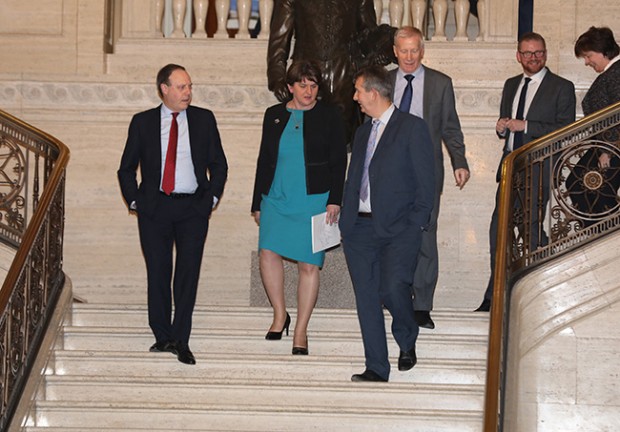 Brought up on the Shankill, an Irishman, neither monarchist nor loyalist, aspiring to an agreed 32-county unitary state and urging Sinn Féin to focus our efforts on making any new Ireland a truly inclusive and just socialist Republic for all. 
As for values drawn from the labour movement and the British working class, there is much that Sinn Féin policy has in common with the best of these – for example healthcare as a basic right, provided by the State in a national health service. 
Clearly, there is a lot of common ground! 
I defy anyone describing himself or herself as a nationalist or republican to say that Dr Burgess is not Irish. No true republican would ever utter such a denial. 
So how do we get from our jointly held aspiration and vision to the new Ireland?
Dr Burgess has identified many of the obstacles, old and new, that stand in our way. He has described the feeling among Unionists that the ground beneath their feet is coveted, that the nationalist community in the North is a 5th column, that aspirant nationalism is an irresistible force. 
His discussion of 'identity politics' raises much wider and largely international questions, in my view. Suffice to say here that while the modern phenomenon of so-called identity politics is an identifiable problem, greatly amplified by social media, the 'identity' issues in Ireland are far from new and it is their specific historic and contemporary nature that we have to address if we are to move forward. 
Interestingly, Dr Burgess argues that the duopoly of power-sharing locks Unionists into a 'no surrender' mind-set that is no longer fit for purpose. If this is the case then it has resulted in the DUP locking themselves – and Sinn Féin – out of power-sharing. Surely the problem is that the 'no surrender' mindset was there before the Good Friday Agreement and the establishment of its institutions? For all its flaws, the Agreement set up mechanisms to make co-operation possible, based on equality. The DUP stuck it for a good while but have since bailed out. To put it plainly, they can't deal with equality. 
•  Mary Lou McDonald: "It is time for an all-Ireland conversation and forum to look to the future. To plan for all possible outcomes. To define a new and united Ireland." 
Dr Burgess takes his argument further by stating that Unionists must realise they have a more productive and safeguarded future "with an increasingly self-confident and affluent Irish Republic, than they do with a power-sharing Sinn Féin party". 
A few things need to be said here. First, back to the obstacles to progress. Dr Burgess seems to be saying that Sinn Féin is one of the obstacles – perhaps even the biggest one - to Irish unity! His appeal to Unionists seems to be – negotiate with the Dublin government for a united Ireland so you don't have to work with the nasty Shinners! That is hardly a realistic basis on which to persuade a significant enough section of Unionism to take a new approach. 
Agreement to live in a new Ireland must surely begin with agreement to live with your neighbours. And that cuts both ways. Many in the unionist community do indeed work with their Sinn Féin neighbours in all walks of life, including even in political forums. Perhaps this is what the DUP fears the most. While no community has been totally immune from the taint of sectarianism, it has never been Sinn Féin's position to interpret Irishness as synonymous with 'Catholic, nationalist, Republican'. For us, Irishness embraces all who share this island. And we have always been emphatic that the new Ireland we seek would not be simply a 32-County extension of the 26-County state. 
Dr Burgess's call for negotiations for a new Ireland is welcome. But to suggest that any party should exclude itself from such negotiations on the basis of how others perceive that party is pure fantasy. What if Sinn Féin called for the DUP to be excluded because of the emotional and historical baggage that party carries for the nationalist community? Again, pure fantasy. 
Working towards Irish unity is about more than simply calling for a referendum. For years, we in Sinn Féin have been calling for preparation for Irish unity, for dialogue on an all-Ireland basis, for the Irish Government to publish a Green Paper on Irish Unity, for an Oireachtas committee on the subject. 
Unfortunately, successive Irish governments refused to act. We would be much further ahead today if they had done so. But as Dr Burgess acknowledges, Brexit has created a new reality, the Union with Britain is terminally ill. It is time for a new Union of all the people who share the island of Ireland. The call made by Mary Lou McDonald at the All-Ireland Civic Dialogue on Brexit in Dublin Castle in February is urgent: 
"It is time to look beyond Brexit and beyond partition. If the border cannot be mitigated, it must be removed. The demand for Irish unity is growing. Ireland north and south is changing. Now is the time to look the future. It is time for an all-Ireland conversation and forum to look to the future. To plan for all possible outcomes. To define a new and united Ireland." 