1 March 2019 Edition
We can change the world street by street
The origins of Glasgow's Living Rent campaign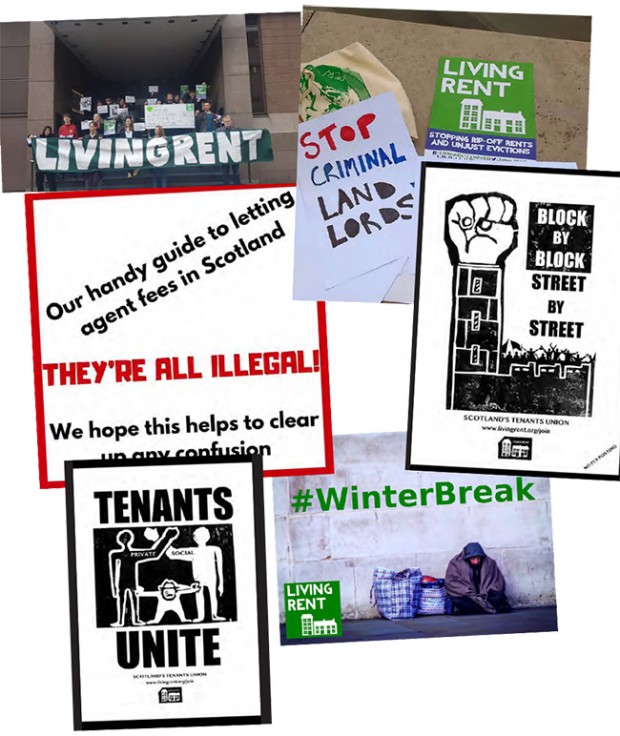 One hundred years ago, the cities of Dublin and Glasgow were at the heart of a globalising industrial world with some of the worst living conditions for its working classes. From 1913 to 1922 the two cities witnessed massive social unrest, mass labour disputes, revolutionary uprisings and some of finest examples of working-class self organisation.
As Connolly was leading the Irish Citizen Army through the streets of Dublin, defending their right to industrial action and union membership, Mary Barbour was in 1915 marching her army of women through the streets of Glasgow. Barbour's action united the city, forcing their husbands to down tools and strike. Eventually the British Government implemented the Rent Restriction Act, which capped all rents at pre-1914 levels for the duration of the war.
While completely different events, the actions taken by both the people of Dublin and Glasgow at this time would go on to have a profound impact on the politics of both cities. Even today, many of us continue to fight for those same rights as the generations that went before us. 
Shortly after the Scottish Independence referendum, a movement was launched in Scotland called the Living Rent campaign. The campaign was primarily set up to protect and advance the rights of a growing number of people stuck in increasingly unaffordable private rented accommodation. 
The hard work of the campaign resulted in some significant improvements for private renters. The Private Tenancies Act 2016 approved by the Scottish Parliament and implemented in late 2017, affords those renting privately in Scotland increased protections. These range from an end to fixed term tenancies and rolling month-to-month contracts, to no-fault evictions (there are now 18 possible grounds for ending a tenancy, each of which must be proven by the landlord), and the ability for every Local Authority in Scotland to apply for an effective rent cap. This caps rent in line with inflation in any area that rent is proven to be rising at a pace deemed detrimental to the local community.
Despite the improvements won by the campaign, there was a need and desire to continue fighting. Not only to protect these achievements ,but with an eye on the future and the crucial role housing and housing conditions play in our society.
The number of publicly owned council homes in the UK has fallen by 69% since 1980, much of this is to do with the right-to-buy scheme introduced during the Thatcher era. Over 40% of homes sold under the scheme are now rented out at an inflated price in the private rented sector. Of the 4.4 million homes sold only a fraction of the money raised has been invested in replacement housing stock, Glasgow is in an even more peculiar situation having sold off its entire public housing stock to write off over £900 million in debt.
Against this backdrop and with average rents in Glasgow reaching record highs, massive increases in homelessness and widespread social displacement from our inner cities the decision was taken to relaunch Living Rent as a Tenants Union with a renewed organising strategy to unite communities and neighbourhoods around housing.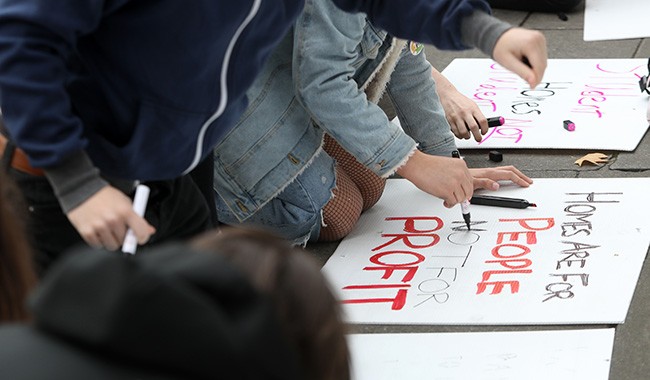 Our belief is that while we are a union of renters organising around housing we have the potential and power to change and improve society more generally. A study before our launch event in Glasgow showed that there were approximately 350,000 renters in the city, which is a huge constituency. If we can get even 5% of that number working together there's no limit on what could be achieved. 
Before the official launch in Glasgow we set out to prove to ourselves and to the city that there was a need for a tenants union, and that ordinary people when organised could achieve great things. In less than two months, we won back thousands of pounds in stolen security deposits, forced extensive repairing works to be carried out in over a dozen uninhabitable properties, and prevented the illegal eviction of a young mother in the south of the city.
What became immediately apparent was the complete lack of housing regulation enforcement within the city. As a union, our members were often acting as the council's enforcement wing ensuring repairs were being carried out, standards met and the law adhered to. In less than three months, we were able to host an official launch event in the aptly named Mary Barbour suite at the Pearce Institute. 
Our membership had exploded from a few dozen to well over 100 activists from across the city. We had the eyes and ears of the new SNP administration and our campaign for a rent cap across the city using the new powers led to a council commitment to commission a feasibility study reporting back within a month.
Since then our members have achieved some remarkable feats, from winning massive rent reductions of 26% in some areas of the city to the smaller victories, such as winning back the £20 admin fee, which was illegally levied on our members when we initiated actions on housing issues. Our power to influence and change can sometimes surprise, for some it is far disproportionate to our size for others its vindication of the strategy and hard work put in by a fantastic group of volunteer members. 
For me the true beauty of what we are building is in the people who are building it, we have neighbourhoods and communities uniting around a common issue, rediscovering hope and drive again. In a city deliberately run down and de populated, where the only answer has been to further isolate the poor by moving them further from the city centre, in housing schemes where we are told no-one is interested in politics, in streets and communities torn apart by sectarian violence, drink and drug abuse. 
In these forgotten streets, we've seen hundreds of working class women march on their landlords and leave ten foot taller with every demand won. I have seen fanatics from rival football clubs unite and focus on something worth fighting for. We have had students fight for rent reductions in some of the roughest schemes in the city, and members from those schemes in the city defend our student members from eviction.
100 years on from James Connolly and Mary Barbour, people are beginning to stir again. The hard work and use of old tactics such as back court meetings, neighbourhood defence teams and direct action are providing that same sense of ownership and agency over our own lives as they did a century ago. We are building up that self confidence and experience of challenging institutional and economic power. We know we can not only defeat the housing crisis, we could change the world, block by block, street by street. 
Seán Baillie  is an Organiser, for Living Rent based in Glasgow.