1 March 2019 Edition
The lessons of history
Editorial | Eagarthóireacht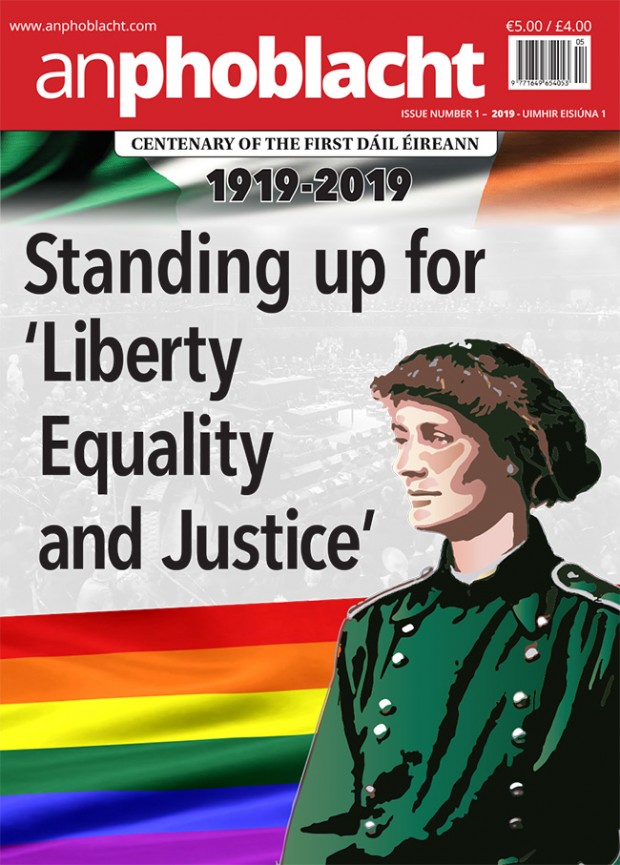 This edition of An Phoblacht is published to coincide with the centenary of the first Dail in 1919. Included are the documents agreed on that first day. These are the Democratic Programme, the Declaration of Independence and the Message to the Free Nations of the World. There is a compelling resonance and relevance in the contents of these documents. I urge you to read these title deeds of the republic that has still not been achieved, and reflect on what political activism or volunteering you can partake in during this centenary year.
This is our biggest ever magazine and there is a common theme from the history of the first Dail through to the Yellow Vest protests in France and the rise of right wing parties in Europe and beyond.
This edition is about rights and the political struggle for them, whether it's language, voting, housing, and economic or equality issues in our homes, schools and workplaces.
There are a series of historical pieces in this issue. Mícheál Mac Donncha vividly captures the atmosphere of the First Dáil, while Aengus Ó Snodaigh cuts through what is becoming an establishment media attempt to downplay the origins of the War of Independence, with a forensic report of the Soloheadbeg ambush.
There are two pieces on the origins of the 1968 Civil Rights Movement in the North while we also show the links between this and the struggle for American black freedom in the United States. When you link this into the other international pieces published here you can clearly see the importance of an global dimension in the political activism of Irish republicans. There is not only a better Ireland to be won, but a better world too.
For me, there are two key takeaways from this edition. First is the importance of understanding our history, both in Ireland and internationally, and the relevance of this for the politics of the present. Second is the power of simple activism whether it is for women's rights, a working language and equality act in the North or the right to housing. Seán Baillie of Living Rent in Glasgow has a convincing piece on how campaigning on the streets of Glasgow has created an effective tenants organisation.
So, if there is one New Year resolution worth keeping it could be to get involved in the struggles that confront the peoples of the free and not free nations of the world and see can we move even one step closer to the commitments made in the First Dáil.