27 November 2017 Edition
'This is the time for change'
2017 Sinn Féin Ard Fheis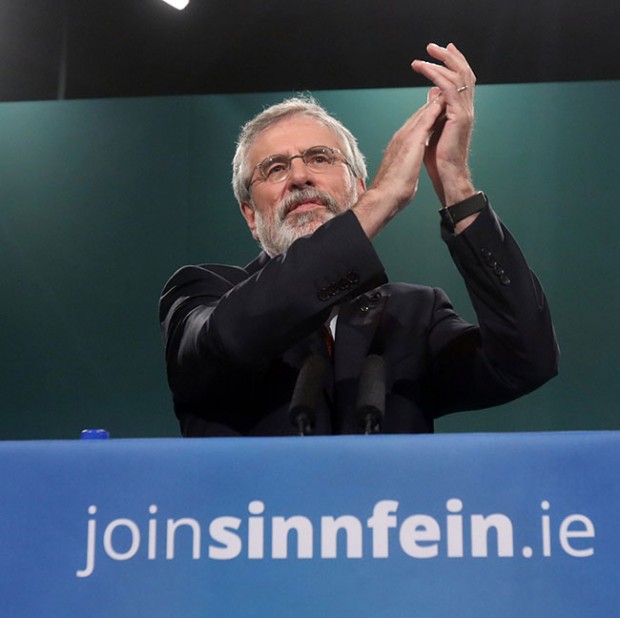 GERRY ADAMS talks to An Phoblacht Editor John Hedges after he tells the 2017 Ard Fheis it's his last as President of Sinn Féin
IT'S less than 24 hours after his big Ard Fheis announcement and still on a relentless schedule but Gerry Adams looks fresh and cheery when he meets An Phoblacht in Dublin on a Sunday afternoon.
He's just finished a string of TV and radio interviews. Coping from jet-lag after being in America the previous week has led to sleepless nights. On top of that, there was the intense build-up to the Ard Fheis and writing his speech that would tell people live on RTÉ TV that this was his last Ard Fheis as President of Sinn Féin. 
When he's finished talking to An Phoblacht, Gerry's back on the road again and preparing with Michelle O'Neill and Mary Lou McDonald to meet British Prime Minister Theresa May in Downing Street as a follow-on to Sinn Féin's meeting with Taoiseach Leo Varadkar on restoring the Executive at Stormont and the threats posed by Brexit.
There's still lots of work to be done before Gerry Adams hands over to someone new.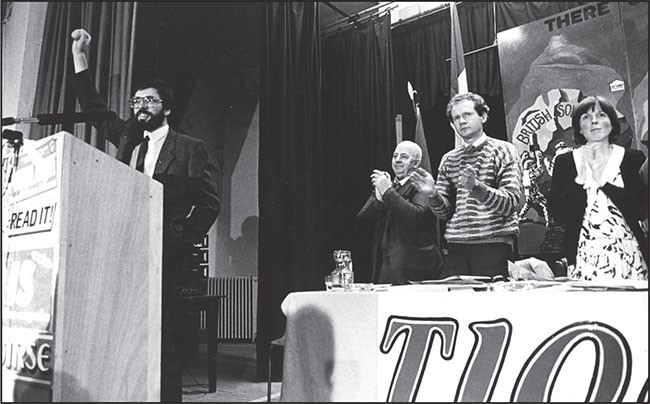 • 1985: Ard Fheis salute by Gerry Adams with Joe Cahill, Martin McGuinness and Denise Cregan
How was it preparing for the Ard Fheis without Martin McGuinness?
"I naturally missed him at the Ard Fheis where we were to make announcements about standing down but I missed him at the All-Ireland, at the hurling and the football, and I missed him at the talks. I was up in Donegal the other weekend for a couple of days and I couldn't get him out of my head.
"I miss him very, very much – personally as well as politically."
Is this a generational change in Sinn Féin?
"I think it's got more to do with regeneration. It's not that we're getting rid of one generation in favour of another but any human organisation – be it a football or hurling team or community group – you've got to regenerate and go through a process of change. 
"I think Sinn Féin is blessed with a cadre of young people but also a huge number of people who have a lot of experience, who live in the real world, who know what it's like to have lived through the conflict and experienced the awfulness of all that, have raised families, built careers, worked a small farm, have families scattered across the world by emigration.
"There's a lot of experience people can draw upon. 
"The process of change is ongoing for everyone.
"You have to know when the time for change is, and this is the time for change."
Are you anxious about the change?
"Change does naturally raise questions but I'm actually quite relaxed about it. 
"We're working to a very thorough, grounded plan.
"People will get used to me exiting from this position and the Ard Chomhairle will put in place a process for the election of the next Uachtarán.
"I'll be relieved to be released from the formal responsibilities as leader -but, like you and every other republican, I have the responsibility to remain an activist and to make sure the issues people are faced with are dealt with in a republican way.
"I don't actually see it, apart from that, as being a huge change in terms of my own personal life.
"Martin said that Bogside republicans don't retire; neither do Ballymurphy republicans."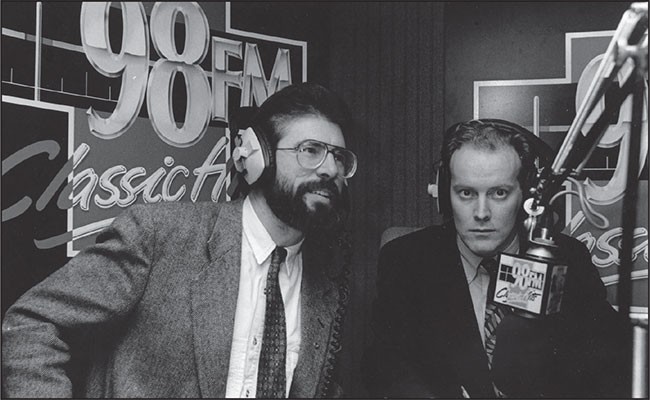 • 1994: Gerry Adams gives the first live radio interview after the Irish state censorship law was lapsed
You've said you're not contesting the next Dáil general election, whenever that comes.
"I want to stress how honoured I am to have been elected to represent the people of Louth and Meath East in the Dáil and then doubled the number of TDs we had in that constituency but I think coming out of Leinster House will make a huge change.
"With respect to those who do their level best to make it work, I find the Dáil to be a stultifying, cosy little club aimed more towards theatre rather than dealing with people's issues. 
"Our Teachtaí Dála and Seanadóirí are working hard and doing their best but the system has adopted all the worst aspects of the British parliamentary set-up and any attempt to change it has met with great resistance from those in power. 
"That said, some reforms have been achieved. Perhaps the system in Stormont doesn't have some of the more oppressive elements of Leinster House because it's newer.
"Even the best-intentioned people from the other parties can sometimes get sucked into a bubble in Leinster House. There's no other explanation as to why we're sitting here today and there's 3,000 kids in emergency accommodation but there isn't emergency legislation and emergency funds to build real houses for them and their families and many other people who need accommodation."
Is it a frustration to you that the mainstream media has almost untrammeled power?
"That isn't an issue for me. You have to have a free press and they have the right to pledge editorial support to this party or that party or have hostility to others. It's when they don't deal fairly with the big issues that it gets to me.
"When I was in South Africa after Nelson Mandela became President, one journalist said it was so huge for the media because, he said: 'We had been depicting Mandela as a communist terrorist, a bandit, a gangster, a criminal for all of these years and then, all of a sudden, the whole thing changed.' 
"After apartheid, they had to rethink how they dealt with all these issues.
"The big change in Ireland in our lives has been the Good Friday Agreement yet that has not affected some of the media's coverage of current affairs – they're still on the old agenda.
"There are some journalists who do their job as fairly as they can but the likes of the Irish Independent group are on the same agenda as when they vilified John Hume for even talking to me as one MP to another MP about peace!
"But let's not get mesmerised by that – Sinn Féin is still growing despite them."
Do you think that the media and politicians in the South have absorbed the essence of the Good Friday Agreement and the agreements that followed?
"No, I don't. I think for a lot of the Southern media the Good Friday Agreement is 'a Northern thing' as opposed to being an all-Ireland agreement.
"I think, like any sensible person, they appreciate the Peace Process and the Good Friday Agreement in its broad sense as a pathway out of conflict but what they don't appreciate is that they have also have a responsibility. 
"For example, the Irish Government is obliged under the Good Friday Agreement to bring in a Charter of Rights for citizens here but there's not a word about it."
You met Nelson Mandela several times and you had a special place at his funeral.
"Myself and Richard McAuley were chosen to be in the guard of honour, the only Irish people granted that very historic privilege.
"Mandela was very loyal to the people who had made a stand during the apartheid era. It was a personal honour for us but it was also a mark of appreciation by the ANC for the work that Irish republicans had done in the battle against apartheid."
The H-Block/Armagh Hunger Strikes and prison protests campaign were a crucible for many activists.
"It's almost 40 years since Bobby Sands and his comrades made their sacrifice behind prison bars but it's still a matter of deep emotions. 
"I've said this before, many times, that if our ego gets the better of us or we get frustrated or annoyed by comrades or events, the generosity, commitment and self-sacrifice of the Hunger Strikers should be a reminder of the enormity of what some people and their families have given in the past and also that we don't have to go through that again.
"We're all human and we can all occasionally forget what this struggle and making change is about but it's bigger than each us."
What's next for you in Sinn Féin?
"I'm here to serve the party and the people of Louth and East Meath as a TD until the next election.
"I will support the new Uachtarán and the Sinn Féin leadership and I will be available to do whatever they want me to do. The media talk of me having an influence over Sinn Féin is another one of those stories. I don't want or expect to have more influence than you or any other member of the party."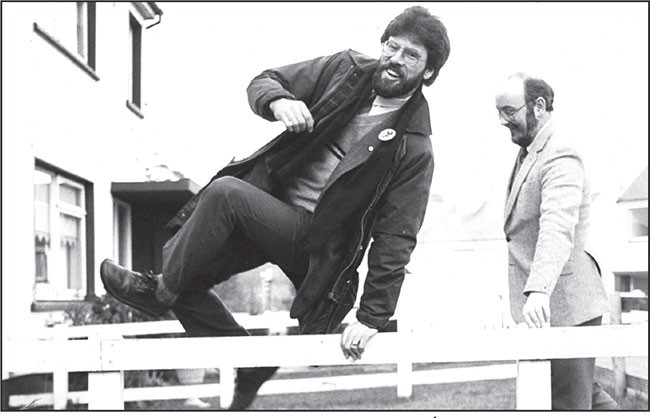 • Gerry Adams leaps into action on the canvass trail with Caoimhghín Ó Caoláin
You are upbeat about the prospects for Sinn Féin. 
"Sinn Féin is a growing party with a growing membership and growing influence. I believe politics is about empowering people. I don't believe it's worth getting up in the morning to be involved in political struggle unless it empowers citizens and communities, unless it empowers comrades and yourself.
"It's about people taking responsibility for their lives but also having the power, the education, the information, the resources and the will and the confidence to make changes. That's what a true revolutionary spirit is about.
"I firmly believe that one person can make a difference and the first step is believing that you can be that person.
"My initiative is part of Sinn Féin's 10-Year-Plan to grow the party and prepare for government North and South as well as the reunification of Ireland.
"But individual Sinn Féin activists, cumainn and comhairli ceantair don't need to be overawed by the 10-year objectives. Plan for them but also ask yourselves where you want Sinn Féin to be locally this time next year, in 2018, in terms of your membership, in terms of your alliances with others of a like mind, fund-raising, publicity, getting the republican message to people. 
"The clue to building a strong national movement for Irish unity and positive change leading to a real republic is in your activism. That leads to a tipping point where a critical mass of people embrace the changes that are required and we move into a new phase in our history.
"You have to act locally and think nationally."
• 1999: Sinn Féin delegation addresses the media at the end of talks in Castle Buildings 
An Phoblacht pictures from the 2017 Sinn Féin Ard Fheis – Photo Gallery 1 –  Photo Gallery 2