27 November 2017 Edition
Another Europe is possible | Treo eile don Eoraip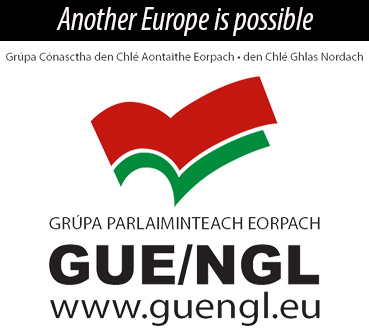 Funded by the European United Left / Nordic Green Left (GUE/NGL)
EU silence on police violence in Catalonia lambasted
EU leaders were fiercely criticised by Matt Carthy MEP in the European Parliament for their widespread silence on Spanish police violence against voters in the Catalan independence referendum on 1 October.
The Ireland North West MEP called them "a shower of utter hypocrites".
Speaking during a key debate in the European Parliament regarding the preparation of the next European Council meeting, Matt Carthy said:
"I see the Council intends to discuss the EU's external relations at its next meeting.
"You guys have some nerve.
"You plan to lecture others on human rights while you sit on your hands when witnessing a vicious assault on peaceful EU citizens in Catalonia because they have the audacity to vote."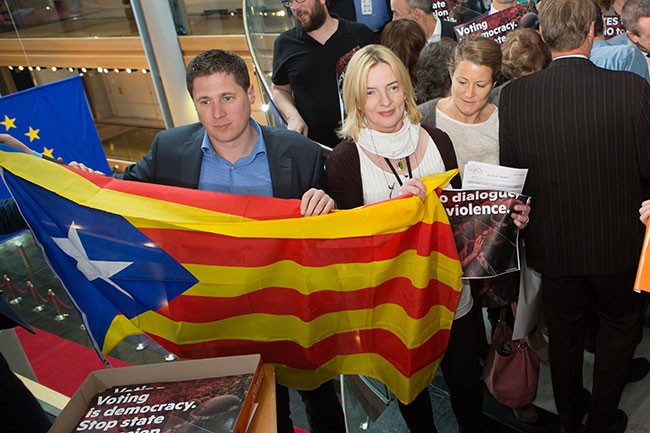 • MEPs Matt Carthy and Liadh Ní Riada join GUE/NGL colleagues in a 'Solidarity with Catalonia' protest
The Spanish Government in Madrid had declared the referendum illegal and Guardia Civil police used batons against voters and punched and kicked them. Police also broke up some polling stations and stole ballot boxes. Local police and firefighters stepped in to stop the Guardia violence against citiens.
Matt Carthy told the European Parliament:
"Let's be clear: not an unelected Spanish king, not an unelected European Commission, not even a minority government in Madrid has the right to declare illegal the democratic exercise of self-determination by a people.
"We are told that the EU stands for peace, democracy and human rights.
"Where were these values on Sunday? 
"If you dare to use the Council meeting to talk peace or democracy without standing clearly for these values in Catalonia then the people of Europe, the people of the world, will rightly consider you to be nothing more than a shower of utter hypocrites." 
Colleague Martina Anderson MEP was an international observer of the referendum in Barcelona. She said:
"I witnessed at first-hand the actions of the Spanish police. It was reminiscent of the actions of the RUC in the worst days of the conflict in Ireland. 
"The EU has a responsibility to stand up for democratic rights and to protect citizens," she said. "It is now up to the international community to respect the outcome of the referendum in Catalonia and ensure scenes like we witnessed on Sunday are not repeated."
Murder of Maltese anti-corruption investigator condemned
THE MURDER of a Maltese investigative journalist who gave evidence to the European Parliament's 'Panama Papers' probe into worldwide tax evasion and corruption has been condemned by MEP Matt Carthy. 
He described it as "an attack against freedom of expression and anti-corruption activists everywhere".
Daphne Caruana Galizia was killed by a car bomb as she drove away from her home in Malta on 16 October.
Irish MEP Matt Carthy is a member of the European Parliament's 'Panama Papers' inquiry committee which is probing tax avoidance and evasion by political and business figures around the world through offshore companies and tax haven accounts.
The inquiry takes its name from the leak of 11million documents held by the Panama-based law firm Mossack Fonseca.
MEPs from the European Parliament's Panama Papers inquiry held meetings with Ms Caruana Galizia in the capital Valletta in February this year during a fact-finding mission to Malta.
European Parliament President Tajani said that Europol should join the investigation into the murder and the European Parliament Press Room in Strasbourg will be named after Caruana Galizia in tribute to her. 
#MeToo: Parliament moves to tackle sexual harassment
MEPs voted on 26 October for the establishment of a task force of independent experts with a mandate to examine the situation of sexual harassment and abuse in the Parliament.
They also called for a Directive against violence against women and for mandatory training for all staff and MEPs on respect and dignity at work.
Asked by RTÉ if she was surprised by reports that described the European Parliament as "a hotbed for sexual harassment", Dublin MEP Lynn Boylan said:
"It certainly doesn't surprise me in the slightest.
"I have heard first-hand accounts of interns who have been approached and offered jobs in return for sexual favours.
"This idea of sexual harassment, it doesn't recognise cultural backgrounds, it doesn't recognise religion and creed. It just seems to be something that is completely systemic in society."
Swedish GUE/NGL MEP Malin Björk declared her wholehearted support for the wave of popular mobilisation and that #MeToo is about recognising that there is a structural problem. 
"There are not just a few isolated cases and it is not – as some racists in this house like to believe – only men from a particular culture or religion," Malin said. "It's about all men. It is about the macho culture in our societies."
Calling on men to assume responsibility for sexual harassment and join efforts to combat it with a zero-tolerance approach, she added:
"#MeToo is about requiring men to take responsibility. You have to take a stand against misogyny and have courage. If you are not part of the solution by opposing sexism and this macho culture, you are part of the problem.
"#MeToo is a campaign for change. We have to start cleaning our own house. As policy-makers, we need to take action for change and start in this Parliament."
Tracking tobacco giants' influence
THE biggest tobacco firms have come together to produce a tracking and tracing system to replace the outdated tax authentication stickers throughout the EU but, by subcontracting the work, they could potentially bypass the independence criteria laid out in the Tobacco Products Directive, Dublin MEP Lynn Boylan has warned.
"This situation is unacceptable, so I have requested that Health & Food Safety Commissioner Vytenis Andriukaitis closes this loophole to ensure our citizens and governments are not hoodwinked by this notorious and powerful industry.
"I will continue to insist on the complete separation of the tobacco industry and EU tobacco regulation."
Commissioner Andriukaitis and has attached the letter calling for a clause prohibiting subcontracting to be added to the independence criteria.
Speaking from Brussels, the Dublin MEP said that tobacco is one of the most extensively smuggled substances in the world with 1 in 10 cigarettes sold in the EU coming from illicit trade. This means that governments – and the public – are robbed of millions in potential revenue that could be used to invest in housing, health, education, transport and infrastructure.
"Tobacco contraband is a lucrative criminal business.
"Along with public health reasons, this illicit trade is why the Tobacco Products Directive was introduced. It laid down the rules for an EU-wide tracking and tracing system to detect contraband."
She warned:
"The big tobacco companies have been determined to have their sway on tobacco regulation for years in the EU, especially on this tracking and tracing system which is to be rolled out in 2019.
"There is clearly a need for complete separation from the problem and the solution ­­– no influence from the tobacco industry on putting in place an effective tracking and tracing system."
Palestinian women celebrated in European Parliament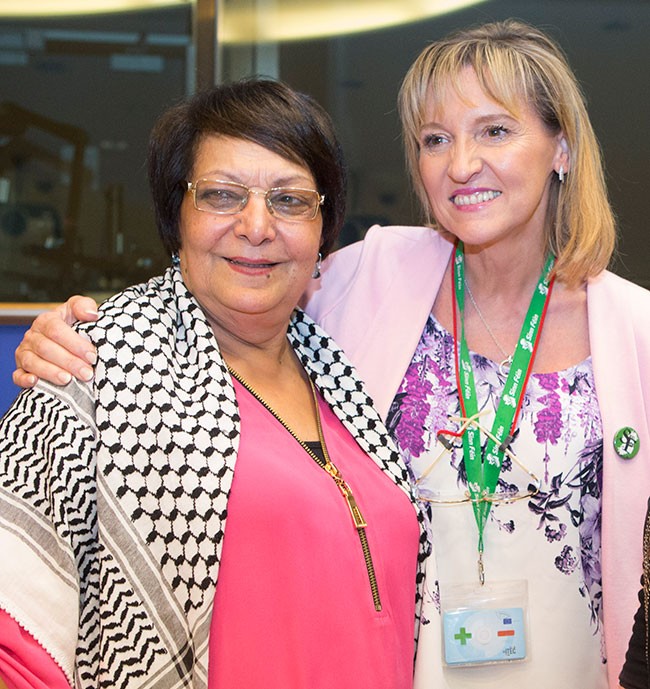 •  The famous Palestinian revolutionary activist Leila Khaled with Martina Anderson MEP
MEP Martina Anderson has met with renowned Palestinian revolutionary activist Leila Khaled in the European Parliament in Brussels and paid tribute to the role of women in the Palestinian struggle.
The pair met at an event held in the European Parliament in Brussels to recognise the role of women in the Palestinian struggle for freedom.
Other speakers at the event included Sahar Francis, lawyer for Khalida Jarrar, a Palestinian activist and politician currently imprisoned by Israel.
The Venezuelan Ambassador to the EU, Claudia Salerno, was among the guests who attended the event.
Speaking later, Martina Anderson paid tribute to the role of women in the Palestinian struggle.
"Palestinian women stand dignified in defiance of all that Israel can throw at them. We must stand beside them."
MEP champions Rosslare Europort
IRELAND SOUTH MEP Liadh Ní Riada has met with management from Rosslare Europort to discuss plans for the port's future, including the possibility of EU funding.
"In Europe I put a number of questions to the Parliamentary Research Service about possible lines of funding for the port," Liadh said. "They sent me a lengthy reply which I have given to management to digest and to see if it contains anything of use.
"I have also assured them of my office's full support if they require help setting up meetings or accessing funding from Europe.
"As Dublin becomes ever more crowded there is huge potential for Rosslare and the South East to benefit and I will be on hand to help that in any way I can."
Irish fishermen prepare for European Parliament delegation 
AN OFFICIAL European Parliament delegation will meet with Irish fishermen in Cork next year after a successful proposal by Ireland South MEP in the European Parliament.
The European Parliament delegation will speak with local fishermen, local authorities, researchers, coastal communities, co-operatives, SMEs and other stakeholders in Cork "to highlight the woeful impact Irish Government and EU policy has had in Ireland", Liadh Ní Riada said.
"I will raise the lack of funding for ordinary fishermen to avail of when gears and equipment are damaged or destroyed by other vessels and other factors, such as the recent storms.
"It is a situation that cannot continue. 
"Ordinary fishermen are facing enormous losses, on a bankrupting scale in some instances."
Detailing the restrictions that the European Maritime Fisheries Fund places on applicants, the Ireland South MEP said she hopes the visit in 2018 "will open the European Union's and Irish Government's eyes to what is happening to our fishermen and communities on the ground".