27 November 2017 Edition
It's all at the co-op
Sinn Féin proposals to promote worker co-operatives launched at Oireachtas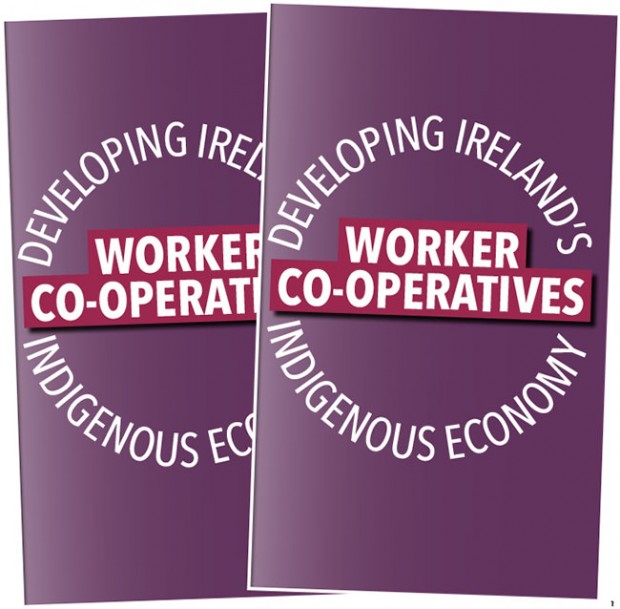 In France, 10% of the total workforce is now employed through co-operatives; in Finland, it's a massive 21%
FANCY A PINT? Going shopping for some freshly-baked bread? Need your business professionally cleaned to a high standard? Why not do it with a worker co-operative?
Two years ago I visited Bologna, a beautiful city in northern Italy. The atmosphere of Bologna was vibrant. The streets were alive with thousands of tourists and locals from the region. 
The city had everything from top-quality restaurants, wine bars and fashion boutiques right down to supermarkets and day-to-day necessities. It was everything you would expect from a popular city in central Europe – except for that fact that 40% of the region's GDP is generated by worker co-operatives. And two out of every three citizens is a member of a co-operative.
At the time, I was not aware that this was a worker co-operative city because, on the surface, not a lot appears any different – behind the scenes, though, the economy and society is radically different. 
In Emilia Romagna, the region of Italy in which Bologna is the largest city, the GDP per capita is 25% higher than that of Italy's overall average, the rate of employment for women is higher in the region than anywhere else in Italy, and its inequality rating is statistically half that of the EU average. 
The success of worker co-operative is not confined to Italy.
In France, 10% of the total workforce is now employed through worker co-operatives. In Sweden it's 13%. In Finland, it's a massive 21%. Ireland, however, continues to languish bottom of the league when it comes to developing our worker co-operative sector.

So what is a worker co-operative anyway? 
It's a business that is owned and democratically managed by its workers. They can take many forms: from community-owned pubs and shops which sustain economic life in rural towns and villages to massive manufacturing and service industries in our cities that employ tens of thousands of people (see below).
In the North of Ireland, we have begun to witness the development of a number of worker co-operatives due to progress made at local level. Examples of successful businesses that  have developed into sustainable enterprises include the Belfast Cleaning Society, the Creative Workers' Co-operative, and Boundary Brewing. They all follow the principles of democracy, equality and worker ownership and have been proven to be highly productive.
In the South, Ireland proudly supports the achievements of our credit unions (essentially financial co-operatives) and we also celebrated the early development of the agricultural co-operative sector. But we have yet to develop our worker co-operative sector, and this is to the detriment of our indigenous economy.
This is why Sinn Féin launched its new policy document in September, 'Worker Co-operatives – Developing Ireland's Indigenous Economy', which provides a road map to building sustainable enterprises in the form of worker co-operatives. 
How will we achieve this? 
In 2014, France introduced new legislation entitled the Social and Solidarity Economy Law which essentially provided a legal route for workers to buy out the enterprise in which they work and then turn that business into a worker co-operative. This includes government and legal support for the workers as well as a number of finance plans which the workers can avail of as capital for the investment.
Sinn Féin plans to:
Recognise worker co-operatives as a distinct legal entity;
Give workers the statutory right to request employee ownership during business succession;
Update business transfer law, amend insolvency proceedings in order to strengthen workers as preferential creditors, and give employees the right to be informed in advance of any intention by the owner to sell;
Introduce legislation to protect mandatory indivisible reserve funds with an asset lock to prevent the company from being bought out;
Re-establish the Co-operative Development Unit (CDU) as a Worker Co-operative Development Unit (WCDU) to co-ordinate the existing worker co-operative network. 
Worker co-ops can both challenge existing economic models and provide a real route to decent jobs and community wealth building. They can be a means of ensuring that ordinary people have power over decisions and services that affect their daily lives by introducing economic democracy at local level.
The next time you fancy a pint, we want that pint to be a workers' co-operative pint. We want the next taxi you get to be from a workers' co-operative taxi rank. And we want the workers to have the choice to own and run these businesses. 
There's no reason why this cannot happen. 
It's already the reality in France, Spain, Italy, Finland, Iceland and Norway – why can't we see more of it in Ireland?
Mondragon 
The Mondragon Corporation is a federation of worker co-operatives based in the Basque region, founded in 1956.
Mondragon was created by a group of graduates from a local technical college who began producing paraffin heaters to be sold in the local economy. Today, it employs 74,335 workers and has global sales of $15billion per annum.
The workers decide what the wages should be. The consensus is a 5:1 ratio between the highest and lowest earner. The workers hire and fire the managers based upon their performances. It has its own university of 4,000 students. And 20% of its turnover comes from products that did not exist five years ago – such is their innovation and research.
Despite the significant impact which the 2008 crash had on many European businesses, not one single worker was fired in Mondragon. Workers transitioned between sectors within the corporation and the business's 'rainy day funds' were used for salaries in an act of worker solidarity.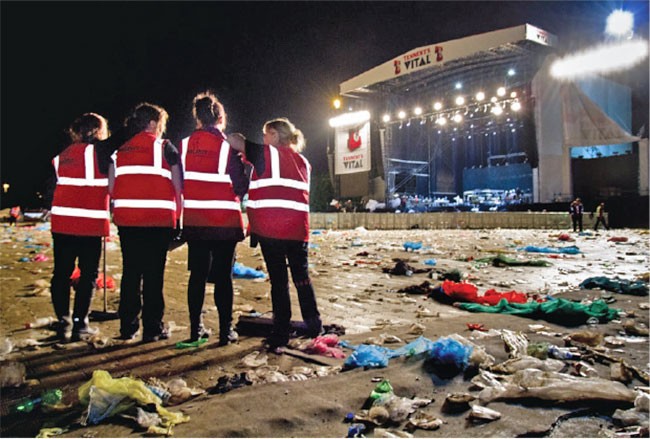 • Belfast Cleaning Society Co-op workers putting things right after the city's Vital Music Festival
Belfast Cleaning Co-op 
The Belfast Cleaning Society Co-op was established in 2012.
Within the workers' co-operative all decisions are made democratically. The workers decide what contracts to accept, what hours they will do and what to do with the businesses profits.
The Belfast Cleaning Society Co-op is an accredited 'Living Wage Employer'. 
They have won major contracts such as the MTV Awards and the Belfast Vital Music Festival.
The Plunkett Foundation  
The Plunkett Foundation was established by the great Irish co-operative pioneer Sir Horace Plunkett in 1919. 
Today they actively represent a network of over 500 rural community co-ops trading across Britain. They have been instrumental in the growing network of community-owned shops and pubs, including one recent new venture in Loughmore, County Tipperary.
They employ a network of advisers, mentors and specialists to help and support local communities in starting up sustainable, democratic forms of local businesses rooted in villages and small-town communities.  
The Plunkett Foundation offers a working template to halt the decline of rural Ireland through a community-owned enterprise model that is proven to work.