2 October 2017 Edition
Whistleblowers, RTÉ and the licence fee
RTÉ is an incredibly important player when it comes to current affairs, even though its impartiality may be in question
RTÉ has warned staff that they will be "held to account" after an anonymous Twitter account claiming to be a long-time station producer took to the web to divulge information about life at the station.
The "Secret RTÉ Producer" Twitter account has been excoriating in its criticism of senior management at the station. The account claims that petty infighting and "internal politics" have stifled creativity at the broadcaster. Coupled with the fact that practically no new staff have been hired since 2008, the station is becoming stale. 
One new person who did join the station in recent months, however, is Dee Forbes. Taking over as RTÉ Director General last year, her appointment was met with much fanfare. The mainstream Irish media was keen to point out her impressive CV and previous position as President and Managing Director of Discovery Networks.
For those who keep abreast of the current state of the media, however, it should have set off alarm bells. RTÉ is a public service broadcaster; Discovery is very far from serving such a remit.
Discovery Networks is the owner of trash-TV channels such as TLC while the Discovery Channel itself has taken a nosedive in terms of quality, focusing on cheap-to-produce reality-TV and pseudo-science shows such as American Guns and Alaskan Bush People rather than the nature and science documentaries it was previously recognised for.
In contrast, RTÉ is mandated to "to be accurate, fair and impartial, and to remain independent from  all state, political and commercial influences. RTÉ must provide a comprehensive range of programmes in the Irish and English languages that reflect the cultural diversity of the whole island of Ireland and include programmes that entertain, inform and educate. It must cater for both majority and minority interests and its programmes and services must be offered free-to-air to the whole community."
Dee Forbes has been quick out of the blocks to call for an increase in the TV licence fee, the bulk of which goes to RTÉ with a smaller slice going to TG4 – a channel whose programming, devoid of the big celebrities and names, is forced through necessity to be creative and interesting (in fact, in many aspects its programming, TG4 is superior to that of its 'big brother').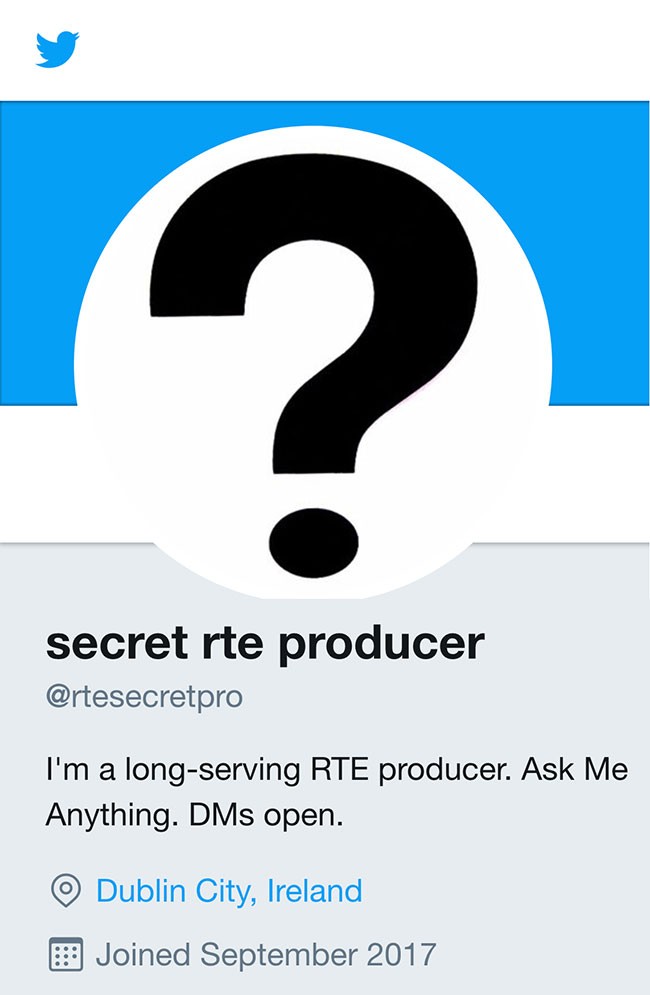 It is quite amazing that at a time when RTÉ has continued to slash its own in-house productions (and that's before we start looking at the wages of some high-profile presenters) it should be looking for more state funding. Last year, the curtain was closed on RTÉ's Young People Department.
Staff in children's programming were left devastated: 
"We were told very coldly at half-past-five by a team of men in suits that the department was closing down in three weeks' time," one employee told the Irish Times. "Anyone who is on contract was told their job was gone. Staff employees would be redeployed within the company. Everyone was devastated and a lot of people were in tears."
In other areas, drama and documentaries have been replaced by the likes of The Voice of Ireland and First Dates Ireland – Irish editions of popular Dutch and British series.
'The Secret Producer' described the station as becoming "the opposite of Logan's Run" (a science fiction novel and film in which everyone reaching the age of 21 is terminated) with no young or enthusiastic staff:
"When you walk into Stage 7, which is the TV production team building, the first thing you walked by for years was Young People's Programming. It always was busy, bursting with the youngest and usually most enthusiastic people in RTÉ. Now the lights are off. Only a genre head executive producer and the odd straggler. It had been diminished for the last 15 years. 
"When I joined it had The Den, even after Zig and Zag left there was Dustin and Socky. But the Commissioning Editor cancelled that and replaced it with stuff that kids didn't want to watch. Stuff parents would approve of, rather than kids would want to watch. Gradually everyone in the department got old."
When it comes to current affairs, RTÉ is an incredibly important player. While its impartiality may be in question, there can be no doubt that, as the private media market becomes more and more consolidated around a single individual, public service broadcasters have a vital role to play.
It was therefore quite surprising to see privately-owned media outlets move quickly to attack the alleged whistleblower. 
The Irish Independent ran an article entitled "Why the 'secret RTE producer' is really a simple rat"! The Indo also ran another piece with the startling revelations that internment aficionado and sometime RTÉ presenter and socialite, the vacuous Vogue Williams, had the nerve to blast the individual behind the Twitter account as "just some loser".
Perhaps these hit-pieces  are aimed at dissuading disgruntled Indo staff from spilling the beans from within their Talbot Street HQ.
• RTÉ presenter Miriam O'Callaghan probably not being updated on world affairs by Vogue Williams