2 October 2017 Edition
Respect Catalonia's right to a referendum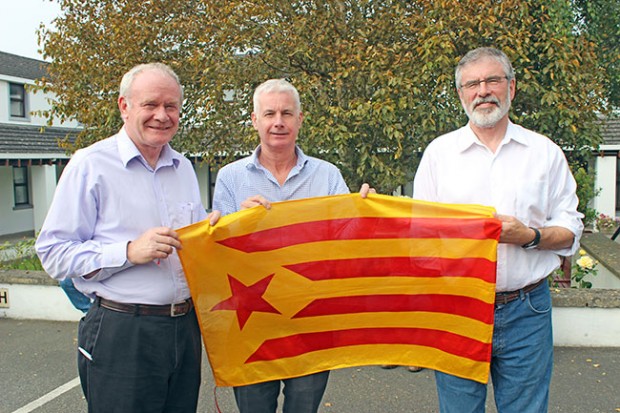 When elected officials are detained for political reasons and ballot boxes for a popular and democratic referendum are seized, we must speak out
WE HAVE SEEN millions of people march in Barcelona demanding the right to vote in a legally-binding, democratic referendum on independence from Spain.
The Catalan Government has timetabled such a referendum for 1 October. The Spanish Government has banned it.
Madrid said it will stop this democratic process going ahead. Actions by the Spanish security forces and administration have shown that they intend to carry out this threat.
Heavily-armed police are trying to frustrate attempts to have a democratic referendum and to stop a democratically-elected government in the EU from carrying out its mandate.
On 11September, on Catalonia's National Day, 1.5million people joined the annual pro-referendum march.
Recent polls indicate that 70% of Catalans want this referendum. Not all of them are pro-independence; many will vote 'No' to independence but they want the right to vote, the opportunity to vote.
We have seen important referendums on independence in Scotland and Quebec. Both times the pro-independence side lost the popular vote but it shows how normal and important such referendums are in democratic states. 
The Catalan Government was elected in January 2016 on a legitimate platform that stated they would establish a binding referendum on independence.
Despite the Catalan Government's best attempts, the Spanish Government continues to deny this democratic mandate and the demands of the Catalan people for this democratic referendum.
We have seen some extremely disturbing events unfold in Catalonia. 
Armed police from the Spanish Guardia Civil have raided the headquarters of the Catalan Government, arresting 14 high-ranking civil servants and public officials, and invaded the offices of at least one major political party.
We have seen armed police visiting newspaper offices, shutting down websites, and searching storage warehouses and print centres, seizing voting boxes, ballots, leaflets and political posters.
More than 700 Catalan mayors who support the referendum have been threatened with judicial prosecution.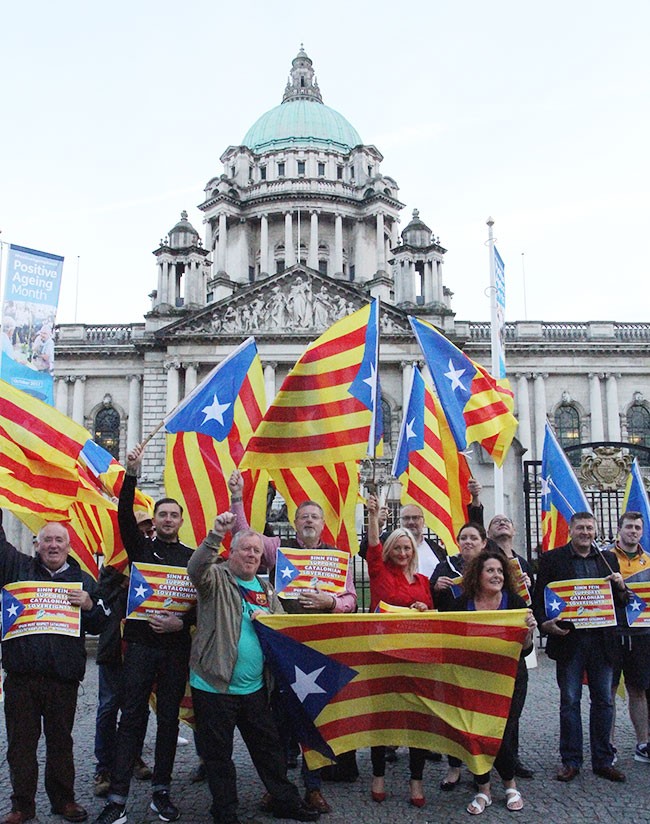 • Sinn Féin activists protest at Belfast City Hall in September against the Spanish state's crackdown
Spain's Constitutional Court has imposed daily fines of up to €12,000 on Catalan officials for every day they continue organising the referendum.
Even school principals hosting polling stations are being threatened with criminal prosecution.
This goes against all values of democracy and the right to self-determination.
Three ferries with the capacity for 4,000 armed members of the Guardia Civil docked at Catalan ports on 20 September. What do they plan to do?
How is this an acceptable response to the democratic demands for a referendum?
The President of the Catalan Government said that Spain has now "de facto suspended self-government and applied a de facto state of emergency".
He said the move is an "unacceptable situation in democracy".
When elected officials are detained for political reasons and ballot boxes for a popular and democratic referendum are seized, we must speak out.
When newspapers are threatened and democracy is denied, surely we have to say enough is enough.
These raids and arrests have triggered massive, peaceful demonstrations that have seen tens of thousands of Catalans demand the most basic of rights – the right to vote in a democratic referendum.
Thousands in the Basque Country and Galicia have also taken to the streets in solidarity.
These unprecedented attacks by the authorities in Madrid on fundamental rights, and civil and political liberties are putting democracy in Catalonia at risk.
The Irish Government must make clear its concerns about the actions of an EU government.
The silence on Catalonia must be broken.
I have met Catalans living in Ireland outside the gates of Leinster House where they were protesting the Spanish Government's actions.
They were extremely upset about the attacks on the democratic rights of Catalans and they pleaded with me and other TDs to speak out and support the right of Catalans to self-determination.
We have a responsibility to speak out when regressive actions threaten democracy in Ireland and around the world.
This is one of those moments.
A red line has been crossed by the Spanish Government in Catalonia.
The people of Catalonia should have the right to democratically decide their own future in a legally binding referendum on 1 October and the Spanish Government should end its heavy-handed tactics in an attempt to stop this democratic vote.