1 June 2017 Edition
Arlene, Leo and who's Saudi now?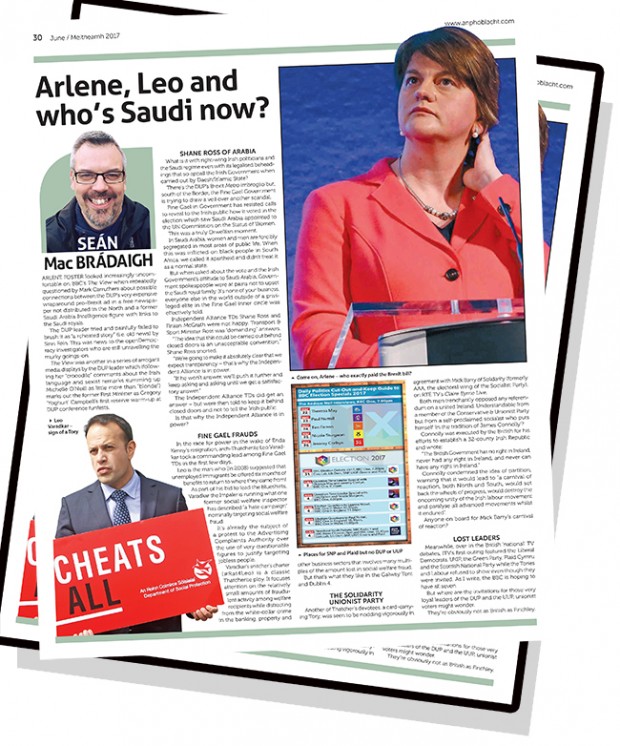 ARLENE FOSTER looked increasingly uncomfortable on BBC's The View when repeatedly questioned by Mark Carruthers about possible connections between the DUP's very expensive wraparound pro-Brexit ad in a free newspaper not distributed in the North and a former Saudi Arabia Intelligence figure with links to the Saudi royals.
The DUP leader tried and painfully failed to brush it as "a reheated story" (i.e. old news) by Sinn Féin. This was news to the openDemocracy investigators who are still unravelling the murky goings-on.
The View was another in a series of arrogant media displays by the DUP leader which (following her "crocodile" comments about the Irish language and sexist remarks summing up Michelle O'Neill as little more than "blonde") marks out the former First Minister as Gregory 'Yoghurt' Campbell's first reserve warm-up at DUP conference funfests. 
 Shane Ross of Arabia
What is it with right-wing Irish politicians and the Saudi regime even with its legalised beheadings that so appall the Irish Government when carried out by Daesh/Islamic State? 
There's the DUP's Brexit Metro imbroglio but, south of the Border, the Fine Gael Government is trying to draw a veil over another scandal.
Fine Gael in Government has resisted calls to reveal to the Irish public how it voted in the election which saw Saudi Arabia appointed to the UN Commission on the Status of Women.
This was a truly Orwellian moment. 
In Saudi Arabia, women and men are forcibly segregated in most areas of public life. When this was inflicted on black people in South Africa, we called it apartheid and didn't treat it as a normal state.
But when asked about the vote and the Irish Government's attitude to Saudi Arabia, Government spokespeople were at pains not to upset the Saudi royal family. It's none of your business, everyone else in the world outside of a privileged elite in the Fine Gael inner circle was effectively told.
Independent Alliance TDs Shane Ross and Finian McGrath were not happy. Transport & Sport Minister Ross was "demanding" answers.
"The idea that this could be carried out behind closed doors is an unacceptable convention," Shane Ross snorted.
"We're going to make it absolutely clear that we expect transparency – that's why the Independent Alliance is in power.
"If he won't answer, we'll push it further and keep asking and asking until we get a satisfactory answer."
The Independent Alliance TDs did get an answer – but were then told to keep it behind closed doors and not to tell the Irish public.
Is that why the Independent Alliance is in power?
Fine Gael frauds
In the race for power in the wake of Enda Kenny's resignation, arch-Thatcherite Leo Varadkar took a commanding lead among Fine Gael TDs in the first few days.
Leo is the man who (in 2008) suggested that unemployed immigrants be offered six months of benefits to return to where they came from!
As part of his bid to lead the Blueshirts, Varadkar the Impaler is running what one former social welfare inspector has described "a hate campaign" nominally targeting social welfare fraud.
It's already the subject of a protest to the Advertising Complaints Authority over the use of very questionable figures to justify targeting jobless people.
Varadkar's snitcher's charter (#Rat4Leo) is a classic Thatcherite ploy. It focuses attention on the relatively small amounts of fraudulent activity among welfare recipients while distracting from the white-collar crime in the banking, property and other business sectors that involves many multiples of the amount lost in social welfare fraud.
But that's what they like in the Galway Tent and Dublin 4.
The Solidarity Unionist Party
Another of Thatcher's devotees, a card-carrying Tory, was seen to be nodding vigorously in agreement with Mick Barry of Solidarity (formerly AAA, the electoral wing of the Socialist Party), on RTÉ TV's Claire Byrne Live.
Both men trenchantly opposed any referendum on a united Ireland. Understandable from a member of the Conservative & Unionist Party but from a self-proclaimed socialist who puts himself 'in the tradition of James Connolly'?
Connolly was executed by the British for his efforts to establish a 32-county Irish Republic and wrote:
"The British Government has no right in Ireland, never had any right in Ireland, and never can have any right in Ireland."
Connolly condemned the idea of partition, warning that it would lead to "a carnival of reaction, both North and South, would set back the wheels of progress, would destroy the oncoming unity of the Irish labour movement and paralyse all advanced movements whilst it endured".
Anyone on board for Mick Barry's carnival of reaction?
Lost leaders 
Meanwhile, over in the British 'national' TV debates, ITV's first outing featured the Liberal Democrats, UKIP, the Green Party, Plaid Cymru and the Scottish National Party while the Tories and Labour refused to show even though they were invited. As I write, the BBC is hoping to have all seven.
But where are the invitations for those very loyal leaders of the DUP and the UUP, unionist voters might wonder.
They're obviously not as British as Finchley.