1 June 2017 Edition
Collusion was not an illusion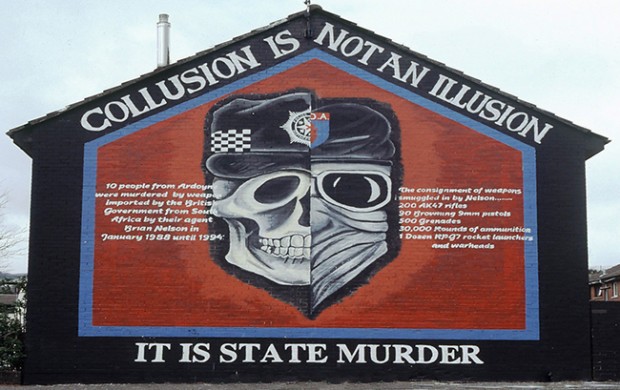 The six-person panel charged with redacting documents in the PSNI Legacy Unit includes four former Special Branch officers and one former RUC Intelligence officer
AS Sinn Féin MEP for the North, I have brought families of British state violence and their advocates on delegations to Brussels and Strasbourg on four separate occasions.
Some families have been waiting 40 years on inquests and had already gone to the European Court of Human Rights (ECHR).
Twelve days after the first delegation, on 11 March 2014, working closely with Relatives for Justice, I knocked on the door of Human Rights Commissioner Nils Muiznieks at his office in Strasbourg. I took human rights lawyer Niall Murphy and Paul O'Connor from the Pat Finucane Centre with me.
I also arranged a separate meeting with representatives from the Directorate of Human Rights from the European Court of Human Rights (ECHR), including an official from the Department for the Execution of Judgments of the ECHR.  
When he arrived in Belfast in November 2014 to make a keynote address at a University of Ulster, he said:
"The UK Government cannot wash its hands of the investigations, including funding of the investigations. These are the most serious human rights violations.
"Until now there has been virtual impunity for the state actors involved and I think the Government has a responsibility to uphold its obligations under the European Convention to fund investigations and to get the results.
"The issue of impunity is a very, very serious one and the UK Government has a responsibility to uphold the rule of law. This is not just an issue of dealing with the past, it has to do with upholding the law in general."
• Human Rights Commissioner, Nils Muiznieks
The investigation of state collusion and state-sanctioned murder of citizens took place at a time when the North was under direct rule from London, therefore it falls to Britain to fund all legacy matters.
There have only been 11 legacy deaths inquests despite a "package of measures" put in place in response to the ECHR finding in 2001 that the British Government was not Article 2 compliant. 
However, 12 years on after an ECHR ruling on inquests into a number of "shoot to kill" murders by state forces, in July 2013, an ECHR judge ruling on there being no inquests into the murders of Martin McCaughey and Desmond Grew, concluded that the "state's agents are benefiting from virtual impunity as a result of the passage of time".
Senior Coroner John Lecky has said that his office will not take the blame if the British Government faces further sanctions from the ECHR.
Furthermore, the Coroner's Office has met resistance from the PSNI's Legacy Unit, which has persistently refused to comply with deadlines and is only disclosing requests for material bit by bit – piecemeal. 
There is no doubt that the "passage of time" tactic is being used with unnecessary redacting of documents that were in the public domain (e.g. open court transcripts) and the Legacy Unit is using and abusing the classification rule.  
The six-person panel charged with redacting documents in the PSNI Legacy Unit includes four former Special Branch officers and one former RUC Intelligence officer who, between them, have served with 92 RUC potential inquest witnesses.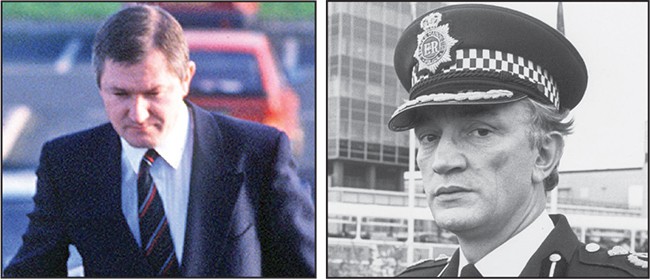 • Human rights lawyer Pat Finucane and British police chief John Stalker
In 1982, after international attention focused on the RUC policy of "shoot to kill", British police chiefs Stalker and Sampson were appointed in 1985 to investigate the cover-up.
Referring to "a force within a force", Stalker said that the RUC Special Branch "targeted subjects, briefed officers and after shooting removed men, cars and guns before carrying out a private briefing".
It is believed that Stalker's office was set on fire by the same intelligence services that he was investigating. 
There is a myth still peddled that the British state's "security forces" – the RUC and the British Army – were responsible for "only" 10% of the killings in the North. Nonsense.
The fact is that the British state was involved in more than 30% of the killings during the conflict and it was the British state that killed Pat Finucane. 
For all its faults, the De Silva report into Pat Finucane's killing confirmed that "85% of intelligence used by loyalists came from the security forces". 
The RUC Special Branch was up to its necks in collusion and murder.
British Cabinet ministers have been saying that if a truth recovery process was to be established it should focus on "those who were responsible for most of the violence and that the state would also have to use Public Interest Immunity [gagging orders] concerning its role".
The state policies of murder with impunity are much worse than that of non-state actors. 
There were 30,000 republican prisoners in jail during the conflict and between us we served over 100,000 years. Compare that to sentences served by state forces.
Even if Theresa May's Tory Government – supported by the unionists –  tries to repeal the Human Rights Act, Human Rights Commissioner Nils Muznieks has confirmed that Britain would still be legally responsible for its Article 2 obligations that were breached when they governed here during direct rule.
We will not let Britain, its actors or its mouthpieces rewrite history.