1 June 2017 Edition
Sri Lanka's massacres of Tamils marked on 18 May, 'Mullivaikkal Remembrance Day'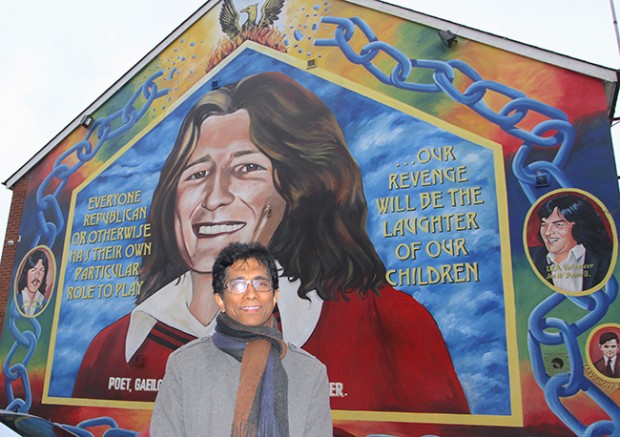 TAMIL EXILES were in Belfast and Derry on 18 May for 'Mullivaikkal Remembrance Day', marking the anniversary of the bloody massacres carried out by the Sri Lankan Army in May 2009 as it crushed the Tamil struggle for an independent homeland, slaughtering as many as 70,000 Tamils, mostly civilians.
Mullivaikkal Remembrance Day takes its name from a village on the north-east coast of Sri Lanka which was the scene of the final action of the conflict on 18 May 2009.
The Sri Lankan Government celebrates 18 May as 'Victory Day'.
Sri Lanka (formerly Ceylon) gained its independence from Britain in 1948 but the Tamil minority was marginalised and politically disenfranchised by the larger Sinhalese population, fuelling the campaign for a separate state called Tamil Eelam in the northern and eastern parts of the island.
Headline-grabbing armed resistance to the Sri Lankan regime came mainly in the form of the Liberation Tigers of Tamil Eelam (LTTE), popularly known as the Tamil Tigers.
The bloodbath was carried out by the Sinhalese-dominated Sri Lankan military as it pursued the total destruction of the Tamil Tigers.
The huge Sri Lankan military offensive also ruthlessly targeted Tamil civilians sheltering in an area declared a "Free Fire Zone" and led to former UN spokesperson Gordon Weiss accusing the Sri Lankan Government and its armed forces of war crimes.
Channel 4 has also produced a number of exposés, including (by Jon Snow) Sri Lanka's Killing Fields, which Channel 4 describes as "a forensic investigation into the final weeks of the Sri Lankan civil war, including new video evidence of war crimes".
A spokesperson for the Tamil group visiting Belfast and Derry, Jude Lal Fernando (who, incidentally, is Sinhalese), told An Phoblacht 
"Just as loyalism served to internalise British interests within Ireland, Sinhala supremacism was groomed by the British to assist their colonial control of the Indian subcontinent."
The Dublin-based activist explained how after the 'shoot-to-kill' ambushes by the paramilitary Royal Ulster Constabulary in County Armagh in 1982, Sri Lanka set up its own police commando unit with British help. The Sri Lankan Special Task Force (STF) was trained by SAS veterans.
Among those hosting the Tamil group were Sinn Féin, the National Graves Association, Coiste na nIarchmimí, the human rights campaign groups Relatives for Justice (RFJ) and Pat Finucane Centre (PFC), the Irish Forum for Peace in Sri Lanka, and the International Human Rights Association-Bremen.