16 January 2017 Edition
'Blanketmen' Facebook page lights a candle for protesting POWs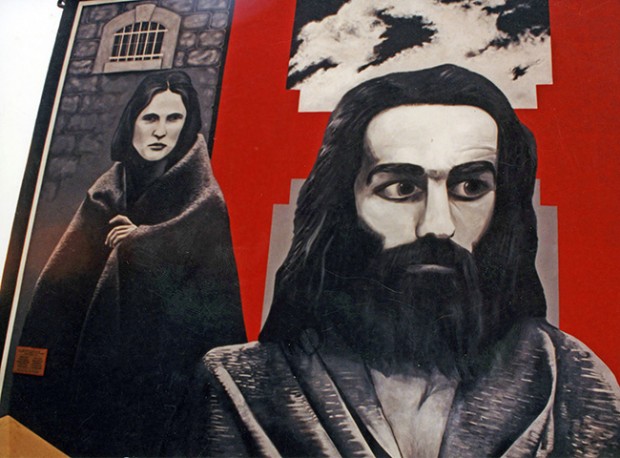 Screws would often direct hoses into the prisoners' cells as an act of vindictiveness, sometimes at night, leaving those in the cell freezing cold from the damp cell and wet mattresses
FOLLOWING the death of former H-Block Blanketman Seány McVeigh in June 2016, his brother Michael set up a Facebook page titled Blanketmen. It was Michael's way of honouring his brother and bringing into focus for people a part of the lives of ex-prisoners – especially those men on the Blanket Protest in Long Kesh and the women in Armagh – that lay hidden. And from humble beginnings, when he expected maybe 20 to 30 people to follow the page, it has now grown in popularity with several hundred followers and a stream of posts and interactions. 
It is a moving and inspiring tribute to the steadfastness of Irish republican POWs who went through prison determined to defeat Britain's criminalisation policies.
The Blanketmen site also recognises the immense sacrifice and commitment of the families, friends and supporters of the prisoners who endured so much as they marched the roads and streets of Ireland and further afield in solidarity with the prisoners.
Importantly, the page recalls sadly the many former prisoners who have died in the intervening years, not all of them Blanketmen or Armagh women protesters but who served their time for Ireland.
— • — • —   — • — • —   — • — • —   — • — • —   
• Gerry Adams shares a laugh with former Blanketman Seány McVeigh while canvassing in Short Strand  in 1996
THE PASSING of former Blanketman John 'Seány' McVeigh in June 2016 struck a chord with many of those who spent time with the Short Strand man in the H-Blocks of Long Kesh during those intense years of prison struggle, on the 'Blanket' and 'No Wash' protests between 1976 and 1981. It was these protests that culminated in the epic showdown with the Thatcher regime in the 1981 Hunger Strike.
As someone with an indomitable spirit, Seány, at just 18 years of age, was the eleventh republican prisoner to go on the 'Blanket Protest' and the first from the Short Strand in east Belfast.
Seány spent almost five years of his 10-year sentence on the protest and he epitomised that spirit of resistance and defiance which saw hundreds of Irish republican prisoners in the H-Blocks and Armagh women's prison confront and ultimately defeat the British Government's criminalisation strategy.
Seány's death from cancer came in the midst of a spate of deaths of other former POWs (again, mostly from cancer). This again raised questions about the links between these deaths and the effects on protesting prisoners of the conditions they were in, not least the possibility that the chemicals used to clean and disinfect the cells may have had some long-term effects on prisoners' health.
In fact, one of the last images that An Phoblacht captured of Seány was, sadly, at the funeral of Brendan 'Benny' Lynch, a fellow Blanketman who died of cancer in August 2015.
Just two months prior to Seány's death, Peter 'Dee' Kavanagh, from Lenadoon in west Belfast, the youngest-ever Blanketman, also succumbed to cancer. Dee was 16 when he joined the Blanket Protest, arriving in H3  in 1978, where he endured three years of deprivation and brutality at the hands of Screws who believed him to be a weak link due to his young age. How wrong they were. 
One of the other significant features of Seány's experience on the Blanket was his smuggling exploits or, more accurately, those of his sister Rosie. In the words of John Hunter, who was on a wing in H5 with Seány, "Rosie would have smuggled in a tank if Seány had asked her."
John Hunter also recalled how much the Blanketmen were indebted to Rosie for her smuggling exploits.
He related how Joe McDonnell, who died on Hunger Strike, would shout down the wing to Seány after a visit: "Was our wee Rosie up, Seány? Are we smoking tonight?"
At a tribute night to Seány, on 1 March 2016, the 35th anniversary of Bobby Sands embarking on hunger strike, both Seány and Bik McFarlane (who was OC of the republican POWs in the H-Blocks) paid their own tribute to Rosie, who herself died in 2015.
With typical 'gallows humour' they recounted how the Screws caught Seány with one of the crystal radios and sent him to "the boards" (the punishment block), no doubt inflicting a beating on him as he went down for possessing the contraband communication.
"The boards" were the cells in the punishment block and had a concrete slab with wooden boards for a bed. When a prisoner was on punishment the mattress was removed during the day, leaving the prisoner with only the boards to sit or lie on. At that time, prisoners also endured the "Number 1 diet" – which consisted mostly of a small bowl of soup, tea and dry bread – as an added punishment. 
Needless to say, on her next visit with her brother, Rosie smuggled in a replacement "Maggie Taggart" – the nickname the H-Block prisoners gave the crystal radio after the reporter from Downtown Radio who was never off the airwaves at that time.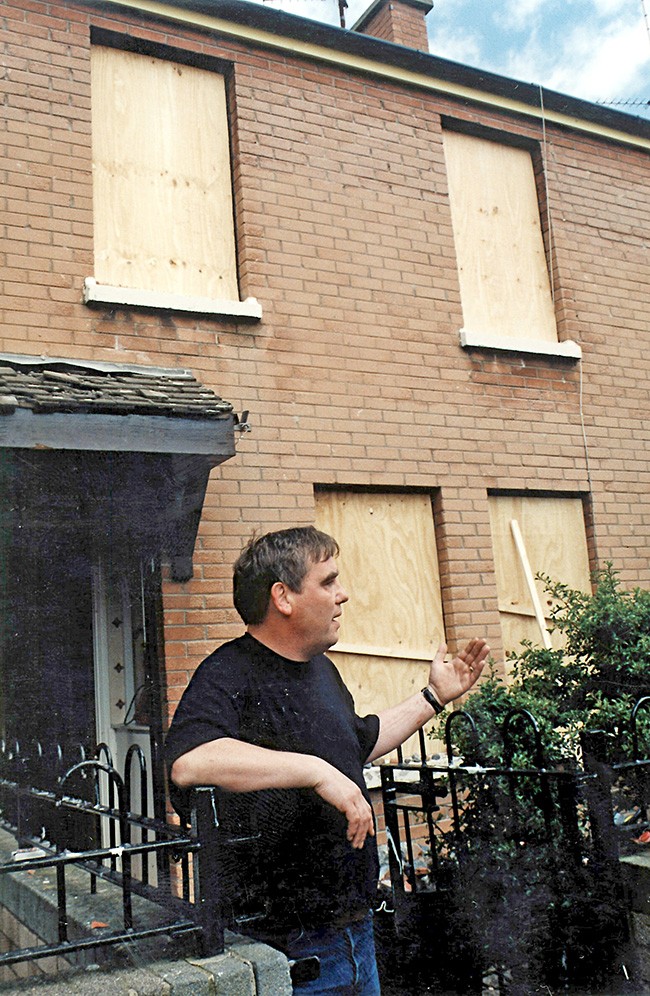 • Seány talks to 'An Phoblacht' after his house's widows are boarded up following three nights of unionist attacks in 2002
— • — • —   — • — • —   — • — • —   — • — • —   
MICHAEL McVEIGH explained that the Blanketmen Facebook page in honour of Seány and the POWs came out of a Facebook conversation with former Hunger Striker Dr Laurence McKeown.
"I was having a conversation with 'Big Lorny' on Facebook about Seány and who was on his wing, who were his cell-mates and so on, when John Hunter joined the conversation. 
"I recognised the name so I asked him if he was the same John Hunter who brought a handkerchief Seány had drawn to our house when he was released in July 1981."
He was and Michael (or "Fisher", as he is known) and John got talking.
The Former Blanketman recounted stories about H5, telling Fisher about things he didn't know about Seány and his time in the Blocks. 
"Seán never really talked himself about the hardships he went through but John filled me in. He told me about the time Seány spent six weeks on 'the boards' for hitting a Screw who put the hose into their cell and soaked them."
(During the 'No Wash Protest', prison officers would often direct hoses into the prisoners' cells as an act of vindictiveness, sometimes at night, leaving those in the cell freezing cold from the damp cell and wet mattresses.)
 "In a way it all started because John wasn't aware that Seány had died and he knew that a lot of other Blanketmen didn't know either," Michael said.
"I thought if I could hook up with John Hunter then I could reach others who may not be aware of Seány's death and I decided to open a group page, "Blanketmen", on Facebook in his memory.
"The main aim was maybe to find 20 or 30 people who spent time with him and hope they would share some memories but it just took off and people started to ask for invites into the group. Now there's 1,300 members and it's growing. I also opened it up to the women's struggle in Armagh.
"Former Blanketmen, mothers, brothers, sisters and children of former prisoners are in the group, sharing photos, videos, handicrafts, etc. 
"It has become a great source for anyone who is interested in that period of our struggle. There are really no rules in the group but I wouldn't like any arguments or see people falling out. The page is about the prisoners and what they endured and acknowledging what they went through. 
"I think through the group we have found that there is an incredible number of Blanketmen who have died of cancer and premature deaths. There surely has to be some connection to the protest."
• Former Hunger Striker Laurence McKeown
Clearly then the Blanketmen Facebook page is playing an important part in bringing to the fore the stories of the many thousands of republicans who went through the prisons during the conflict. It includes photographs of protests, involving mostly women, as well as rare footage of the time, and shows how this period in our history was a game-changer in the struggle for freedom.
And while the sacrifice of the 10 men who died on the 1981 H-Blocks Hunger Strike are to forefront of our minds, we also remember the many ex-POWs who were killed by loyalists or on active service by British forces.
What Michael McVeigh has done with his Facebook tribute to Seány is to give people from all across republicanism a very real way to acknowledge the contributions of so many people and in doing so pay them due respect.
And he has provided people with a platform where they can give tribute to the many friends and comrades who have passed away in the intervening years, whether it was through illness, old age or in tragic circumstances.
'The Fisher' didn't curse the dark, he lit a candle. 
Cothrom na féinne do.