16 January 2017 Edition
Kilmichael Ambush – A turning point in the birth of our nation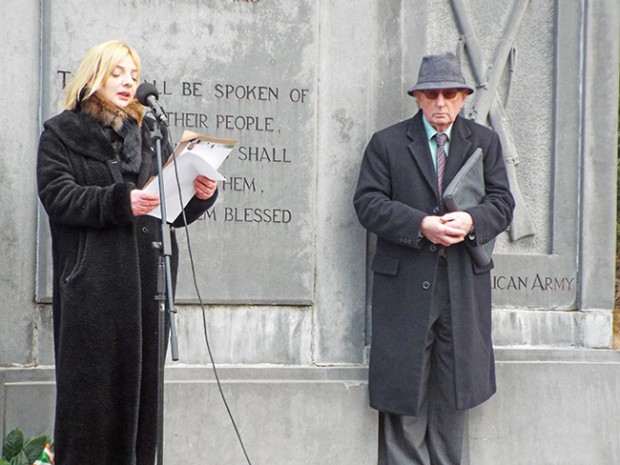 So to those who have yet to get involved in the discussion on reunification, I say now is the time to make your voice heard
SINN FÉIN MEP LIADH NÍ RIADA was the guest speaker at the annual Kilmichael Ambush/General Tom Barry Commemoration in Cork in November in what was reported by local media to have been attended by one of the largest crowds in recent years "and certainly a much higher proportion of young people", Louis Whyte told The Southern Star.
Proceedings began with a parade led by Bandon Pipe Band to the monument where Louis Whyte recited a Decade of the Rosary in Irish and, in doing so, also remembered the 1981 H-Blocks Hunger Strikers, the Southern Star reported.
This is an abridged version of Liadh's speech in honour of the IRA Volunteers who "shocked the British Empire at Kilmichael".
A WEEK PRIOR to the Kilmichael Ambush, Michael Collins's 'Squad' dealt a devastating blow to the British Government's intelligence operations in Dublin, executing more than a dozen agents and informers across the city. 
The British may have been prepared to write this off as an anomaly, a freak incident in which they were caught on the hop. However, when the Third West Cork Brigade wiped out a convoy of Auxiliaries at this spot seven days later, the reality must have dawned on them that they were facing a new challenge – a reinvigorated and fearless guerrilla army. 
Kilmichael was quite unlike anything that had come before in the Tan War. This would not be a hit-and-run operation. Barry had deliberately picked a spot that gave good cover and vantage points but no route of retreat. This would be a fight to the death. In his own words, the British had "gone down in the mire to destroy us and our nation and down after them we had to go".
After a ferocious battle, which involved everything from rifles and grenades to hand-to-hand combat, all but one of the British convoy lay dead. Three IRA Volunteers – Jim O'Sullivan, Michael McCarthy and Pat Deasy – were also killed in the fighting. 
The ambush had been an outstanding military victory for the IRA and it marked the beginning of a series of large-scale encounters with the British that continued right up until the end of the Tan War, with similar successes for IRA units at Dromkeen, Coolavokig, Crossbarry, Clonbanin and Carrowkennedy, to name but a few. 
More importantly than any military victory, however, Kilmichael sent out a message to the world that what was happening in Ireland was not an inexplicable crime wave; was not "unrest" or "Troubles" – Ireland was at war. The British were fighting to hold on to their empire and the Irish Republic was fighting for its very existence. 
It sent a message to IRA units across the country that the Auxiliaries, believed to be the elite of the British Army, practically invincible, were far from it, and they responded accordingly.
So why do we gather here every year? Certainly not to revel in the deaths of 17 Auxiliaries, loathed though they were by the local population for their brutality. 
We of course remember the sacrifices of those revolutionaries who risked all for a better Ireland and in particular we honour Jim, Michael and Pat, who made the ultimate sacrifice.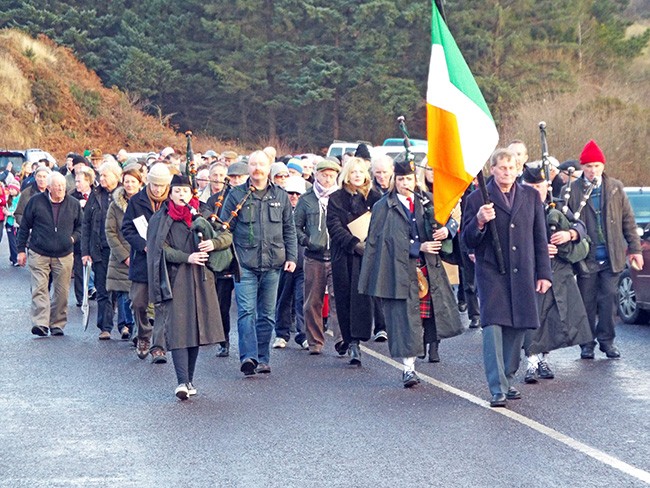 •  Part of the crowd at the commemoration alongside the monument to General Tom Barry
The reason this battle holds such significance, the reason we continue to remember Kilmichael 96 years on, is because it was a turning point in the birth of our nation. 
The Irish Republic was proclaimed in 1916, ratified by the people in 1918, its vision laid out in the Democratic Programme of the First Dáil in 1919, but it was here, in 1920, that it firmly asserted its right to exist in the face of aggression; that it showed the world that it was determined to survive. 
It was no longer an academic exercise, nor the romantic aspiration of poets and playwrights. It was here, now, alive, as real as the ground we are standing on and any jackboot that attempted to come down on it was going to find itself booted right back. 
There are those who talk about the Tan War as if it were a civilised and dignified occasion, a gentlemen's disagreement, sorted out with all the civility and ceremony of pistols at dawn. It was not. 
It was a dangerous time to be alive in, one in which brutality was an everyday fact of life and could be visited upon you whether you were involved in the war or not. 
We owe a huge debt of gratitude to the people who endured such times for us and in doing so it is worth remembering what they endured it for. 
They did not endure it so that we could let people sleep in doorways and alleys while entire estates of houses lie empty. 
•  Liadh is presented by the Tom Barry Committee with a portrait of the IRA legend, and by the Kilmichael Committee with a copy of 'The White Heather Glen', a book about the famous ambush
They did not endure it so that working Irish families could scrape through years of austerity in order to pay off a debt that was not theirs. 
They did not endure it so that the country they fought for could be, in James Connolly's words, "cut to pieces as a corpse upon the dissecting table" and her sovereignty sold off. 
Partition has stunted the growth of this island's economy for almost a century. 
The reunification of Ireland is the only realistic, achievable and permanent solution to the problem. 
There are those who only pay lip service to reunification. They tell us now is not the time. Now is exactly the time! 
The current political landscape does not only present an opportunity for reunification, it demands it.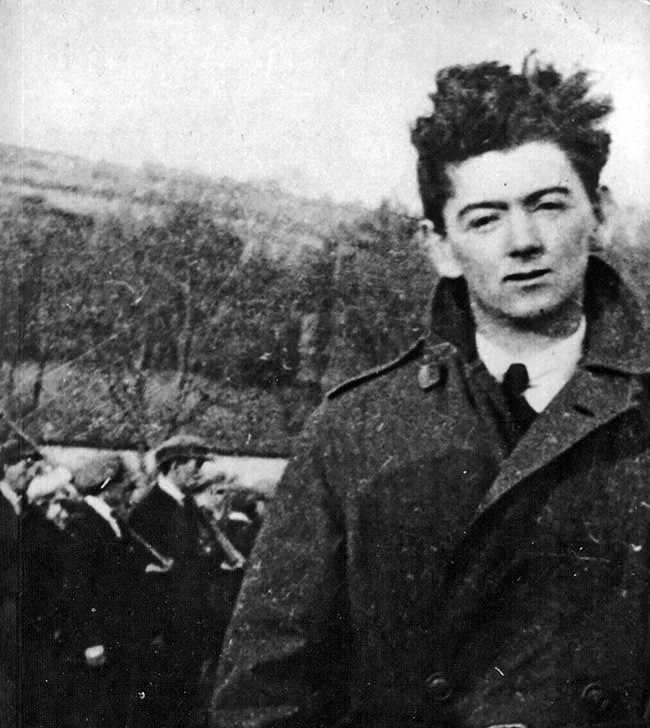 • Tom Barry: The British had 'gone down in the mire to destroy us and our nation and down after them we had to go'
They tell us we cannot afford reunification but every major study carried out in the past few years tells us the exact opposite – that we can't afford partition; that we can't afford the duplication, bureaucracy, inefficiencies and barriers caused by having two competing entities on our tiny island. 
They tell us it's not realistic, but how realistic was the prospect of an Irish Republic at a time when the British Empire was at the peak of its powers? How realistic was the prospect of a largely untrained, underground guerrilla army taking on the strongest military force on the planet? 
The Good Friday Agreement provides a peaceful and democratic pathway to reunification. Unity is not in the gift of the British Government. It now rests in the hands of the people, North and South, to be expressed in concurrent referendums. We need to secure a vote for the people and to win the vote for unity. 
Sinn Féin has launched a series of campaigns on our vision for a united Ireland. They cover a broad range of issues, from the price of partition and the possibilities opened up by reunification to our proposals on national reconciliation and an all-Ireland national health service, free at the point of delivery.  
Reunification is not – indeed cannot – be the responsibility of Sinn Féin alone. 
If we mean to build an Ireland for all of the people then we all have a reponsibility to plan, to act, and to deliver unity. 
So to those who have yet to get involved in the discussion on reunification, I say now is the time to make your voice heard. 
To those hard-working activists in other parties, now is the time to play a meaningful role in the discussion that will shape a new Ireland. 
To our unionist brothers and sisters, I say your input is as essential as everyone else's. Take part in the conversation, even from an opposing point of view. Share with us your hopes, concerns and ideas and we will share with you our vision of a fair, free and progressive country that cherishes all the children of the nation equally. 
This is a fine monument. A fitting tribute to the nationally significant event that happened here and the brave people who made it happen, but if we really want to honour their memory and live up to their ideals, then the only fitting memorial we can build is a free, sovereign, united Ireland. Let us come together to build it.