16 January 2017 Edition
Farewell Fidel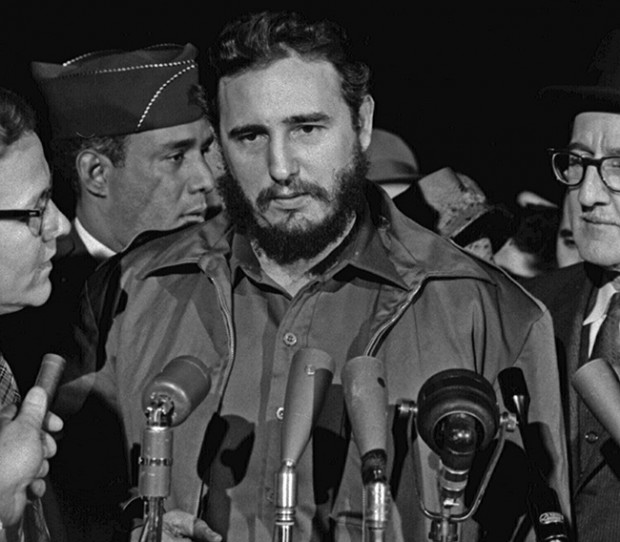 Around us stood a million Cubans who had turned out to remember and bid farewell to Fidel
IT'S A STRANGE PHONE CALL to get on a Sunday afternoon: "Are you free to travel to Cuba tomorrow morning?"
I'd like to say this is a regular occurrence in the life of a Sinn Féin political adviser on foreign affairs but it's not. 
This wasn't just a change of a day-to-day routine – I was being asked to be an eyewitness to a moment in history.
I was being asked travel with Sinn Féin President Gerry Adams TD to attend the funeral ceremony in Havana for Fidel Castro.
I didn't have to think twice before accepting this huge honour and privilege. It was also deeply personal. 
Reading Jon Lee Anderson's biography of Ché Guevara when I was 16 years old introduced me to the Cuban Revolution and I soon became enthralled. I bought as many books as I could find on the revolution, Cuba and, of course, Fidel. It was these volumes that awakened in me a deep internationalism and that ultimately led me to change my initial plans to become a teacher and switch to study international relations instead. 
So it was with a heavy heart but a deep sense of pride that I now found myself travelling to Cuba with Gerry Adams to pay my respects to Fidel.  
We landed late at night on Monday and were up early on Tuesday to head towards the Plaza de la Revolución. In keeping with Fidel's wishes, his remains remained with the Castro family but people could file into the José Martí Memorial to pay their respects to this patriotic hero.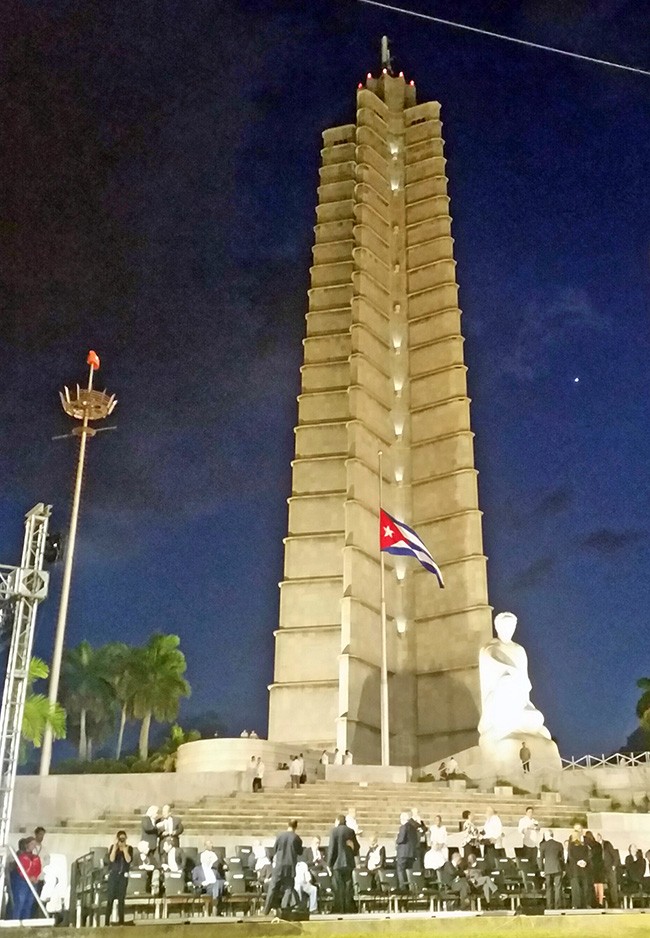 • José Martí Memorial to Cuba's national hero
The memorial to the leader of the Cuban independence movement from Spain dominates Revolution Square, along with murals to Ché and Cuban revolutionary Camilo Cienfuegos. 
We queued for nearly two hours in the searing sun of the Caribbean with tens of thousands of Cubans and some international visitors. Hundreds of thousands had already paid their respects since the news of Fidel's death was announced.
The mood was sombre and people were quite emotional but overall there was an air of defiance. Even with the sad passing of their revolutionary leader, the Cuban people retained their resolute confidence that is summed up by the slogan Ché made popular: "¡Hasta la victoria siempre!" (Until victory always!). 
It was notable to see so many doctors with their white coats on waving flags from different African nations in the queue. 
The night before we'd seen an interview on Cuban TV with a similar group and they explained they were students in the Cuban Latin American School of Medicine. They are some of the thousands of student doctors whose tuition, accommodation and board is paid for every year by the Cuban Government. The international students selected to study in the school come from impoverished and under-resourced communities in their home countries, and they get fully trained for free, just as long as they undertake to work in the poorest communities of their countries when they return. It was Fidel who came up with the idea to establish such a school and these students were here to pay their own homage to Fidel.
Later that night we were invited by the Central Committee of the Communist Party of Cuba to attend the ceremony in Revolution Square to mark Fidel's death. It was like a meeting of the United Nations with delegates, ambassadors, and heads of state from all around the world packed into our section for invited international guests.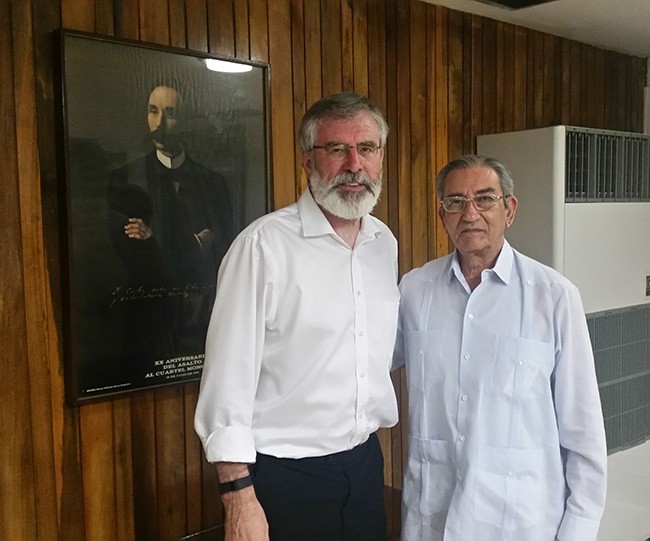 • Sinn Féin leader Gerry Adams TD with the Secretary for International Relations of the Central Committee of the Communist Party of Cuba, José Ramón Balaguer Cabrera, a veteran of the 1959 Revolution and a personal friend of Fidel
Around us stood a million Cubans who had turned out to remember and bid farewell to Fidel.
Considering the frenzied reaction of the right-wing media elite and the Establishment in Ireland to Fidel's death, it was refreshing and inspiring to be standing in solidarity with a million Cubans, reflecting how beloved and venerated the leader of the Cuban revolution is.
In between meetings we had arranged with our Cuban comrades, and before we headed home, we paid a visit to the monument to the 1981 H-Blocks Irish Hunger Strikers. The monument is inscribed with the names of the 10 Hunger Strikers who died and a quote from Fidel, the only serving head of state that spoke out in support of their struggle.
We laid a wreath at the monument. Reading Fidel's powerful words again, I was struck by his strong internationalism and understood why he is one of the world's great revolutionary leaders.
Fidel rightly said that the Hunger Strikers "have earned the respect and admiration of the world, and likewise they deserve its support". The same tribute can also be given to this heroic figure, an inspirational leader to Cubans and millions more across the globe and across the generations.
Slán agus míle buíochas, Fidel.