16 January 2017 Edition
Have your facts ready for a post-truth 2017
Robbie Smyth looks to the new year ahead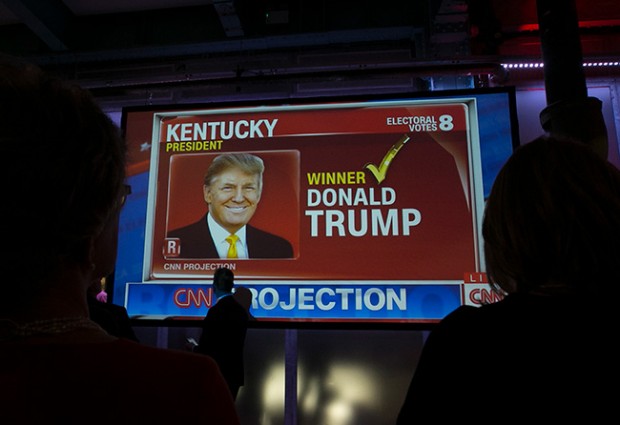 HOW do we prepare mentally and politically for 2017? 
"The Donald" prepares to take the oath of office to become President of the United States of America with his finger hovering over the nuclear button when it's not on the Twitter button; the British Government says it will finally press the Brexit button; and the Fine Gael/Fianna Fáil coalition enters its second year of government. These are some of the issues that we know will dominate Irish media attention in the coming year.
• Back to the Future: Campaigners show what a post-Brexit Border might look like
Will the roller-coaster of 2016 run into 2017?
What a year 2016 was with elections in Ireland, the British "Brexit" referendum, the US elections for Congress and the Presidency – both examples where "fake news" and untruth won the day. I wonder what fake news the year 2017 will bring us in Ireland.
In 2016 there was a still a global refugee crisis, another year of ignoring climate change, and it was a year when an incredible number of treasured, creative artists and defining people of the late 20th century died. These ranged from musicians David Bowie and Prince to Leonard Cohen and George Michael and global icons Muhammad Ali and Fidel Castro. In Ireland, actor Frank 'Fr Jack' Kelly along with writers Willian Trevor and John Montague also passed away.
It's okay to have forgotten that Sinn Féin is the third largest party in the Dáil, or that the 2016 Leinster House elections were a record performance for the party. It's easily done considering the ongoing negative reporting of the party by the mainstream media, either by omission from coverage, unrelenting criticism of the party's proposals, or the unceasing 'concern' about Gerry Adams being leader for too long for the party's own good repeated ad nauseam by commentators at RTÉ and the Irish Independent (who naturally yearn for greater Sinn Féin success).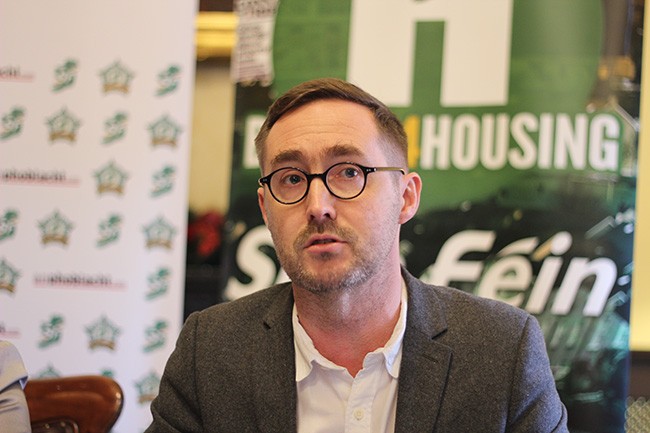 • Sinn Féin TD Eoin Ó Broin identifying a serious 'flaw' in rent certainty legislation sent ministers back to the drawing board
The Housing Crisis
We don't have enough new houses, we don't have anough old houses, there are too many vacant homes unused throughout the 26 Counties, rents are high and rising, and there are fewer places for rent than ever before. 
Oh, and house prices are rising back towards Celtic Tiger madness levels. 
And we have a record number of homeless people on our streets (a point dramatically highlighted by the Apollo House occupation at Christmas).
So what to watch for in 2017?
DAFT.ie produce separate quarterly reports on rents and house prices, starting the first week in January for the previous quarter so we should be hearing the platitudes from Fine Gael/Fianna Fáil amidst the hand-wringing of ministers failing to deal with a crisis caused by acts of Mammon, not by acts of God.
The November 2016 DAFT rental index showed an 11.7% increase in rents to the end of October. The Residential Tenancies Board also produce quarterly reports. Their latest figures released in November showed an 8.6% increase in rents with an average national monthly rent of €973.
The Central Statistics Office was  once the only producer of property price data, and in 2016 revamped the methodology underpinning their index. Their Residential Property Report in November 2016 showed that, in the 12 months to the end of September, property prices had risen 7.3%, so watch out for the next release of data at the end of January.
Property Industry Ireland, a sectoral association of employers' group IBEC, published its Property Watch Report in September. It estimated that the number of finished new dwellings for 2016 would be 14,000 – the Government target was 25,000.
One statistic that would be great to have in 2017 would be the number of vacant dwellings in the state. 
This is captured by the Census every five years. In July 2016, preliminary Census reports from the Central Statistics Office revealed that there were 259,563 vacant homes in the 26 Counties – more than a quarter of a million!
The housing crisis culminates in homelessness and more than 6,800 people were without permanent dwellings in 2016. The Department of Housing, Planning and Community Development produced monthly figures in 2016. As I write this, their most recent figure to hand is for October and they estimate that there were 4,377 people homeless, 3,036 in Dublin, However, you need to add in the 2,470 dependants, children of these homeless people, 1,178 families without a home. It makes you wonder about the hundreds of thousands of vacant homes.
Sinn Féin TD Eoin Ó Broin launched the party's proposals on resolving the housing crisis in December, so I recommend keeping either a hard copy or PDF to hand to distribute to all those you meet during the year who speculate on just how to solve the housing crisis.
• The new year opened with new records for the numbers of people languishing on hospital trolleys 
Waiting for medical treatment
"Trolley Watch" by the Irish Nurses & Midwives' Organisation began in 2004. Yes, we have had a healthcare crisis for that long. And if you are of my vintage you can probably still remember the 1986 Fianna Fáil campaign promise to reverse Fine Gael/Labour policies with the slogan "Health cuts affect the old the sick and the handicapped". So here we are 30 years later and we start 2017 with a record 612 patients left on trolleys in the first week of January. 
But this is only one measure of the crisis in the healthcare system. 
There were 538,309 people waiting for hospital treatment in November. The National Treatment Purchase Fund produces monthly figures of the numbers of people waiting for hospital appointments and procedures. The figure has been growing since May 2016, so this figure is one to watch for throughout 2017. There is a way out of this crisis. Take a look at Sinn Féin's Better for Health document.
Wages and jobs
The growing employment figures are an often-repeated and relied-upon statistic for this hybrid Fine Gael/Fianna Fáil Government. And, yes, employment figures are rising.
There are monthly Live Register figures showing the numbers signing on, and there is a Quarterly National Household Survey. Quarter 3 2016 showed 2,040,500 people at work in the 26 Counties, up 57,500 on the same time in 2015. Will this trend increase in 2017 with the next figures due in the last week of February?
What are these workers earning though? 
The monthly unemployment figures state that 160,700 people were unemployed at the end of November. The Live Register figures (also produced monthly) show 273,484 people signing on and receiving a social welfare payment.
That's more than 110,000 people working part-time and needing supplements to their wages.
The 2014 figures show 16.3% of the population at risk of poverty with an average annual household income of €10,926. The lowest 10% of earners had 3% of 'national' income in 2014 compared to the highest 10% of earners having a 24.8% share of income.
Maybe it's time to read Sinn Féin's document for Decent Work and a Living Wage.
The Low Wage Commission published its second annual report in July 2016, recommending a 10 cent an hour increase to €9.25. The Irish Congress of Trade Unions had lobbied for an €11.50 minimum hourly wage by 2017, so watch out for the July 2017 report and the predictable kneejerk by employers' lobbyists. 
On a related issue, New Zealand banned zero-hour contracts in 2016. Is there any chance this could happen in 2017 in Ireland?
If you are wondering about the take-home packages of the 1% in Ireland, April is the key month when Irish public companies start their AGMs and we have weeks of revealing pay and remuneration packages. 
Will anyone top last year's CRH Chief Executive Albert Manifold? He has a base salary of €1.4million but possible bonuses could see his salary reach €8.2million.
September school blues
Eurostat figures released in December showed that Irish families are spending more than twice the EU average on education. 
Education accounts for 2.6% of Irish household spending compared to an EU average of 1.1%. Barnardo's and the Irish League of Credit Unions produce surveys on the cost of sending children to school, an average of €816 a year for primary school children and €1,313 per secondary-level student.
• The Irish Naval Service plucked to safety children and adults risking their lives to escape death, starvation or poverty
65million refugees
Then there are those with absolutely nothing, displaced and fleeing their country for their lives and those of their children. 
Look out in June for the UN Refugee Agency (UNHCR) annual reported. In 2016 it reported there were 65.3million people forcibly displaced around the world (11.7million in Syria alone). 
In November, the Irish Refugee Protection Programme reported that 109 asylum seekers had arrived in Ireland with an additional 215 were due to arrive by the end of 2016. It doesn't seem enough, does it?
Better with Sinn Féin
Every month of 2017 will bring the facts and figures that show once again how the Fine Gael Government is failing people. It doesn't take much to keep an eye and ear out for these stories and remind those who haven't voted for Sinn Féin that there are solutions and a path to a more equal and just Ireland.
2016 in figures
11.7% increase in rents
7.3% rise in house prices
 259,563 vacant homes in the 26 Counties
6,800 people homeless
612 on hospital trolleys (January 2017)
538,309 people waiting for hospital treatment 
€702 average weekly wage
€338 average weekly wage in accommodation and food services sector 
16.3% share of the population at risk of poverty 
65.3million people forcibly displaced around the world 24 people became a refugee every minute of 2015 
324 refugees taken into Ireland in 2016 
€816 average cost of sending a child to primary school 
€1,313 average cost of sending a child to secondary school