1 December 2016 Edition
All-Ireland's 'Gaelic Fields'
Grassroots games captured on camera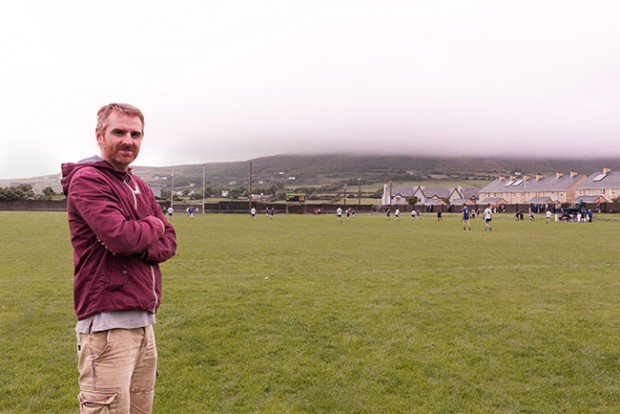 'The GAA is a vibrant and important grassroots movement' – Paul Carroll
PHOTOGRAPHER Paul Carroll has spent the last six years capturing the action of Gaelic club games in their unique and amazing surroundings in all 32 counties of Ireland for his book Gaelic Fields. 
Football, hurling, camogie and ladies football games are photographed at all adult levels by the Cork-based Carroll.
Starting the work in 2010, he travelled over 50,000kms, focusing exclusively on club games.
Gaelic Fields features the beauty of games played on the fields of Aran and Inisturk Islands, and from south Kerry and the Glens of Antrim to the urban landscapes of Cork, Dublin and Belfast and scores of locations in between. 
The publication of Gaelic Fields is being made possible by a Kickstarter online fundraising campaign Carroll ran in August and September. In 28 days he raised over €14,000 in preorders via the crowd-funding platform.
Carroll believes it's the first photography documentary to focus exclusively on grassroots Gaelic games and the locations they are played in. He decided to tackle the project after being inspired by Dutch photographer Hans Van Der Meer's work European Fields, which photographed grassroots soccer games throughout Europe over 10 years.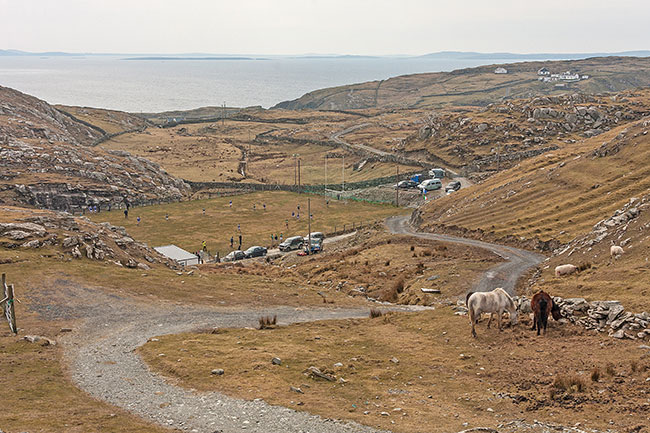 • Inishturk 7's Tournament, Inishturk Island, County Mayo
Carroll realised that Gaelic games had never been captured in this way in Ireland.
"We are often not mindful of what's around us," he says. "We Irish can take for granted the amazing locations and beauty in every county on the island."
He set out to explore the different locations of Gaelic clubs and the identity they bring to communities. What he discovered will be common knowledge to people within small Gaelic games communities everywhere:
"The club is a local support system which accommodates all social levels in both urban and rural areas. During the seven-year period it took to create Gaelic Fields, clubs have withstood a recession and the mass emigration of many of their young players. The GAA is a vibrant and important grassroots movement."
The photographic journey was funded by his work in two social care settings in Cork City: one of these posts is working with 18- to 25-year-olds who are at risk of being homeless; the other is as organiser of Cork's Homeless Street League.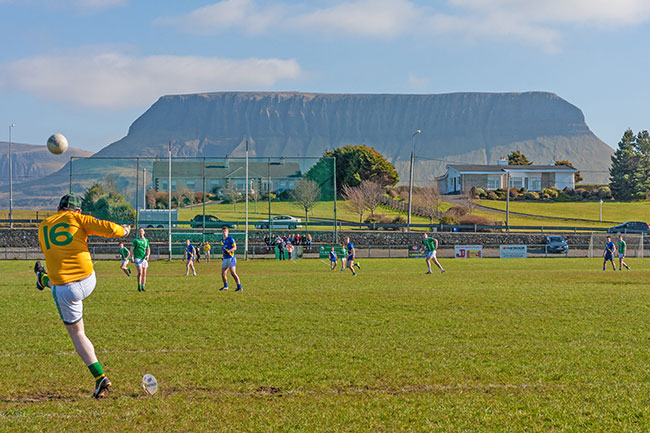 • Sligo Senior Football League, Grange,  County Sligo
In his free time Carroll travelled more than the circumference of the Earth within Ireland, capturing Gaelic games and their locations at their very heart.
Carroll was greeted well but with bemusement on some his journeys:
"Ninety-nine times out of 100, people were very nice but you can't blame someone for being quizzical about why a photographer had travelled from Cork to a 'Junior A' football game in Dring, County Longford, on a Thursday evening."
On one of the trips he put down his camera for a team that was short a few players. He played one half of one game, scored a point and afterwards went to work a nightshift.
"For 30 minutes of a game I became part of my own project," he says with added satisfaction.
The book should be in shops in early December or it can be preordered at www.gaelicfields.com/the-book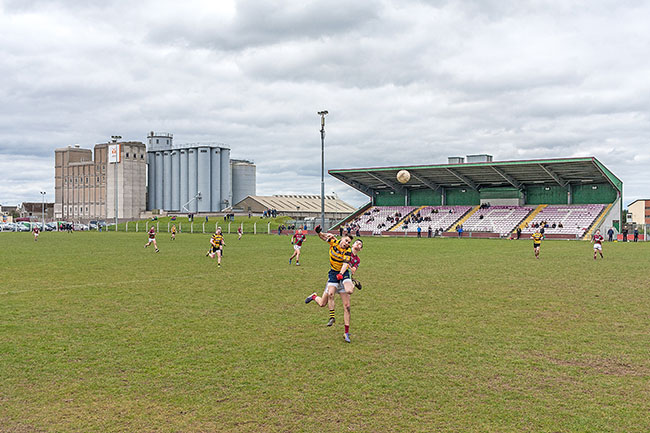 • Laois Senior League Football, Portarlington, County Laois